website  watertownhistory.org
    ebook  History of Watertown, Wisconsin
Edward Peirick
1915 - 2006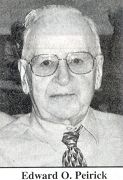 Edward O. Peirick, 90, of Watertown, died February 19, 2006, at his home, surrounded by his family.
Funeral services will be held at St. Henry's Catholic Church with the Rev. Bernard Rott officiating.  Burial will be in the parish cemetery.
Edward was born on May 16, 1915, in Lebanon, son of William and Mary (Pitterle) Peirick.  On May 2, 1942, he married the former Mary Ellen Tyson at St. Joseph's Catholic Church in Richwood. They farmed in the town of Shields for more than 60 years.
Ed played the concertina for 72 years and was a member of the Concertina Hall of Fame.  He had played in the Freddie Dettmann Band for 23 years, his own band for 10 years, Town and Country Dutchmen of Hartford, for six years and many other local bands.
Ed was a member of the Plattdeutscher Verein.  He loved to play sheepshead and Scott, and enjoyed woodworking.
Surviving are his wife, Mary Ellen; his children, Rita Rabas of Janesville, James (Sandra) Peirick of Watertown, Delores Ziemann of Waunakee, Mary Peirick of DeForest, Edward (Judy) Peirick of Fitchburg, Cathy (Paul) Kastenmeier of Beaver Dam, Anthony (Shawn) Peirick and Ralph (Bev) Peirick, both of Watertown; 25 grandchildren; 28 great-grandchildren; three stepgreat-grandchildren; his brothers and sisters, Marcella Jentzsch of Brookfield, Ill., Clarence (Gertrude) Peirick, Raymond Peirick, Helen Peirick, William (Arlene) Peirick and Agnes (William) Schuett, all of Watertown, Mary Ellen (Jim) Henry of Brownsburg, Ind., and Joanne (Gerald) Blank of Beaver Dam; nieces, nephews, other relatives and friends.
He was preceded in death by his parents; two brothers, Leonard and Norbert Peirick; a sister, Lillian Peck; and two sons-in-law, Cal Rabas and Erich Ziemann.
The family greatly appreciates the attentive and compassionate care given to Edward these past few weeks by the staff of Rainbow Hospice.

History of Watertown, Wisconsin