This file part of www.sainthenryparish.org website
George J. Nimm
1912 - 2009
<![if !vml]>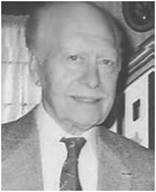 <![endif]>
George Joseph Nimm Sr., 97, of Watertown, passed away early Wednesday morning, Oct. 21, 2009, at Golden Living Center in Watertown.
A Mass of Christian burial will be held Saturday at 11 a.m. at St. Henry Catholic Church in Watertown with Monsignor Daniel Ganshert officiating.  Burial will be in St. Bernard's Catholic Cemetery, Watertown.
There will be a visitation at the church on Saturday from 9:30 a.m. until the time of the Mass.  A luncheon in the parish cafeteria, served by St. Henry Ladies Aid, will follow.
Memorials may be donated in his name to AseraCare Hospice, the MS Society and the American Heart Association.
George was born the second of seven children on Oct. 2, 1912, at the Nimm farm located on Horseshoe Road, west of Watertown.  He attended St. Henry Grade School and Watertown High School.  He married Irene Stangler at St. Henry Church on March 30, 1937.
George and Irene moved to Beloit, where they started a family while he worked as a draftsman at Beasleys.  In 1944, they returned to the Watertown area to buy the 240-acre Stangler farm off Hancock Road, where they raised seven children.  In order to invest more money in the dairy operation, George went to work at Allis Chalmers in Milwaukee as a draftsman.  George and Irene continued to raise crops on the farm until Irene's death on May 20, 1995.
In addition to farming, George loved mechanics, motorcycles and aviation.  He was a member of EAA most of his life.  A nearly finished model airplane sits at his work bench at the time of this writing.  He was a member of St. Henry Catholic Church in Watertown.  His greatest pleasure was in conversation with family members.
He is survived by his daughters, Joan Brown (Russell) from Mayville, Mary Ann Miller (A. Edward) of Hot Springs Village, Ark., and Margaret Tarr of Madison; his sons, George Jr. (Heidi) of Johnson Creek, Jon (Sandy) of Watertown and Gregory (Eileen) of Rice Lake; 18 grandchildren; 23 great-grandchildren; other relatives and friends.
George was preceded in death by his parents, Joseph and Adelaide (David) Nimm; his wife, Irene; his son, Thomas (Gloria); his sister, Anna Stangler (Herbert); his brothers, Donald and Lawrence (Joy); and his great-grandson, Josh Nimm (Brian and Tracey).
Hafemeister Funeral Home 611 E. Main St. Watertown
Cross Reference:
Nimm, George     1924, Grades 5 and 6
Nimm, George     1926, Graduates and 7th grade
Nimm, George     1927, Graduates and 7th grade