website  watertownhistory.org
    ebook  History of Watertown, Wisconsin
Zoellick Sausage Shop
751 N. Water
<![if !vml]>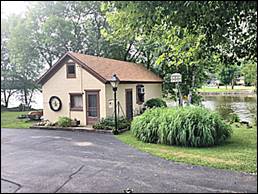 <![endif]>
Watertown Daily Times, 02 28 1983
Zoelleck's Old Time Summer Sausage, famous in Watertown for many years, will again be made according to the old family recipe and will be sold at Eske's Stick 'N Brick. The meat and cheese shop at 771 North Church Street will give away samples of the sausage and other products during a grand opening celebration this weekend.
The store hours will be 9 a.m. to 9 p.m. Friday, 9 a.m. to 6 p.m. Saturday and 9 a.m. to 1 p.m. Sunday. Owner Bob Eske, a relative of the original makers of the Zoelleck sausage, said the sausage is made at Stick 'N Brick by Bob Burbach who was a sausage maker at the former Royal Meats.
Watertown Daily Times, 11 15 2006
The 1910 Italianate farmhouse owned by Bob and Gretchen Martens at 751 N. Water St. is one of six homes to be featured during the 13th annual Holiday Parade of Homes.
The Martens' house is the first home listed in the 1994 "Watertown, Wisconsin, Heritage Tour of Historic Architecture."  It is described as a 1910 Italianate farmhouse, wrapped in Watertown cream brick. The property enjoys a natural vista from 289 feet of riverbank, located at the confluence of Silver Creek and Rock River.
Beside the historic home, the property boasts two garages, two smokehouses and the former Zoellick Sausage Shop.
The home is filled with eclectic furnishings from the Bronko Nagurski-Brett Favre era, featuring wood, leather, brass, marble and quilting.
At one time, the modest Zoellick home with their many children had seven bedrooms, which were all very small. Subsequent owners radically changed the floor plan to where, at present, there are but two bedrooms. 
Exterior improvements following the Martens' arrival in 2001 prompted the Watertown Arts Council to award them the WAC Home Beautiful for 2005.
The old Zoellick Sausage Shop closed early in the 1970s.

History of Watertown, Wisconsin