website  watertownhistory.org
    ebook  History of Watertown, Wisconsin
Royal Meat Market
405 E Main
1957
01 06       J. M. MEYER RETIREMENT
A veteran Watertown meat market operator, J. M. Meyer, 823 Cole Street, of the Royal Market at 405 Main Street, has retired.  Mr. Meyer, who has been in the meat trade for 53 years, plans to devote himself to some travel, fishing and following his favorite sport - baseball.  For more than 33 years he has been engaged in the Royal Market in Watertown, having taken in as his partner, shortly after he opened the business, L. E. Krueger of this city.  The two have operated the business since 1923.
1967
01 05       ROYAL MEAT MARKET HAS NEW OWNER / Lowell Pritchard Purchases Place from Kruegers
The Royal Meat Market, 405 Main Street, one of Watertown's oldest and well established business places, is now under new ownership.  It was purchased by Lowell Pritchard from Erwin E., Leo E., and Robert C. Krueger who have operated the business for many years.  Robert C. Krueger has entered a new line of employment, while Leo and Erwin Krueger will continue to work at the market for at least a month to help Mr. Pritchard in the business transition and familiarize him with the various sausage recipes, etc.
Mr. Pritchard said today that he will continue to operate the business under its long established name and will continue the same business policies and maintain the same high standards that have made it a successful business, serving a wide area of customers both in the city and surrounding areas.
He said he will continue to provide the high quality of cured and fresh meats which were the rule of the previous operators.  The market will also continue to specialize in sugar-cured hams, bacon and home-made sausages.
Mr. Pritchard recently completed seven years with the Equity Livestock Cooperative as a slaughter livestock auctioneer for five and a half years and one and a half years as the market manager at Johnson Creek.  He left the position to purchase and operate the market here.
Fred Hinzmann, Johnson Creek, formerly the yard foreman at the Equity Livestock Market of Johnson Creek, will be employed at the Royal Market.
05 20       VIENNESE SAUSAGE-MAKER JOINS ROYAL MARKET
Leopold Chocholous, a Vienna, Austria sausage maker, with 49 years experience, has joined the staff of the Royal Market at 405 Main Street.  His duties will be to turn out high grade sausages.
Born in Vienna in 1905, he went to work at the age of 13 as an apprentice in the renowned Johann Franke Sausage Firm.  In 1933 he was elevated to the position of manager and first sausage butcher.
Since coming: to   the United States in 1952 he has worked for three sausage firms, most recently for the Elements Sausage Co. of Milwaukee.  In all instances, his work and products have been widely acclaimed.
The Royal Market plans to carry on the same Old World recipes already made famous by the Kruegers and a former partner of the late Jules Meyer, Lowell Pritchard, the present owner of the market, stated.
The Royal Market plans to add new products such as an old world Braunschweiger in a natural casing, smoked bratwurst, blood and tongue sausage and other lines of sausages.
Wallace Block of the former Block's Market has also joined the Royal Market staff on a part-time basis.
The Royal Market at the present time, in addition to its home cured hams and bacon produces 11 different kinds of sausage, besides killing its own hogs and poultry.
1973
     <![if !vml]>

<![endif]>      
1974
-- --           EXPANSION, BUILT BY MAAS BROS.
<![if !vml]>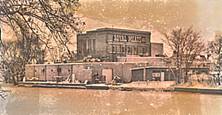 <![endif]>  
Cross Reference:
Bob Burbach, formerly of Royal Meat, with Eske's Stick 'N Brick, 1983
Royal Meat Market          1957c, 405 E Main, 1950s-70s city assessor form, WHS_006_052a
Royal Meat Market          1957c, 405 E Main, 1950s-70s city assessor image, WHS_006_052b

History of Watertown, Wisconsin