website  watertownhistory.org
    ebook  History of Watertown, Wisconsin
Welcome Inn
Heritage Inn
Before 1897 this location was Union School No. 1. 
In 1897 it became the Watertown High School,
located on the north side of Main Street, between Seventh and Eighth.
Today the site of the Heritage Inn Hotel.
1964
09 13       32 UNIT MOTEL PROPOSED FOR SITE
Plans to construct a motel and restaurant on the site of the old recreation building are very much alive, with strong indications that the project will become reality sometime next year.  It is anticipated construction will get underway next spring. C.C. Blossom of the Marion Realty Company of Milwaukee told the commission his firm is well along on plans to erect a 32 unit motel on the site.  The facility, he said, will include a restaurant to be operated by a well-known organization, and will also include 10,000 square feet of retail stores space, as well as space for offices.  Plans call for parking facilities beneath the building.
06 01       CITY ATTEMPT TO REGAIN SITE
Plans for a motel and related facilities — in Watertown's Main Street, between North Seventh and North Eighth Streets, are as dead as the proverbial doornail.  And at tonight's meeting of the common council a resolution will be approved setting in motion the necessary legal maneuvers for the city to regain the site.  Mayor A. E. Bentzin last night informed the members of the council in a special report that the present owner of the property, Dr. G. G. Quartullo of Menomonee Falls, has no intention or plans to construct the motel that has been the subject of discussion and repeated delay for several years.
1970
07 10       WELCOME INN PROPOSED FOR 700 EAST MAIN
<![if !vml]>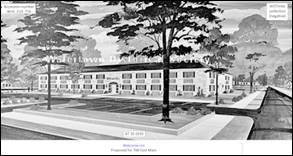 <![endif]>  
c.1970
<![if !vml]>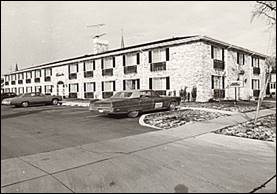 <![endif]>           <![if !vml]>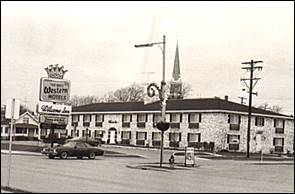 <![endif]>
Click to enlarge
1983
11 25       WELCOME INN SOLD
Welcome Inn, 700 East Main Street, has been sold to a local partnership and is under new ownership. Balloon Enterprises, a partnership consisting of Charles Balistreri, William O'Brien, and David Nielsen, has been formed, and has purchased the hotel and restaurant facilities. Balistreri and his wife, Betty, who formerly managed Balistreri's Ristorante at 100 Madison Street, will manage the motel and restaurant businesses. They are also planning to move into the apartment which is part of the hotel.   WDT
1992
04 15       WELCOME INN RENOVATION AND FACE-LIFT
The Welcome Inn in Watertown will undergo a major renovation and face-lift of its 38-unit motel and restaurant facility, according to the motel's owners.  The remodeling, estimated to cost more than $300,000, will include a complete makeover of the lobby, restaurant and lounge, as well as a complete refurbishing of all 38 guest rooms.  "These changes are necessary in order for us to provide quality accommodations and first-class meeting facilities," said Chuck Balistreri, managing general partner of the lodging property.  "The restaurant and lounge will not only be remodeled but upgraded to provide a quality business and family atmosphere."   WDT
2000
08 10       HERITAGE INN
Heritage Inn, Watertown's downtown motel, located at 700 E. Main St., is being renovated and is joining a national hotel chain, according to Zoran and Sylvia Nikolic, owners.  The extensive renovation coincides with the motel's affiliation with the Econo Lodge nationwide hotel chain.  Although the motel will continue to be privately owned, it will now have access to the nationwide reservation system offered by Econo Lodge and its parent company, Choice Hotels International.  Zoran Nikolic said the renovation program includes new carpets in the hallways, 25-inch televisions in each guest room, electronic locks on the room doors which use cards instead of keys, new bedspreads and new window blinds.   WDT

History of Watertown, Wisconsin