This file portion of www.watertownhistory.org website
William Weber, Musician,
Dies After a Stroke
Lessons on Piano
1909
05 21          After June 1st, 1909, the undersigned will be ready to give instructions on piano to beginners.  Terms reasonable.  Address all communications to William J. Weber, 715 West Cady Street, Watertown.   WG
1936
Watertown Daily Times, 02 17 1936
WILLIAM WEBER, MUSICIAN
DIES AFTER A STROKE
Popular Figure Here is Stricken on Sunday;
Funeral Wednesday
William J. Weber, 59, widely known Watertown musician, died Sunday forenoon at his home, 715 West Cady street.  Death came at 10:30 o'clock.  He suffered a stroke of apoplexy Friday evening shortly after coming home from a nearby store where he had made a purchase.  He sank to the floor and when his wife found him he was able to utter only a few words and went into a coma from which he did not emerge.  Saturday his condition became worse and ended in death yesterday.
Mr. Weber was born in Germany and would have been 59 years old next March 6.  He came to the United States as a young man and before coming to Watertown lived in Jefferson.  He was married to Miss Elizabeth McCullough of this city 33 years ago and since then had made his home here.  His wife is the only survivor here. There are three sisters in Germany.
An active career in music, which he early made his life's work, made Mr. Weber known far and wide in this section.  He taught music for many years and also played the piano as an individual entertainer.  For many years he played in company with Harry Stube, local violinist, their association covering more than 25 years.  He was for years organist at St. Bernard's Catholic church and in recent years served St. Henry's congregation in that capacity.
Conducted Orchestra
Mr. Weber also conducted an orchestra for many years and played at many social functions and dances in all parts of Wisconsin.  In this way he became widely known in popular musical circles.
While popular music held his attention for many years, he was equally well grounded in the more serious forms of music and in classical works.  He also gave some attention to composition and composed several works, some of his manuscripts being among those by Watertown composers which were exhibited in the public library last year under the auspices of the Euterpe club.  Among them was a Gloria which he wrote.
Mr. Weber was a popular figure in the community and nearly everybody knew him as "Bill".  A jolly disposition, coupled with a natural ability to make friends, won him a wide acquaintanceship.  Among his oldest friends here was R M. Hahn, who was the first Watertown resident to form a friendship with him when he arrived here.  The friendship extended over a period of many years and in recent years the two were actively associated in choir work at St. Henry's church, Mr. Hahn as director and Mr. Weber as organist.
<![if !vml]>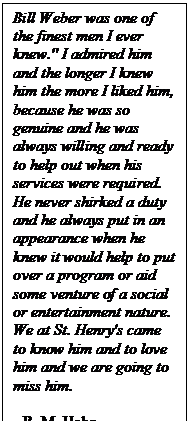 <![endif]>"Bill Weber was one of the finest men I ever knew," Mr. Hahn said when he learned of his death.  "I admired him and the longer I knew him the more I like him, because he was so genuine and he was always willing and ready to help out when his services were required.  He never shirked a duty and he always put in an appearance when he knew it would help to put over a program or aid some venture of a social or entertainment nature.  We at St. Henry's came to know him and to love him and we are going to miss him."
Served As Alderman
Many others about the city joined in paying tribute to Mr. Weber and his value to the community as an entertainer and musician.  It is recalled that Mr. Weber in the early days of the "moving picture" as the new form of entertainment was then known played the piano and sang regularly at local theatres.  His part in the program always reached the climax when he sang an accompaniment for the colored slides which were then a regular feature with every film program much as news reels and animated cartoons are today.  This won him a wide following and many friendships formed in those early days lasted down to the day of his death.
Mr. Weber at one time served as alderman from the Fourth ward and in his memory the city hall flag was lowered to half-staff today.
The body was taken to the Boyle funeral home but will be at the residence beginning this evening and friends may call there to pay their respects from tonight until Wednesday morning when the funeral will be held. Services will be in St. Bernard's church at 9:30 o'clock.  The Rev. John Devers, C. S. C., chaplain at Sacred Heart postulate and chaplain for Watertown council No. 1478, Knights of Columbus, will sing the Requiem High Mass.  Interment will be in St. Bernard's cemetery.
Mr. Weber was a member of the Knights of Columbus, the local chapter of the United Commercial Travelers and the Plattdeutscher Verein.
City officials, including all members of the council, are requested to meet Tuesday evening at 7 o'clock to go in a delegation to pay their respects.  They will meet at the city hall and all are asked to be present promptly at 7 o'clock since there is to be a council meting after the party returns from the Weber home.  The request was made by William A. Bast, president of the council at the suggestion of Mayor W. F. Reichardt who is confined at his home by illness.