This file part of www.watertownhistory.org website
F. B. Weber
212 N Water St.
1908
1908, new two story brick building on North Water††††††† / ††††WHS_006_413
1909
10 01††††††††† We are ready to deliver anything you want.† If in need of flour call on us or give us an order by phone.† If you want a bargain in menís hats, caps, menís shirt, underwear or overalls at prices that will surprise youóget them here.† If in need of groceries we have them new and fresh at the lowest prices.† Give us a trial.† Highest market price paid for butter, eggs and potatoes.† F. B. Weber, 212 N Water St.†† WG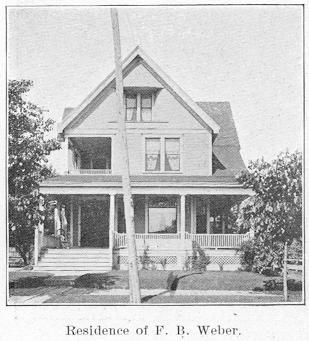 1902, from Picturesque Watertown booklet
1910
02 18 ††††† Closing Out Sale!† Entire Line of Dry Goods, Hosiery, Notions, Menís and Ladiesí Underwear, Hats and Caps and Gloves and Mittens.
There are all new and up-to-dateóno shelf worn articles.
Must be sold in 30 days regardless of cost.
Call early and get bargains.
Frank B. Weber, 212 North Water Street†† WG
1929
1929, Augusta Schmutzler obit, bro