This file part of www.watertownhistory.org website
Raasch Bowl
Watertown Bowl
102 West Cady Street
<![if !vml]>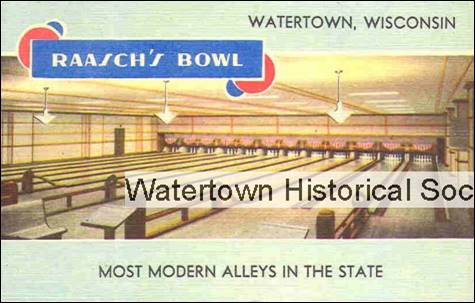 <![endif]>
Raasch's Bowl, 102 W Cady, WHS_005_701
1942      The bowling alleys were constructed by Earl Raasch in 1942
The 12-lane plant was one of the best in this part of the state at the time of its construction and is still modem in all respects.  The building itself measures 86 by 132.  The building has a basement that is used as a locker room and also a small office on a second floor.
1955
09 26     Sale of the Raasch Bowl
Sale of the Raasch Bowl, 12-lane bowling establishment on West Cady Street, was completed Thursday and the two new owners, Earl Reynoldson and Ray Siebold, both of Racine, will take over the bowling alleys on Saturday.  The transaction for the property was concluded in the law offices of Niemann and Hibbard.  Siebold is the son-in-law of Reynoldson and both men plan to be active in the business.
Siebold is president of the Racine Bowling Association and was a member of the Racine's VFW national championship team in 1953.  He is a World War II veteran, is married and has two children. Reynoldson formerly was associated with the Western Printing & Lithographing Company at Racine.  
1961
Watertown Daily Times, 03 19 1961
An extensive remodeling job that will include the installation of automatic pin spotting machines will be undertaken at the Watertown Bowl during the off-season this summer, Earl Reynoldson and Ray Seibold, co-owners of the bowling plant.  Included in the proposed program is modernization of locker room facilities, revamping of the bar room, installation of new flooring, and major alterations in the bowling desk.  The automatic pin machines will be the first to be installed in this immediate area.  Watertown Bowl, a 12-lane layout, was constructed here by Earl Raasch and was opened for bowling on August 14, 1942.  Reynoldson and Seibold purchased the business from the original owner in 1955.
1984
Watertown Daily Times, 06 23 1984
Watertown Bowl 18, 102 West Cady Street, will be under new ownership on July 1.  Ray L. Seibold and his wife Marion, 611 Labaree Street, have sold the business to Robert and Inez Schmidt, route 4, Watertown.  Schmidt has been manager of the business for the past several years, and has been employed at the center for the past 11 years.  Seibold and his father-in-law Earl Reynoldson, both then of Racine, purchased the bowling establishment, then known as Raasch Bowl, back in 1955 from Earl Raasch.  In 1973 Ray and his wife took complete ownership of the business and have been operating it since that time.  The establishment originally had 12 lanes, but an expansion project in 1966 increased that total to 18.  The automatic pinsetters were installed on the original lanes in 1962 and were part of the new six lane addition four years later.
Cross References:
Ray L. Seibold, 1959, Bowling instructor certificate