website  watertownhistory.org
    ebook  History of Watertown, Wisconsin
Frank Tercinski
<![if !vml]>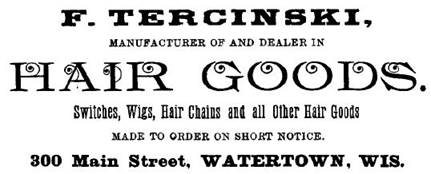 <![endif]>
1872
06 13       TRZCINSKI BATHING SALOON [Salon]
Mr. [Frank] Trzcinski as just finished fitting up a series of bathing rooms, in his Barber shop, in the basement of Noak's [Noack?] block, opposite the Post Office [SW corner, Second and Main], which will be ready for use on Friday and during the summer.  Either cold or warm baths can be taken at any hour of the day, with every facility to render them agreeable and healthy.  This is an establishment much needed here, and we have no doubt that most of our citizen will gladly avail themselves of it.           Watertown Democrat, 06 13 1872
1873
DISTANT VIEW OF
<![if !vml]>

<![endif]>  
1874
12 09       HAIR, HAIR
The subscriber has lately received a large quantity of HUMAN HAIR of the finest quality, of every length and shade.  From these he will make to order swathes and curls at 25 to 50 per cent cheaper than they can be procured at any other establishment in this or any other city within 150 miles.  Also make to order all kinds of Hair Ornaments and Hair Jewelry of every pattern and device, to suit the fancy of my patrons.  In conclusion, I thank the ladies for their past patronage, and trust, by the best attention to all orders, to give them increased satisfaction, as well as to merit the support of any portion of the trade which have not heretofore favored me with their commands.  My stock of Hair is worth at my low rates S2000.  Room at the Elegant Barber Shop        Watertown News, 12 09 1874
FRANK TERCINSKI AT MAIN AND SECOND
Back in 1875 the four barbershops in the city shops were conducted by E. Gebhardt at North First and Main streets, A. Gritzner at Main Street bridge, Frank Tercinski at Main and Second streets and Fred Werner whose shop was located on Main Street bridge. [1870, Werner bldg (with canopy, north side of bridge, washed away in 1881 flood]  
1875
<![if !vml]>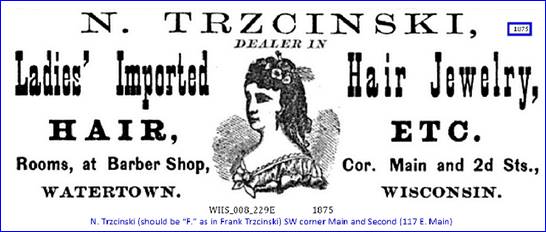 <![endif]>  
c.1890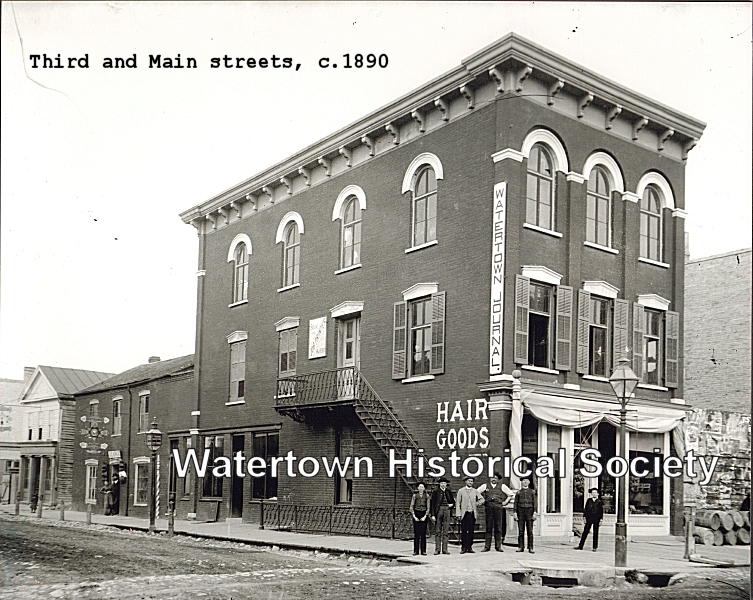 300 East Main
WHS_006_327
c.1905
FRANK TERCINSKI
<![if !vml]>

<![endif]> 
07 10       BUSINESS SOLD
Frank Tercinski has sold his business block at the northeast corner of Main and North Third streets [300 East Main]  [pre Farmers & Citizens Bank building; later Book World, Central Block Kitchen and Design] to Gustav Buchheit, who purchased it for the Milwaukee-Waukesha Brewing Co., the consideration being $14,000.  The front part of the building will be remodeled and fitted out at once as a saloon to be occupied by Wm. C. Radtke. The rear part of the block on Third Street occupied by Henry Fendt [Sr] as a saloon will still be occupied by him.   WG
c.1909
302 E. Main, hair goods
1916
302 E.Main, hair goods
<![if !vml]>

<![endif]>  
1920
05 31       FRANK TERCINSKI and CHARLES EDWARD "ED" TRZCINSKI
         [TERCINSKI, TRZCINSKI, TERZINSKI]
<![if !vml]>

<![endif]> 
CONTRIBUTED PHOTO <> Photo shows Frank Tercinski, on the left, with his nephew, Charles Edward "Ed" Trzcinski, standing on the platform at the Watertown train depot.  The back of the photo says it was Frank's 72nd birthday, which would have been on May 31, 1920.
Ed Trzcinski was my maternal grandfather.  Ed was the son of Frank's brother, Charles Trzcinski.  Charles ran a hair goods store in Decorah, Iowa.  Ed was born and raised in Decorah.  He wound up working as a land agent for the Northern Pacific Railway and spent most of his career in Miles City, Montana.  Miles City is where I was born and raised.
It's my understanding that Frank changed his name from Trzcinski to Tercinski after his father died.  On this page it is noted he also spelled his name "Terzinski" in at least one of the advertisements.
David Schott  /  Redmond, WA
Cross References:
                Buried in Oak Hill Cemetery:  Tercinski, F., b. 1848, d. 1925, Sec 23

History of Watertown, Wisconsin