website  watertownhistory.org
    ebook  History of Watertown, Wisconsin
Stapleton Pharmacy
109 W Main
Edward Stapleton, druggist
1873
Mr. Eberle is a veteran in the profession, probably the oldest in years of service in the state.  He began his career as a druggist in April, 1867 in the drug store of J. H. Schulz in the building where the Hoffmann clothing store now is, then a boy of 14.  He remained there four and one-half years and then took a two year course in pharmacy in Philadelphia.  Returning to this city he opened a drug store in West Main Street, now the Stapleton Pharmacy, November 1, 1873, where he remained eight years when he removed to his present location in May, 1881.
1900
05 04       Stapleton's drug store was a busy place all day today (Thursday), his "coolness coaxers" being served to dozens of people.  The various flavors of soda water served at his fountain being considered the very best.    WG
c.1900
<![if !vml]>

<![endif]>  
1908
06 26       A small clock with a large dial in the drug store window of Edw. W. Stapleton, which tells correct time, attracts much attention these days.    WG
EARLY 1900s
EDISON PHONOGRAPH / Jack Stapleton
Ed Stapleton Drug Store.  His 21-year-old son Jack, who had helped his dad in the drug store business, was fascinated by the new Edison phonograph machines and ordered a large supply of the phonographs and accepted the $4,000 order on consignment.   Derived from Watertown Daily Times column, 12 01 2017
<![if !vml]>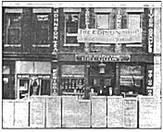 <![endif]>   Boxes containing Edison phonographs.   WDTimes photo
1917
Sept         EDISON PHONOGRAPH AT INTER-COUNTY FAIR BY STAPLETON'S
<![if !vml]>

<![endif]>   The Watertown News, 09 03, 1917
11 29       EDISON PHONOGRAPH DEMO AT CONCERT
E. M. Stapleton, an old-time Fox Lake boy, now selling drugs and phonographs at Watertown held a concert there the other evening when Miss Bessie Lane Shepherd, the noted soprano, demonstrated the fact that it was almost impossible to distinguish between the actual voice of the singer and its reproduction upon the Edison phonograph.  Miss Shepherd stood beside the instrument and sang with it, occasionally stopping and letting the instrument work alone and one could hardly tell the difference.  She also sang a duet with herself on the instrument in "Home Sweet Home" which made a big hit.   The Representative (Fox Lake, WI), 11 29 1917
2017
Images Hair Studio.  The former Charlie Doerr drug store property was owned by Linda Doerr.
Cross References:
| | |
| --- | --- |
| Stapleton | |
| Stapleton, Charles S | |
| Stapleton, E C | |
| Stapleton, Edward M | 1909, 109 W Main, druggist |
| Stapleton, Edward M | |

History of Watertown, Wisconsin