This file portion of www.watertownhistory.org website
   Chapter on Watertown Police Department
Roets Sworn in as New Police Chief
1991
01 06       ROETS PROMOTED TO LIEUTENANT
Sgt. Timothy Roets has been promoted to lieutenant on the Watertown Police Department by Police Chief Richard Reynolds.  Roets will be filling a vacancy created by the departure of Lt. Orval Quamme, who took the oath of office as Jefferson County sheriff this morning.  Roets will be assigned to the midnight to 8 a.m. shift to replace Lt. Thomas Killmon, who will be transferred to the 4 p.m. to midnight shift.  Roets joined the department on Aug. 10, 1982, as a patrolman.  He was promoted to sergeant detective on Jan. 16, 1985.   WDT
Watertown Daily Times, 06 04 2008
Police and Fire Commission President Steve Hepp announced that Deputy Chief Tim Roets of the Watertown Police Department was offered the job of the city's next police chief.
Roets succeeded Police Chief Charles McGee, who announced his plans to retire in December, 2007.  McGee's last day at the department was August 8. 2008.
Watertown Daily Times, 09 17 2008
<![if !vml]>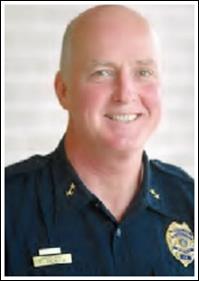 <![endif]>Tim Roets was officially sworn in as the chief of the Watertown Police Department during Tuesday's common council meeting as his family stood by his side.
"This is a special day and I thank those present for being here to share it with me and my family," Roets said soon after his wife Cheryl pinned his new chief badge on his chest following the swearing in process.
"This promotional ceremony is not about me, but instead it's about the position, our department and what we represent," he added.  "It is a public trust. Trust is important in all professions, but it's essential in law enforcement."
Roets also said that he will practice his profession responsibly, honestly, passionately and always with the keen awareness of the trust that has been placed in him by those in the community and those he leads.
"At no other time in my career is it more important to engage and partner with our citizens, solve problems and keep Watertown a great place to live," Roets said.  "The beauty and balance of our democracy can be seen clearly, thanks to the willing cooperation of our public and a dedicated team of support staff.  We are able police our city of 23,000 people with 39 officers on a 24 hour a day basis.  Not as a controlling force, but instead as part of the community."
"As citizens, we all have a responsibility to each other to do what is right and in the best interest of a free and diverse society," he added.
Things started to get emotional during Roets' speech when he addressed the members of the Watertown Police Department and the public.  "To the members of the Watertown Police Department, I promise to treat you with respect and dignity, regardless of your rank or position," Roets said as he started to choke up.  "The job requires extraordinary dedication and you have a right to believe that your chief values your work.
"To the public I will serve with courage and humility and do everything necessary to ensure that our department will be guided by selfless and ethical principles," he added.
Following Roets' speech Mayor Ron Krueger commended former police chief Charles McGee for his service to the community.  McGee, who was in attendance, recently retired after serving the position since June of 1993.
Roets was hired by the Watertown Police Department in 1982 as a police officer.  He was promoted to sergeant three years later and to lieutenant in January of 1991.
He was promoted to captain in June of 1996 and to deputy chief in May of 1999.  As the deputy chief, Roets was responsible for organizing and supervising all phases and operations of the police department.
Roets has received specialized training from the International Association of Chiefs of Police, Wisconsin Chiefs of Police Association, Federal Bureau of Investigation, Wisconsin Department of Criminal Investigations and Wisconsin Emergency Management
Throughout his career with the Watertown Police Department, Roets has won several awards for his work.  He received the Outstanding Young Law Enforcement Officer Award from the Watertown Jaycees in 1984 and a Lifesaving Award from the Watertown Police Department in 2006.  He was named the 2006 Law Enforcement Officer of the Year by the Jefferson County Chiefs and Sheriffs Association.
Roets graduated from Carthage College in Kenosha in 1981 with bachelor of science degrees in criminal justice and sociology.  He also graduated from the FBI National Academy in Quantico, Va., in 1989.
Roets and his wife Cheryl have four children:  Kelsey, Lydia, Jack and Sam.