website  watertownhistory.org
    ebook  History of Watertown, Wisconsin

Watertown-area Homes Built by
The Riedl Brothers
"Builders of Customs Homes"

Five brothers, in partnership:

Edwin Riedl
Norbert Riedl
Clarence Riedl
Leon Riedl
Merlin Riedl
<![if !supportLineBreakNewLine]>
<![endif]>
<![if !vml]>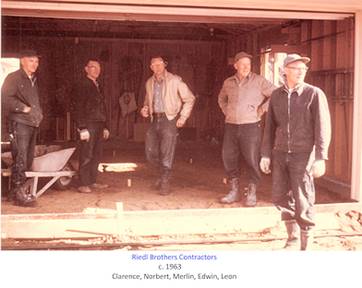 <![endif]>
Click to enlarge
Ken Riedl photo
Chronological listing of construction & remodeling projects:
Beginning January 1, 1954

1954 Clarence Pitterle Remodel Kitchen
N7297 Hwy E, Pipersville
1954 Harvey Gritzner Addition to Bar and Restauraunt
East Gate Inn
1954 Merlin Riedl House and Garage, North 2nd Street
1405 North Second
1954 Ixonia Shingle Barn
Hwy D
1954 John Hartwig Cabinets
N8533 Hawthorne Dr Ixonia
1954 Richards Avenue House and Garage
(Greek) Ran Main Cafe

1955 Von Schultz Remodel
North 9th Street
1955 Ed Wurtz Remodel
South Washington
1955 Merlin Riedl House and Garage, Arcade Avenue
212 Arcade Avenue
1955 Baumann House and Garage
1119 S. 9th Street
1955 Georgene Fredrich House and Garage
1320 S. 9th Street
1955 Ben Strauss House and Garage
Ixonia

1956 Bud Strege House and Garage
1215 Utah
1956 Jack Surdick House and Garage
218 Arcarde Avenue
1956 Clarence Riedl House and Garage
1305 Hutson Drive
1956 Joe Strobel House and Garage
103 Hyland Avenue
1956 Ernst Oschman House and Garage
Ixonia
1956 Perry Printing Addition
Waterloo
1956-57 William Loeb House and Garage
N8790 Airport Road
1956-57 Clarence Wurtzler House and Garage
Old Hwy 26

1957 Al Beyer House and Garage
1423 Neenah Street
1957 William Paskey House and Garage
1316 South Ninth Street
1957 Edwin Riedl Repair and Shingle Roof
216 Lounsbury Street
1957 Ed Bowman House and Garage
1015 Perry Street
1957 Orville Zastrow Bedroom and Garage
1329 South 10th Street
1957 Mrs. Wegner Garage
North Second Street
1957 Archie Ulrich House and Garage
1504 East Main Street
1957 Piper Brothers Kitchen Cabinets and Closets
Airport Road
1957 St. Joseph's Home New Steps and Screens
705 Clyman Street
1957-58 Clarence Ferg House and Garage
East Gate Drive
1957-58 John Verg House and Garage
Hustisford
1958 George Ertl Garage
1177 North Fourth Street

1958 Lester Hero House and Garage
106 Hyland Avenue
1958 George Helmke House and Garage
1514 Center Streeet
1958 Lyle Shaiken House and Garage
1518 Sandy Lane
1958 Lester Schuett House and Garage
1508 Prospect Street
1958 Clarence Holt 14 ft Kitchen Cabinets
North Ninth Street
1958 Lester Fritz House and Garage / Riedl Bros. signage posted
203 Arcade Avenue 
1958 Erwin Lemke 25 ft Kitchen Cabinets
216 Richards Avenue
1958 Gary Wuerneberg House and Garage
W4484 Riverview Road
1958 Bob Schroedl House and Garage
N4081 Co Trk J
1958 Joe Schopen House and Garage
N3839 Will Rd, Jefferson
1958 Joe Wanke House and Garage
N3795 Will Rd, Jefferson
1958 Bill Kerstan House and Garage
210 Arcade Avenue
1958-59 Chester Stenzel House and Garage
221 East Spaulding Street

1959 Hutson Braun (lot 10) House and Garage
Lawrence Bickel house on 1302 Hutson Drive
1959 Lester Bast House and Garage
224 East Spaulding Street
1959 Edwin Riedl Add 10 ft to Garage
216 Lounsbury Street
1959 Norbert Riedl Two Car Garage
1506 Prospect Street
1959 Charles Holt Garage and Porch
Kiewert Streeet
1959 Lawrence Bickel Two Car Garage
North Hwy 26 / Night Cap Motel / Bickel ran this
1959 Joe Wuestenberg House and Garage
N8504 Coffee Road
1959 Champ Boettcher House and Garage
1423 East Main Street
1959 Paul Schroedl House and Garage
N3681 Hwy 89, Jefferson
1959 Richard Fuchs House and Garage
N7455 Switzkee Road
1959 Donald Wurtzler House
-----

1960 Carl Becker House and Garage
4436 Riverview Road
1960 Carl Schumacher Trim out new house - Siding and Soffit
W2186 T Bar Lane, Ixonia
1960 Elmer Hose House and Garage
222 Lounsbury Street
1960 Paul Wuesterhaus House and Garage
4433 Riverview Road
1960 Fred Borchart New Basement under old house
South Hwy 26
1960 Everett Borth House and Garage
N8554 Co Trk & Coffee Road
1960 Earl Stockle House and Garage
207 North Concord
1960 Gene Schlesner House and Garage
411 Kossuth Street
1960 Lawrence Pirkel Addition to House
1400 South Ninth Street
1960-61 Art Schmitt House and Garage
Airport Road
1960-61 Mr. Schuett House
W 1172 Marietta Avenue, Ixonia
1960-61 Bob Holt Finish Upstairs
Ann Street
1960-61 Fred Schnitger House and Garage
1003 Cleveland Street

1961 Bob Hollenbach House and Garage
4439 Riverview Drive
1961 Ben Mallow House and Garage
East Main Street
1961 Cliff Hanson House and Garage
1001 Cleveland Street
1961 Bert Beltz House and Garage
16 Park View Lane
1961 Vaugn Schultz House and Garage
Kuckhan Lane
1961 Bob Stangler House and Garage
1339 North Fourth
1961 Tom Doering House and Garage
1512 Sandy Lane
1961 Mrs. Schroedl House and Garage
N3705 Hwy 89, Jefferson
1961-62 Frank Kuhlke House and Garage
1505 Sandy Lane

1962 Schroedl's Meat Market Addition
N3705 Hwy 89, Jefferson
1962 Marvin Pheiffer House and Garage
N5376 Cty Trk CW
1962 Harvey Duehring House and Garage
118 College Avenue
1962 George Funk Fire Damage
N8577 Airport Road
1962 Herb Kohloff Aluminum Siding on House
South Concord
1962 Mrs. Bernice Soldner Remodel House Inside
----
1962 Orville Weseman 12 ft Kitchen Cabinets
1008 South Ninth
1962 Arnold Guetzlaff 10 ft New Countertop
1416 North Second Street
1962 Gary Wuerneberg Garage
N4484 Riverview Road
1962 Bob Martinek Add New Bathroom and Remodel
1302 Hutson Drive
1962 Lyle Lange House and Garage
Lebanon
1962 Forest Melius House and Garage
707 West Main Street
1962 Lyle Shaiken Garage
1518 Sandy Lane
1962 Herb Wrass Garage Addition and Patio
Hutson Drive
1962 Ed Rohr Addition to House
619 Cole Street
1962 Max Miller Addition to Top of House
709 Vine Street
1962 Bob Holt New Top on Kitchen Cabinets
Ann Street
1962 Bert Beltz Linoleum on Steps, etc.
16 Park View Lane
1962-63 Larry Ebert House and Garage
1209 Virginia Avenue
1962 Ed Rohr Finish Addition to House
619 Cole Street
1962 Fred Borchart New Shingle Roof
South Church Street
1962-63 Schroedl's Meat Market Addition to Meat Market
N3705 Hwy 89, Jefferson
1962-63 Jim Richter House and Garage
1510 Sandy Lane

1963 Chester Zurheide House and Garage
1515 Sandy Lane
1963 Merlin Riedl House and Garage
1309 North Second
1963 Raymond Copland House and Garage
East Spaulding Street
1963 Emil Detert Addition to House
Waterloo
1963 Carl Becker Finish House inside and stone outside
Riverview Road
1963 Bill Krupi House and Garage
N200 North Second Street Road
1963 Robert Knaach House and Garage
W3449 Saucer Road
1963 Bert Beltz New Ceiling in Family Room
16 Park View Lane
1963 George Funk New floor in bathroom
N8577 Airport Road
1963 George Lange House and Garage
1514 Sandy Lane
1963 Jim Richter House and Garage
N706 Second Street Road
1963 Hugo Klecker Remodel bathroom
N2687 Hwy M
1963 Joe Weber Rebuild porch and bathroom
N7158 Cty Hwy Y
1963 Robert Schroedl Remodel living room and roof
N4081 Cty Trk J
1963 Wesley Baumann Cement driveway
208 Silver Drive
1963 Forrest Melius Cement driveway
707 West Main
1963-64 Charles Holt House
804 Clay Street

1964 Howard Ottmamm House and Garage
205 East Spaulding
1964 Dr. Nowack 4 family apartment house
710 South Fourth Street (South 4th and Western Avenue)
1964 Fred Schuett New ceiling in bathroom
----
1964 Bill Jensch Addition - Family Room and Fireplace
1301 Hutson Drive
1964 George Schubert House and Garage
211 Lounsbury Street
1964 Ed Schroedl Remodel 3 new windows and kitchen cabinets
N3661 Co 89, Jefferson
1964 Don Templeton House and Garage
1603 East Main Street
1964 Art Weber House and Garage
1604 River Drive
1964 George Sanquist House and Garage
221 Riverlawn Avenue
1964 Paul Hillfiker House and Garage
105 Oak Hill Court
1964 Don Kuester House and Garage
N9201 Donald Lane
1964 Jerry Miller House and Garage
N4925 Streim Road, Jefferson
1964 Ben Gahlman Addition - kitchen, bath and stairway
North Fourth Street
1964 Lloyd Brekke House and Garage
1509 Sandy Lane
1964 Don Dearth House and Garage
1517 Sandy Lane
1964 Bill Jensch Slate in front entryway
1301 Hutson Drive
1964-65 Earl Weihert House and Garage
317 Riveria Lane
1964-65 Bill Berger House and Garage
202 Lounsbury Street

1965 Robert Einem Remodel old schoolhouse
----
1965 Arnold Christian House and Garage
213 Lounsbury Street
1965 Ron Radcliffe House and Garage
1415 River Drive
1965 Don Schilling House and Garage
205 Oak Hill Court
1965 Willard Schlief House and Garage
1221 North Second Street
1965 Leonard Kramp House and Garage
910 Hyland Avenue
1965 Ed Segrist House and Garage
1304 Utah Street
1965 David Schumacher House and Garage
Ixonia
1965 Harold Hilker House and Garage
422 East Water Street
1965 Hank Rabbach House and Garage
N7219 Hwy Y
1965 Wayne Bruchman Garage and Driveway
217 East Spaulding
1965 Joe Weber New porch and bathroom
N7158 Hwy Y
1965 John Hartung House and Garage
N8533 Hawthorne Drive, Ixonia
1965-66 Boyd Flater House and Garage
Donald Lane N9205
1965-66 Dr. Smebak House and Garage
406 Carl Schurz Drive
1965-66 Gilbert Perschke House and Garage
304 Lynn Street

1966 Mike Funk New fronts on kitchen cabinets
Airport Road
1966 Ed Rohr Remodel downstairs, new kitchen cabinets
619 Cole Street
1966 Louis Weber Remodel and new kitchen cabinets
1007 Western Avenue
1966 John Verg House and Garage
5 Riverdale Circle
1966 Arnold Steinhorst House and Garage
1502 Utah Street
1966 Gary Wuenerburg House and Garage
4484 Riverview Road
1966 St. Henry's Parish Rectory and 4 car garage
412 North Fourth Street
March 14, 1966:  Work has started on the demolition of St. Henry's Hall at North Third and Cole Streets to make way for a new parsonage and administration building, along with three garages, to serve the pastor and two curates of the parish.  Also to be demolished is the present parsonage at 412 North Fourth Street.  The Very Rev. A. J. Herrmann, pastor, and the curates, the Rev. David H. Runde and the Rev. Thomas P. Baier, will move to the old Leo Ruesch residence at 310 North Water Street shortly after Easter and will occupy that residence until the new parsonage is completed.
June 20, 1966:  A new administration-rectory building is being constructed for St. Henry's Catholic congregation in Watertown. The contemporary-classical two story building is being erected at North Fourth and Cole Streets, occupying the sites of the old rectory and what was for many years St. Henry's  Hall. It will be of brick veneer, with pitched roof. It will provide living quarters for the three priests who serve the parish, offices and waiting rooms. In the basement an all-purpose room will be built for lay participation. It will be provided with a public entrance and a kitchen. On the first floor, there will be a garden court with sliding door to provide the priests garden privacy. The second floor will include guest rooms, the pastor's suite and the housekeeper's apartment. Architects of the building are Brielmaier, Sherer and Sherer of Milwaukee. General construction contracts have been awarded to Riedl Brothers.
1966 Herb Schroedl Garage and room above
N3719 St Hwy 89, Jefferson
1966 Fred Graf Aluminum siding house and garage
211 Riverlawn Avenue
1966 Everett Borth Remodel basement
Cty Trk X Coffee Road
1966 Warren Huebner Garage
1513 North Second Street
1966-67 Ed Perschke House and Garage
209 Lounsbury Street
1966-67 Ted Guse House and Garage
Utah Street

1967 Bob Schaefer Addition to house
1025 Kiewert Street
1967 Bert Beltz Insulate garage and shelving
16 Parkview Lane
1967 Robert Minning House and Garage
W2585 Hwy CW
1967 Wallace Korbin Aluminum siding and awnings
1003 North Fourth Street
1967 Watertown Floral Co. Remodel and new cabinets
225 East Arcade
1967 Bill Peirick Addition to house
809 Cady Street
1967 Ken Beyer House and Garage
N9234 Donald Lane
1967 Karl Zubke House and Garage
1507 Sandy Lane
1967 Jim Meyer House and Garage
1618 Neenah Street
1967 Art Kilcord Garage
----
1967-68 Elmer Tuttenberg House and Garage
West Road
1967-68 Wilfred Riedl Addition to front of house
1208 Dakota Street
1967-68 Keith Muir House and Garage
1119 North Second Street
1967-68 Wesley Neff House and Garage
1508 Sandy Lane

1968 Chuck Bliefernicht Remodel kitchen and hall
800 West Main
1968 Larry Ebert Remodel stairway and move wall in garage
1209 Virginia
1968 Lee Frederich Remodel kitchen and bath
1320 South Ninth
1968 Max Miller Remodel kitchen, tile bath, new ceilings
in dining and living rooms
709 Vine
1968 Harvey Kottwitz House and Garage
1303 River Drive
1968 Arnold Jorns House and Garage
904 Sand Street
1968 Joe Wuestenberg Build patio with roof
N8504 Coffee Road
1968 Edwin Riedl House and Garage
1213 North Second Street
1968 Jerry Schubert House and Garage
201 Oak Hill Court
1968 Franklin Bergdoll House
N9591 Boji Lane
1968 Howard Schmitt House and Garage
Pipersville
1968 Merlin Riedl House and Garage
757 Kathryn Court
1968 George Nimm House and Garage
Hancock Road
1968 Siefert Krogan Addition to house
1112 Dakota Street
1968 Ralph Grady House and Garage
1629 East Main
1968-69 Walter Chapman House and Garage
104 Oak Hill Court
1968-69 Bruce Ebert House and Garage
W2840 River Ridge Lane, Pipersville

1969 Dr. Smebak Remodel office
715 East Main Street
1969 Joe Richter Addition to house and remodel
Wood Road
1969 Arnold Jorns House and Garage
906 Sand Street
1969 Ralph Ellis House and Garage
1415 Kossuth Street
1969 Jack Hirtz Two prefab. four family apartments
35 William and South 26
1969 Earl Lehman House and Garage
1035 Hill Street
1969 Leslie Schumann House and Garage
1118 Riverview Lane
1969 Norbert Kreuziger Garage
210 North Monroe
1969 Dr. Magnan Sr. House and Garage
4 Riverdale Circle
1969 Glen Rusk House and Garage
1086 Boughton Street
1969 Dick Jaye House and Garage Under
1214 Richards Avenue
1969 Jim Jaye Sand floor, replace window, repair steps
1214 Richards Avenue
1969 Dick Jaye Build shelter for bricks
1214 Richards Avenue
1969-70 Elmer Manke House
710 North Second Street
1969-70 Dick Jaye Prefab. House and Garage
1214 Richards Avenue

1970 Charlie Holt Prefab House and Garage
1024 Kiewert Street
1970 Fred Keck Repair garage
202 East Water Street
1970 Jim Richter Remodel house and basement
N706 Second Street Road
1970 Bob Vogel Add room to top of kitchen
Dewey Avenue
1970 James Steffen Repair kitchen and new cabinets
Clyman
1970 Dick Jaye Addition to house
1214 Richards Avenue
1970 Dick Jaye House and Garage
226 South Concord
1970 John Schroedl House and Garage
W3727 Hwy 89, Jefferson
1970 John Roethle House and Garage
503 Kossuth Street
1970 Jack Hirtz Four family apartment
35 William St Hwy 26 South
1970 Lyle Shaiken House and Garage
420 East Water Street
1970 William Krause House and Garage
North Second Street Road
1970 Andrew Schmidt House and Garage
Old Hwy 26
1970 Yeager Bakery Addition for Sales
Summit Avenue
1970-71 Jim Schleicher House and Garage
1107 Virginia Avenue
1970-71 Don Beerbohn House and Garage
205 Lounsbury Street
1970-71 Mrs. Warren Huebner House and Garage
1513 North Second Street
1970-71 Ken Robillard House and Garage
320 Riviera Lane
1971 Bob Schroedl Remodel kitchen
4081 Cty Trk J, Jefferson

1971 Victor Zeollick House and Garage
210 Oak Hill Court
1971 Bob Shuppert Aluminum siding and garage door
1003 Lyndell Street
1971 Richwood V.F.W. Garage and repair roof on clubhouse
Richwood
1971 Bill Jensch Remodel garage into a bedroom
205 Mound Street
1971 Mrs. Wick Aluminum soffit and facia
Mound Street
1971 Robert Noon House and Garage
811 West Division
1971 Northwestern College House and Garage
Western Avenue
1971 Les Backas Take off porches, new roof and windows
1122 River Drive
1971 Mike Meyer House and Garage
1611 River Drive
1971-72 Dr. Reed New addition and roof
1507 Oconomowoc Avenue
1971-72 Melvin Kohloff House and Garage
N9140 Kohlhoff Lane

1972 Don Beerbohn Aluminum soffit
207 Lounsbury Street
1972 John Bredow Addition
121 Kansas
1972 Bernard Von Rueden Remodel and new kitchen cabinets
N2713 Welsh Road
1972 Ernst Omet House and Garage
N8858 River Road, Pipersville
1972 Ben Miller Aluminum Siding
119 Green Street
1972 John Reese House and Garage
1414 Davis Street
1972 Larry Schaefer House and Garage
1510 Prospect Street
1972 Paul Strickler New roof on 3 car garage
North Montgomery Street
1972 Bob Schuppert New shingles on roof
1003 Lyndell Street
1972 Robert Noon New siding and porch
811 West Division Street
1972 Shorty Timm New siding, doors, and windows
1002 Lyndell Street
1972 Herbert Meschke House and Garage
N4934 Cty Trk N, Jefferson
1972 Gordan Keach House and Garage
627 Territorial Road, Clyman
1972 Bethesda Lutheran Home One room and two car garage
700 Hoffman
1972 Allison Dittman Remodel and addition
Hwy M
1972 Leslie Engelke New roof, soffit, facia and window
613 Dodge Street
1972 Bernard Von Rueden Remodel two rooms, windows and doors
N2713 Welsh Road
1972-73 Floyd Burrnett House and Garage
1209 North Second Street

1973 Keith Muir House and Garage
1119 North Second Street
1973 Robert Buss House and Garage
230 North Watertown Street, Johnsons Creek
1973 Robert Schuett House and Garage
1202 Allerman Drive
1973 Merlin Riedl House and Garage
113 West Spaulding Street
1973 Leo Bruenig Remodel and new kitchen
1412 Oconomowoc Avenue
1973 Wallace Sterwald House and Garage
W3249 Oak Hill Road (CW)
1973 Lawrence Bickel House and Garage
307 Silver Drive
1973 Mrs. Lydia Gnewich Aluminum soffit and facia
1310 Hutson Drive
1973 Rueben Schoechert New roof and soffit
1126 River Drive
1973 Jerry Schleicher New addition
N8875 Boomer Street
1973 George McFarland Addition to house
N278 Cty Trk K
1973 Bob Vogel Addition
1539 Oconomowoc Avenue
1973-74 Walter Meitner House and Garage
306 North Monroe Street
1973-74 Ed Wegner House and Garage
Oconomowoc, WI
1973-74 Mrs. Kiefer Garage
1217 Allerman Drive
1973-74 Frank Kuester Addition
North Washington Street

1974 Max Miller Raise living room floor and new baseboard
709 Vine Street
1974 Merlin Roberts Remodel bath
506 South Tenth Street
1974 Yvonne Huebner Remodel basement
North Second Street
1974 Carl Gruenwald Panel bedroom and ceiling tile
----
1974 Carl Bast Stairway, siding and soffit
200 Oak Hill Court
1974 Milo Templeton House and Garage
East Main Street
1974 Mrs. Hartman Addition to house
304 South Seventh Street
1974 Larry Bush House and Garage
Hwy N
1974 Roger Klingbeil A-Frame House
Hwy Y
1974 Forrest Melius House and Garage
707 West Main Street

1975 Paul Schroedl Remodel Basement
N3681 Hwy 89, Jefferson
1975 Mrs. Schroedl Ceiling in basement and dining room cabinet
W3705 Hwy 89, Jefferson
1975 Peter Steinbrink House and Garage
1520 Prospect Street
1975 Herb Schroedl Remodel kitchen, bath cabinet and stairs
N3719 Hwy 89, Jefferson
1975 Dave Riedl House and Garage
1123 North Second
1975 Bernard Riedl Remodel old house and smokehouse
Gopher Hill Road
1975 Ed McFarland Addition to house
N284 Cty Trk K
1975 William Damrow House and Garage
----
1975-76 George Smith House and Garage
N6253 Stonewood Drive
1975-76 Wesley Baumann House and Garage
208 Silver Drive

1976 Chuck Anderson Remodel kitchen
401 North Washington Street
1976 Jim Howlett House and Garage
1512 Prospect Street
1976 George Ceolla House and Garage
----
1976 William Sterwald House and Garage
East Leonard Street
1976 Wes Altweiss Rebuild two family house
1025 North Second Street
1976 Dave Riedl Remodel and new garage
W71176 Provimi Road

1977 Mike Stangler House and Garage
W7414 Hwy 19
1977 Bill Klink Addition upstairs
138 West Spaulding Street
1977 Louis Kohls House and Garage
----
1977 John Hartung House and Garage
N8533 Hawthorne Drive, Ixonia
1977 Bob Westrick Addition upstairs
23 Park View Lane
1977 Jim Isley House and Garage
1207 Tloha Court

1978 Wayne Heiser Addition to house
44 Bluebird Ridge
1978 Richard O'Keefe House and Garage
N8398 Hustiford Road
1978 Norbert Riedl Two family apartment
307 East Cady Street
1978 Dennis Schroedl House and Garage
N4096 Hickory Court, Jefferson
1978 Dave Schroedl House and Garage
N4088 Hickory Court, Jefferson
1978 Bob Vogel House and Garage
1539 Oconomowoc Avenue
1978 Gerald Caughlin Addition and garage
N835 Welsh Road

1979 David Flood House and Garage
Hwy A
1979 Kasper Smith House and Garage
----
1979 Don Cayan Addition to house
109 Herman Street
1979 Bob Schuppert Carport
1003 Lyndell Street
1979 Richard Dathan House and Garage
1425 Oconomowoc Avenue
1979 Bob Klink Remodel and new porch
518 North Church Street
1979 A. Wollinger House and Garage
N8271 Airport Road
1979 Fred Vergenz New siding
206 Riverlawn Avenue

1980 Richard Dathan Fire damage, new roof, drywall, trim out
1425 Oconomowoc Avenue
1980 Dave Riedl House and Garage
201 Robert Street
1980 Paul Richter Remodel bath
306 East Arcade
1980 Wes Altweiss Garage door and opener
1025 North Second Street
1980 Chuck Bliefernicht Remodel
800 West Main Street
1980 Tom Ebert Bath cabinet
1306 Hutson Drive
1980 Gary Moltzahn Remodel and fireplace
1201 Amber Lane
1980 Bernard Riedl Remodel
Gopher Hill Road
1980 Don Fendt Addition
1404 Dakota Street
1980 Herb Schroedl Remodel and tile bath
W3719 Hwy 89, Jefferson
1980 Mrs. Lueck New window
1215 Randolph Street
1980 Charles Wendt Fire damage
305 Elizabeth Street
1980 Jim Kraemer Porch addition
1173 North Fourth Street
1980 Chuck Anderson Remodel and new garage with room upstairs
401 North Washington Street
1980 Elmer Behrens Patio
522 Carl Shurz Drive
1980 Cora Bliefernicht Shingle roof
226 Arcade Avenue
1980 Bob Dathan Garage and new window
1425 Oconomowoc Avenue
1980 Larry Isaacs Build steps
920 Clay Street
1980 Ben Krueger Repair porch
810 North Fourth Street
1980 Joe Holthaus Remodel and brace window
12 Riverdale Circle
1980 Fred Vergenz Repair porch and siding
206 Riverlawn
1980 Joe Wuestenberg All new windows
N8504 Coffee Road
1980 Ernest Staude House and Garage
1206 North Water Street
1980 Jim Richter Six car garage
N706 Second Street Road
1980 Butch Hensler Remodel and two new porches
Hwy 19
1980 Heinz Bruenger New porch and room
605 North Water Street
1980-81 Tom Penza New house and garage
1443 Oconomowoc Avenue

1981 Charles Yoeman Remodel and repair
Hwy E
1981 Dennis Riedl Two car garage, new kitchen and bath, and shingle roof
939 West Main Street
1981 Mrs. Staude Remodel basement and paneling
1323 Livsey Place
1981 Mrs. Schultz Fire damage
North Monroe Street
1981 Keith Keach Addition
1006 Labaree Street
1981 Irene Moltzahn Repair and remodel
215 South Church Street
1981 Don Zillmer Remodel kitchen and garage door
1330 West Main Street
1981 John Hartung Remodel in basement
N8533 Hawthorne Drive
1981 Norbert Krueziger Enclose porch
1441 Oconomowoc
1981 Allen Hilgendorf Remodel Kitchen
205 South Concord Street
1981 Gary Fontaine Porch Addition
218 North Avenue
1981 George Lincoln Remodel Basement
1423 Neenah Street
1981 Mrs. Stabenfeldt Paneling and Soffit
310 South Sixth Street
1981 Mrs. Kingsley Fire damage in basement
214 Arcade Avenue
1981 Irene Thauer Remodel kitchen
214 South Washington
1981 Clarence Peterson Remodel for office
119 Canary Circle
1981 Bob Schuppert Enclose porch
Lake Mills
1981 Mrs. Checki New aluminum siding
701 First Street
1981 H. Ziemer Enclose two silos with roof
1301 Oak Street
1981 Dr. Smebak Remodel office
715 Main Street [torn down for Hardee's]
1981 Dick Kohn Fire damage, new garage and roof
on house, stairway, and kitchen
Hwy G
1981 Mrs. Herb Richter Remodel kitchen, new windows, and new porch
N719 Hwy M
1981 Wesley Neff Soffit and facia
1508 Sandy Lane
1981 C. Schumann New garage
118 East Green Street
1981 Phil Zwiebel New door
8 Park View Lane
1981 Wayne Simon Remodel in kitchen
Allerman Drive

1982 Mrs. Quirk Remodel and insulate
----
1982 Gorden Baty Remodel upstairs
W4283 Ebenezer Drive
1982 Robert Nimm Family room addition
405 North Washington Street
1982 Irene Thauer Remodel garage and basement
214 South Washington
1982 Pioneer Roofing Build office and front entry
151 Maple, Johnson Creek
1982 Willard Schlief Remodel
1221 North Second Street
1982 Bob Wuestrick Build drawers, etc.
23 Park View Lane
1982 Joe Wuestenberg Remodel flower box and new cabinet
N8504 Hwy X
1982 Bob Schuppert Enclose porch and remodel at the lake
Lake Mills cottege
1982 Jim Quirk New roof on house
----
1982 Irene Thauer Rebuild front porch and remodel kitchen
214 South Washington
1982 Pioneer Roofing Build two offices and tables
151 Maple Street, Johnson Creek
1982 Gordan Baty Remodel three car garage - new windows and siding on house
W4283 Ebenezer Drive
1982 Wendy's Remodel inside
Oconomowoc
From January 1, 1954 when Riedl Brothers began, to December 31, 1982 when they retired and ended Riedl Brothers, they built 194 houses, plus additions, remodeling, garages, etc. They must have done hundreds of smaller jobs of maybe one hour to twenty hours, as they seldom turned down work, unless the people could not wait.

History of Watertown, Wisconsin