This file part of www.watertownhistory.org website
†† Chapter on Watertown Police Department
Chief Richard Retires
Police chief's aim was helping people
05 20 1993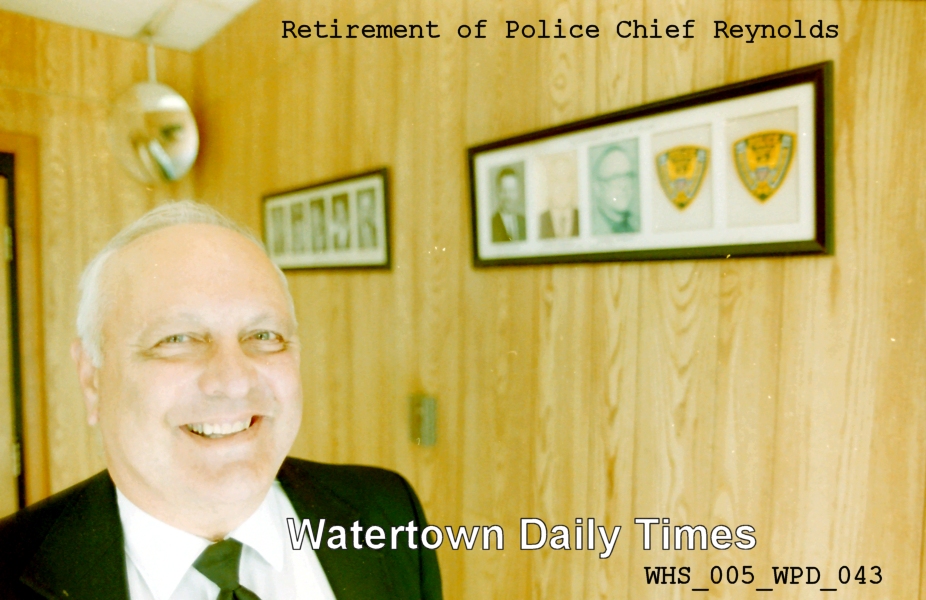 Retiring Police Chief Richard Reynolds
Richard Reynolds concluded his 35-year law enforcement career upon his retirement.
Reynolds became Watertown Police Departmentís eighth police chief in January 1980.
Career concluded with his retirement just prior to his 60th birthday on May 26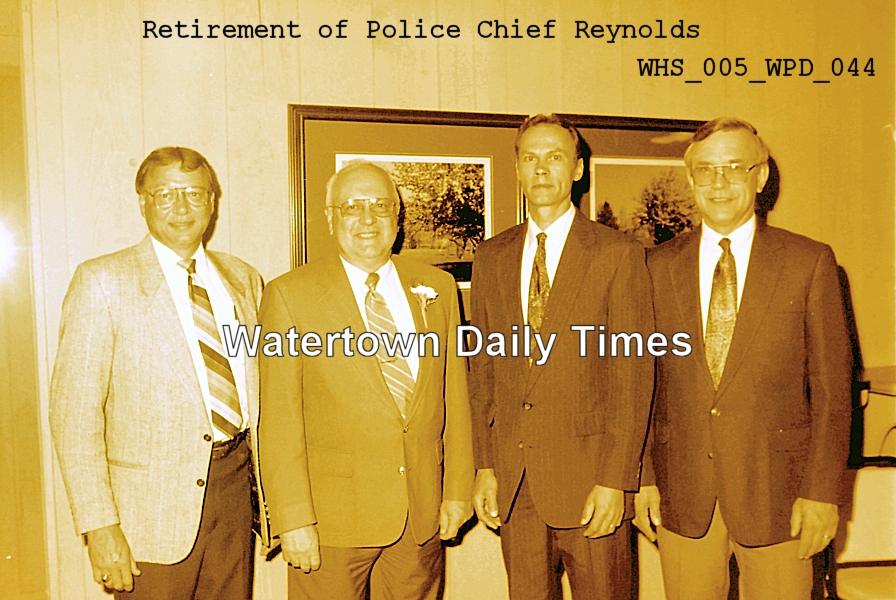 Retiring Police Chief Richard Reynolds was honored at a dinner organized by the Watertown Professional Police Association at the Watertown Country Club.† Pictured (from left) are Lt. Vern Schumann, association secretary/treasurer; Reynolds; Sgt. Terry Krueger, president; and Lt. Robert Kube, vice president.
Reynolds was born in Milwaukee.† After graduating from Baraboo High School in 1951, Reynolds moved to Watertown with his parents.† Like his father, he also worked in the construction field for a Butler company.
During his off hours from the excavation job, Reynolds began working part time in 1956 as an auxiliary policeman, directing traffic on Friday nights and supervising ball <![if !vml]>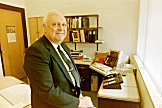 <![endif]>tournaments and dances at Turner Hall.† When the police department expanded in January 1958, Reynolds was hired as a full-time sworn officer.
For his first two years on the force, he worked from 4 p.m. to midnight. The next seven years were on the midnight to 8 a.m. shift.
††††
With his promotion to sergeant in June 1967, Reynolds began working in the department's juvenile division under Inspector Mickey Krahn, who was instrumental in forming the juvenile branch.† When Krahn retired in June 1970, Reynolds was promoted to lieutenant and head of the juvenile division.
Reynolds worked in the juvenile department until his promotion to inspector under Chief Gerald Donovan on March 1, 1972.† After Donovan left to <![if !vml]>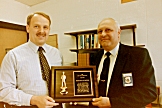 <![endif]>accept another position in January 1980, Reynolds beat out about 20 applicants to become Watertown's eighth chief of police.
During his tenure as chief, Reynolds has helped bring various technological advances to Watertown, including computerization of the department's records and the implementation of the 911 emergency telephone system.
Other changes include the conversion of police squad cars to propane fuel in 1982. During the first year of the switch, the city saved about $12,000.
Several programs for youth were started while Reynolds was chief, including D.A.R.E. (Drug and Alcohol Resistance Education) and a safety program for elementary students.
After his retirement, Reynolds will leave a department that has grown to 33 sworn officers and a civilian staff of 11 full- and part-time secretaries and dispatchers.
"It's so rewarding, eight to 10 years later, when someone reminds you of something you had said that helped them.† Cases that resulted in some of the kids being processed through the system where they really came out and learned from their mistakes."
†††††††††††††††††††††††††††††††††††††††† -† Retiring Police Chief Richard Reynolds