This file part of www.watertownhistory.org website
   Chapter on Watertown Police Department
Police Honor 4-Year Old Hero
Son saves mother's life with 911 call
03 31 2000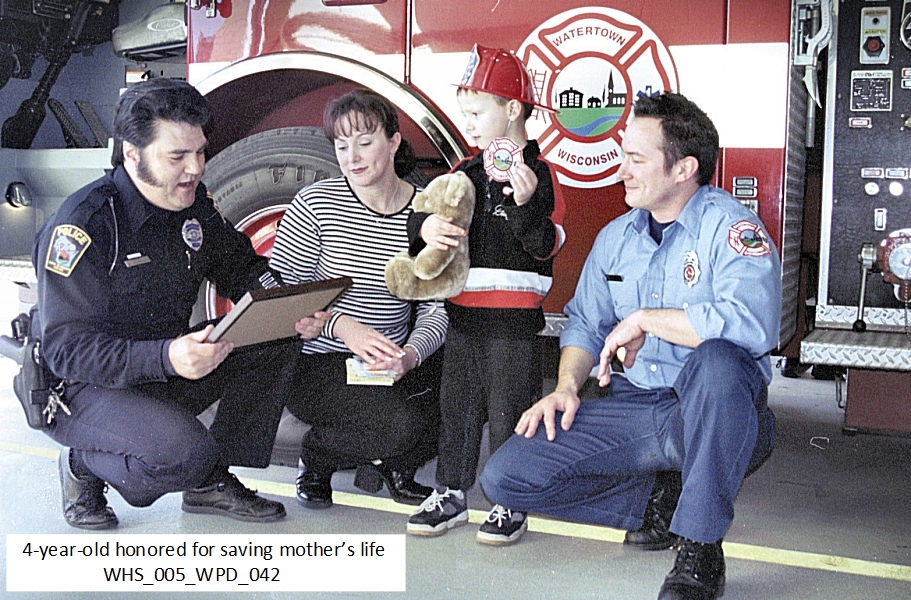 Chance Cross, 4-year-old son of Kerry Cross, was for his quick actions of calling 911 to save his mother's life. 
From left, Watertown police officer Mike Kumbier,
Kerry Cross, Chance Cross, firefighter/paramedic Chris Cass.
A 4-year-old Watertown boy has been credited with saving his mother's life this week when he dialed 911.
"I said 911, and then I told them my mom was sick," Chance Cross recalled about the incident.  "I wasn't scared," he said as he chased his older sister around the front lawn of the police station.
The Watertown Police Department dispatch center received the 911 call at 2:13 p.m. Wednesday from the little boy, who indicated his mother was not feeling well and had stopped breathing.
According to the Watertown Police Department, the young boy remained calm and was able to provide his name and other valuable information which ultimately led to paramedics being summoned to the residence to provide medical treatment.  The child was also provided the spelling of his last name, according to dispatcher tapes.
Kerry Cross was at her future residence on North Church Street when she suffered from an anaphylaxis reaction, along with her asthma.  An anaphylaxis reaction closes off the throat of a person, causing difficulty to breath.