This file part of www.watertownhistory.org website
   Chapter on Watertown Police Department
Watertown Police
Bike Patrol
1995
07 28 1995
Bikes help police patrol downtown; donations used to expand program to day, night shifts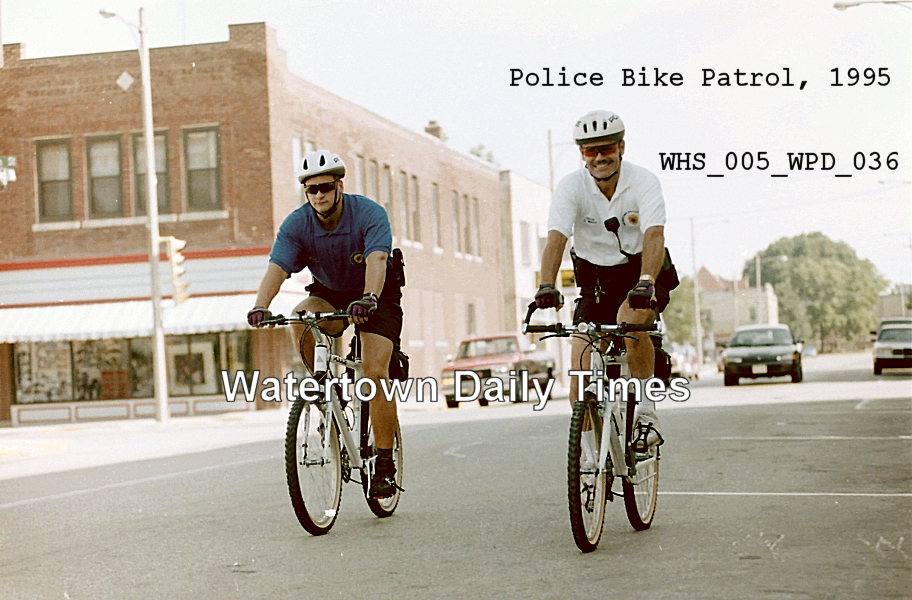 Officers Mike Morgen and Dale Wehner
Because the limited bike patrol had some success, the department sought donations to equip two officers with bicycles and uniforms.  Chickens Unlimited donated $1,500 toward the purchase of the bicycles and equipment.  Cool Bikes provided the bicycles and equipment at cost and also offered valuable expertise.
Dale Wehner and Mike Morgen are the department's regularly assigned bike patrol officers.  Wehner works during the day shift and Morgen patrols from 3:45 p.m. to 12:45 a.m.
The patrols are used during the warmer months from March to October.
The bicycle patrol officers are able to maintain more personal contact with citizens than officers in patrol cars.  Yet, they can respond to calls more quickly than police officers who are patrolling on foot.
Although the bicycle officers patrol the entire city, they concentrate on the parks and downtown areas, as well as areas of known criminal activity.  Bike officers have the same general duties as those assigned to squad and beat patrols, but they also are instructed to concentrate on positive community relations, bicycle traffic violations, crime prevention and crowd control in
business districts.  When they see a violation, they're right there.  They doesn't have to look for a parking spot.
Next year, the department hopes to expand the bicycle patrols to all three shifts. Donations may be sought from the community to purchase a third bicycle and to obtain more equipment.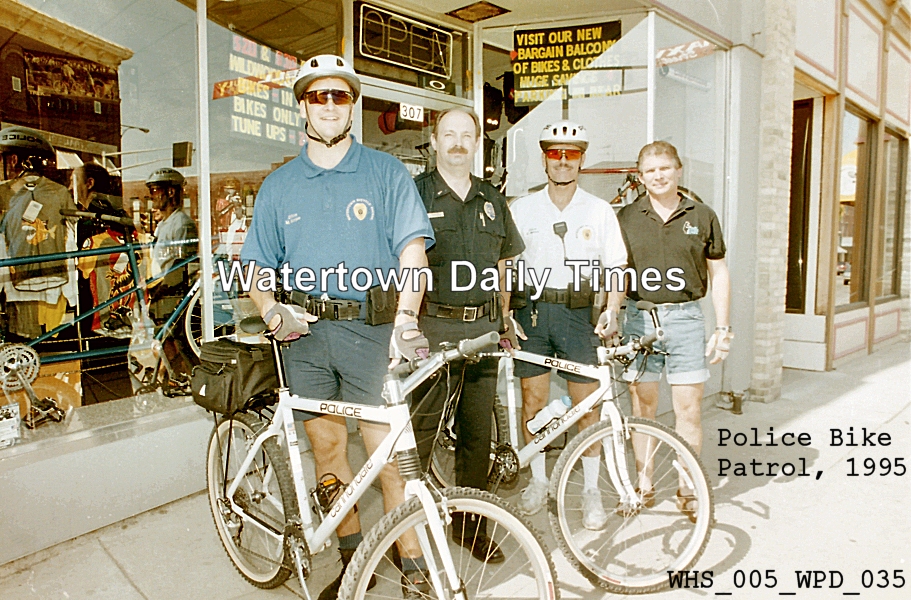 The bicycle patrol for the Watertown Police Department was outfitted by Cool Bikes, 307 E. Main St.  The business offered its services and equipment at a reduced rate.  Pictured (from left) are Officer Mike Morgen, Lt. Thomas Killmon, Officer Dale Wehner and Brian Dopke of Cool Bikes.