website  watertownhistory.org
    ebook  History of Watertown, Wisconsin
Neumann & Krueger
119 N Second, cigar manufactory
Ferdinand A. Krueger
1861 - 1930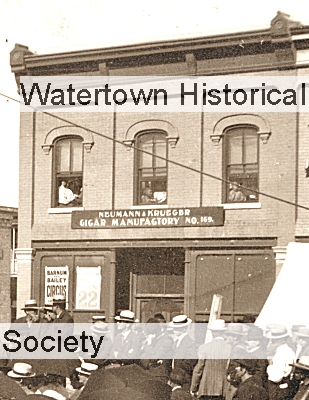 1912 / Portion of archived image WHS_PC_171
Ferdinand A. Krueger, well known Watertown cigarmaker and a former alderman and city treasurer, died here today at his home, 607 North Fourth Street, following an illness of seven months. He was 69 years of age.
Mr. Krueger was a native of Germany and was born on January 13, 1861, and came to the United State at the age of 11 years, settling in Watertown.  It was here that he married Miss Emily Hilgendorf who preceded him in death on January 29 of this year.
Four children survive, George and Adolph Krueger, Mrs. W. H. Buending and Mrs. Walter Manthey, all of this city.  There are three grandchildren.
Mr. Krueger was for 56 years a cigarmaker here, having started his career at an early age in Wiggenhorn Bros. cigar factory.  He later went into the cigar business with Henry E. Neumann under the name of Neumann & Krueger and several years ago they dissolved partnership and since then Mr. Krueger has been engaged in making cigars in a shop at his home.
He also served several terms as alderman and also served as city treasurer and he was for many years secretary of the Plattdeutcher Verein and head of the cigarmakers' association.
Mr. Krueger possessed many friends in this community and was looked upon by everyone as a good type of citizen and a friend.  His death early today removes a man who was genuinely liked and who enjoyed the esteem and respect of the people in his community.
The funeral is being planned for Sunday, but definite arrangements will be announced later.  The services in the home will be private, however, and will be followed by services in St. Mark's Church of which he was a member.
Friends may call at the home beginning Saturday to pay their respects, as the casket is not to be opened during the church services.
1865
12 14       DROWNED
Mr. Julius Neumann, a young German lad of some fifteen years of age, was drowned on Saturday morning last in Rock River, near the bridge by Bursinger's Brewery.  By occupation young Neumann was a cigar maker and at the time of his decease he was on his way to his place of business.  He left his home in the 6th Ward for downtown and as the newly formed ice was considered safe ventured upon it – the result cost him his life.   WD
1903
Neumann & Krueger Cigar Manufactory, 119 N Second, 1903, Plattdeutscher Verein July 4th ad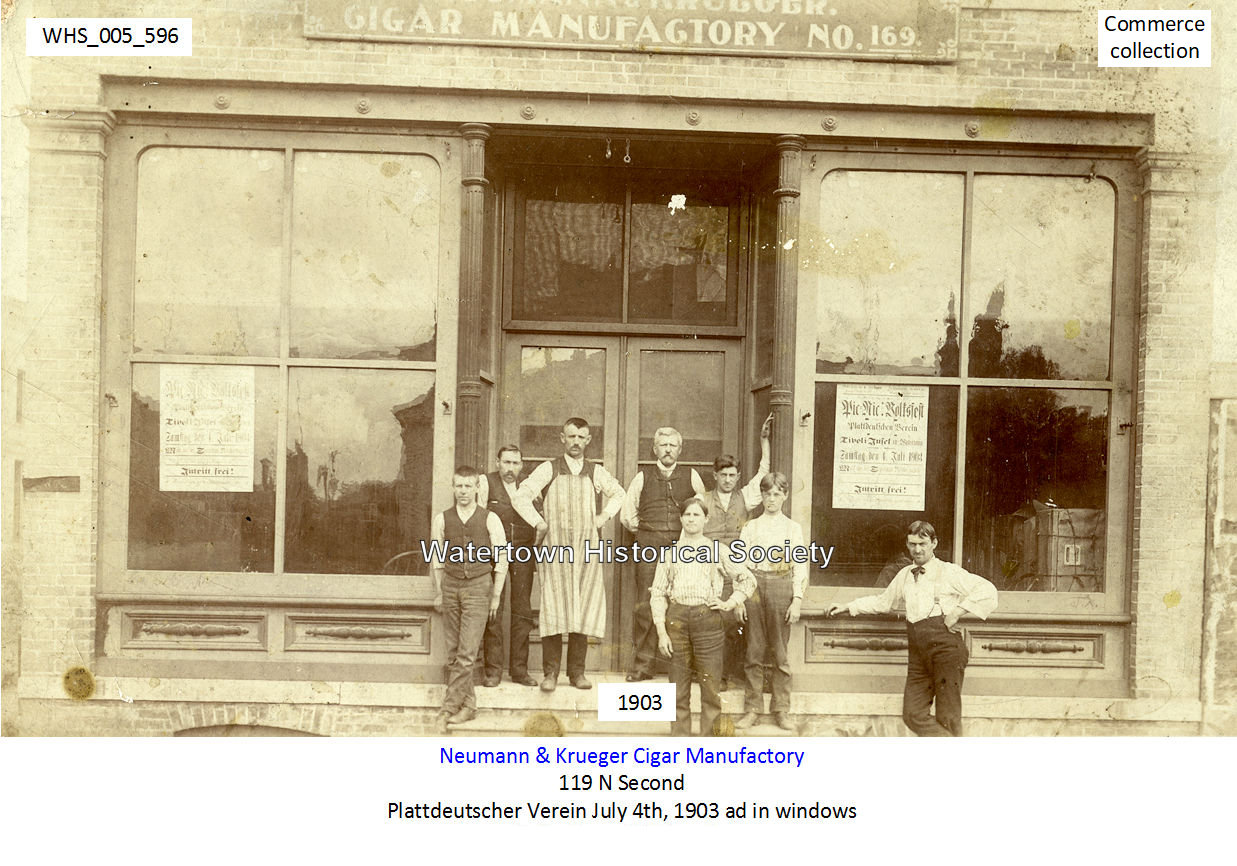 Click to enlarge

History of Watertown, Wisconsin