website  watertownhistory.org
    ebook  History of Watertown, Wisconsin
     File on Watertown Police Department
Karen Miller
Honored with State Law Enforcement Award
WDT 07 12 2012
<![if !vml]>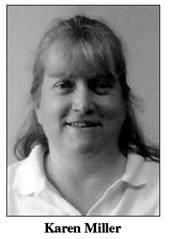 <![endif]>Watertown Police Department Administrative Assistant Karen Miller received the 2012 Project Champion Award from the Wisconsin Law Enforcement Administrative Professionals Association.
Miller has been an employee of the Watertown Police Department for 12 years.  She has been the administrative assistant for the past nine years.  Police Chief Tim Roets said Miller has been essential in two department projects in the last year.  Miller was selected to represent the department support staff and served as a conduit between management and the employees after the communications center union was dismantled.
Miller was also selected to lead an IT (information technology) support search committee to help the department find a new vendor, according to Roets.  He added she hit all of her deadlines in finding a new vendor and helped to significantly upgrade, stabilize and protect the city's IT network.
Cross Reference:

History of Watertown, Wisconsin