website  watertownhistory.org
    ebook  History of Watertown, Wisconsin
Al Rippe New Owner of Meyers' Studio
Established 1946
<![if !vml]><![endif]>
A. R. Meyers /

 Image WHS_014_415
1917
07 16       MEMBERS NATIONAL GUARD Co. E PHOTOGRAPHED
<![if !vml]>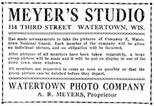 <![endif]>         
1919

 
                    

Sponsorship, Orbit
                    

<![if !vml]><![endif]>

          

114 S. Third
1920

 
                    

Sponsorship, Orbit
<![if !vml]><![endif]>

         

114 S. Third
c.1957
                    

113 SOUTH SECOND
                    

<![if !vml]><![endif]>

   

Bldg

 removed in 1984 for expansion of 

Plattdeutscher

 bldg. 
Al 

Rippe
Meyers Studio at 112-1/2 South Third Street, one of the city's old business institutions, has changed hands.  The business has been acquired by Al Rippe who will operate it under the name of Al Rippe's Studio.
A. R. Meyers who has operated the business for many years has sold out and will retire as an active photographer, though he expects to do commercial photography.
Mr. Rippe, who was born in Watertown, has been associated with Marv Helgesen, nationally known photographer, where he worked for eight years as assistant cameraman and retoucher and did commercial and aerial photography.
He was also associated with John E. Platz, Milwaukee, where Mr. Platz, formerly of Watertown, now operates three studios in one of the most successful photographic businesses in that city. Mr. Rippe was head retoucher in charge of the retouching department for Mr. Platz.
Mr. Rippe attended the Winona School of Photography, Winona Lake, Indiana.  He has studied under Victor Keppler, nationally known color photographer.  He has gained statewide recognition as a retoucher.
In addition to-his other work and preparation, he studied portraiture and portrait painting at the Layton School of Art, Milwaukee.
He is arranging the studio for his opening next week having installed new carpeting and new furniture and bringing his own equipment to make it one of the best equipped studios in this area.
Mr. Rippe is married to the former Arlene Seefeldt of this city.  They have one daughter, Sherry, and have taken up residence at 206 North Church Street.
A. R. Meyers
Mr. Meyers took up photography as a young man, going to work for the late Henry Donner whose place of business - Donner's Gallery - was located in West Main Street (1). Later the business moved to 203 Main Street and some time later Mr. Meyers went into the business for himself, and has operated in South Third Street for many years. He became associated with Mr. Donner in 1900.
Mr. Meyers has been one of the most widely known photographers in this section for many years and has enjoyed a wide clientele from neighboring cities and communities. He has photographed many confirmation classes for churches and his work in taking wedding pictures was widespread.
In addition to his studio work, he has also done much commercial photography and plans to keep that line of work up, operating from his home at 206 North Washington Street.
1968
08 15       RIPPE STUDIO SOLD
Al Rippe, Watertown photographer, has sold his studio and business to Gerald Rogers, 48, a photographer of long training and experience.  Mr. Rippe and his wife will remain here for a short time, later going to California which they have visited several times and where they plan to take up residence.  They have a married daughter there.
1969
06 04       ORBIT DEDICATED TO AL RIPPE
The 1969 edition of the Orbit, which is the senior class publication of Watertown Senior High School, was issued to subscribers this week.  This year's theme is "Turn of the Wheel."  This issue, which is the 57th edition of the annual publication, is dedicated to Al Rippe, former Watertown photographer who recently sold his studio here and moved to La Crescenta, Calif.  The dedication reads "The Orbit Staff of 1969 dedicates its Orbit to Mr. Al Rippe, a well-known photographer in Watertown for many years.  Through his efforts and countless hours of hard work, patience, and understanding, he has enabled Watertown High students to capture memories through pictures in the Orbit."
Cross-References:
Footnote 1:  Donner Bros, Henry and Lawrence, Furniture and Photographers, 209-211 W Main.  Henry Donner lived next door (204 N Church) to the home bought by Al Rippe (206 N Church).
Donner Home.  In Their New Home.  Henry Donner and family are now occupying their new home in North Church Street [204 N Church].  It is one of the finest in the city, equipped with all modern improvements and everything arranged with a view of comfort and convenience.  Their many friends wish them long life and happiness in their new home.  Watertown Gazette, 04 23 1909
<![if !vml]>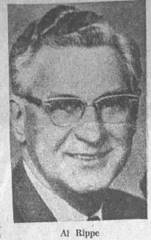 <![endif]>
History of Watertown, Wisconsin