website  watertownhistory.org
    ebook  History of Watertown, Wisconsin
LeMacher Studio
115 N Fourth Street
1908
In 1908 William Dobratz opened the Victor Theatre, located at 115 North Fourth Street where the LeMacher Studio was located.
c.1975
| | |
| --- | --- |
| Fourth, N, 115 | |
| Fourth, N, 115 | |
2015
Shirley A. LeMacher
1940 - 2015
<![if !vml]>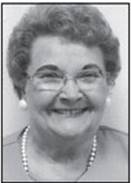 <![endif]>
OCONOMOWOC — Shirley A. LeMacher, age 74, of Oconomowoc, passed away peacefully on Saturday afternoon, Feb. 7, 2015, at AngelsGrace Hospice in Oconomowoc with her daughter by her side.  Shirley is survived by two children, one daughter, Brenda LeMacher- Sprague (James) Sprague of Fort Atkinson, and one son, Thomas (Donna) LeMacher of Sussex; one sister, Rose Borchardt of Sun Prairie; two brothers, Russell (Sandy) DeBlare and Leonard Wollin, both of Watertown; nieces, nephews, other relatives and friends.  She was preceded in death by her parents.
Shirley Ann Wollin was born on July 25, 1940, in Milford, the daughter of Ervin and Anna (Lafler) Wollin.  She had been married to Steve LeMacher and was the co-owner of LeMacher Photography Studio in Watertown.  Shirley had also been a health care worker for many years . She was a member of Sullivan United Methodist Church and enjoyed puzzles and spending time with family and friends.
Funeral services will be held on Tuesday at 7 p.m. at the Hafemeister Funeral Home, 611 E. Main St., in Watertown, with the Rev. Ron Kral officiating.
Visitation will be Tuesday from 4 p.m. until the time of the service.  Burial will be at the Oak Hill Cemetery in Watertown on Wednesday at 10 a.m.  

History of Watertown, Wisconsin