website  watertownhistory.org
    ebook  History of Watertown, Wisconsin
Kerr (Karr) Home
304 W Main St
Kerr (Karr) Family
<![if !vml]>

<![endif]>                       <![if !vml]>

<![endif]>  
            WHS_006_301                    WHS_006_302
Hugh Kerr                          Sarah Elizabeth (Bailey) Kerr aka Belle Kerr
Hugh L. Kerr aka Hugh Karr (1854-1947) and Sarah Elizabeth "Belle" Bailey (1865-1957)
Victor Hugh Kerr, (1898-1985)
Son of Hugh and Sarah, born and raised in Watertown, resided in house at 304 West Main St.
Eileen E. Kerr, (1895-1992)
Daughter of Hugh and Sarah
<![if !vml]>

<![endif]>
WHS_006_303
Eileen and Victor Kerr, 1899
Victor Hugh Kerr (1898-1985) was born and raised in Watertown, WI, residing in a house located on 304 West Main Street.  His parents were Hugh Kerr aka Hugh Karr (b. 10 July 1854 in Emmet, Dodge, WI- d. 9 November 1947 in Watertown, WI) and Sarah Elizabeth "Belle" Bailey (b. 24 July 1865 in Watertown, WI- d. 30 November 1957 in Chicago, IL).  They were married on 24 June 1893 in Milwaukee, WI.
Hugh Kerr owned this property on West Main and spent most of his adult life at this address (abt 1900-1947).  Both Hugh and Belle are buried in Watertown at Oak Hill Cemetery.
300 and 304 W Main St
1898
  <![if !vml]>

<![endif]>   
1900      300 W. Main:  Hugh L Kerr, com. and produce (NW corner of Main and Washington)
304 W. Main:  Hugh L Kerr, res. 304 W. Main.
[1899-1900 Watertown City Directory]
c.1900
<![if !vml]>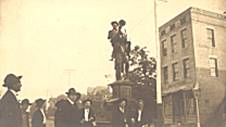 <![endif]>  
1903
<![if !vml]>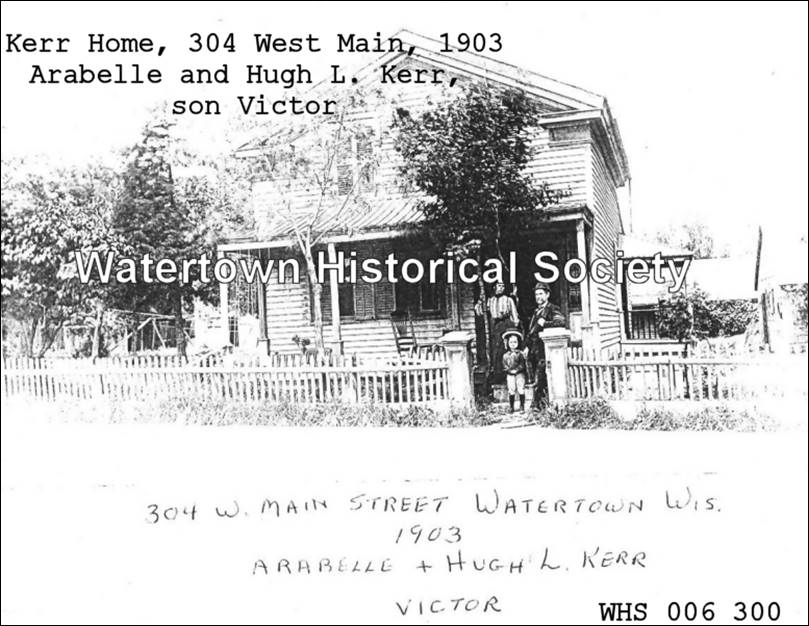 <![endif]>
304 West Main, 1903
Arabelle and Hugh L. Kerr, son Victor
The Kerr house that once stood at this address has long been removed.  It's now a strip mall where a Hollywood Video once flourished [later the Armed Force Career Center].  Victor's daughter said that someone had told her that the house was moved to another location when Main Street was commercialized [year of move nor its current location is known].
1914     304 W Main:  Hugh Kerr residence
221 W Main:  Charles E Kerr, Jr., a residence and produce store [bro of Hugh], a Watertown policeman.
[1913-1914 Watertown City Directory]
1918
02 01       MAKING IMPROVEMENTS, 211 W. Main store (Charles Kerr lived above his produce store)
Charles Kerr, west side commission merchant, is making improvements in his place of business.  Among other changes he is having a modern steel ceiling put in place.  He is also having an egg candling department installed which is the latest on the market.  It not only flashes the eggs but grades them according to size and quality.  The Watertown News, 02 01 1918.
1945      300 W Main:  Hugh L Kerr, storage
304 W Main:  Hugh L Kerr residence [*].
[1945 Watertown City Directory]
[*]  Directory indicates publisher does not guarantee the correctness of the information furnished.
Later      The Nibble Nook
________________________________________________________________________________
The Kerr (or Karr) family
Charles Kerr, the policeman, was an older brother of Hugh Kerr.  The Kerr or Karr family hadn't lived in Jefferson County, until their parents moved from New York to Emmet, Dodge, WI, but both moved to Watertown in their later years, both dying in Watertown.  They are both interned at St Bernard Catholic cemetery.  They had 8 children, all of which moved to WI:
1. Joseph KARR (1840-1863) US Civil War Casualty, never married, no direct descendents.
2. William KERR (1842-   ); haven't been able to located him after the 1860 US Census record, where he's with his parents in Dodge Cty.
3. Jane KERR (1844-1886) m. Theodore Wedemayer, Jr.[ Wedemeyer]  I've traced dozens of living descendents from these two, including an Appellate Judge for the State of Wisconsin, who just recently died.  Both Theodore and Jane died in Watertown and are buried at St Bernard Catholic Cemetery.
4. Thomas Kerr (1846-  )  Nothing found on him since the same 1860 Census; no clue what happened..
5. Charles Kerr (1848-  )  He's the Police Officer, in both 1905 State Census and the 1910 US Census.  His family is not in the 1900 US Census, nor is their home, which was at 205 North Church Street.  That house is still there.
6. John Kerr (1851-   )  The first of the family to be born in Wisconsin, but his trial is cold past the 1870 US Census.
7. Hugh L Kerr (1854-1947)  This is my GG Grandfather and was the owner of Kerr Produce and was listed as a Commission Merchant working as "Own Accord." up until his death..I've been told that the man cold sell ice to eskimoes..He had the gift of gab.  His wife was Sarah Elizabeth "Belle" (Bailey) Kerr.  She also lived into her early 90s. 
The "L" in Hugh L Kerr
One more thing interesting about Hugh L Kerr - Have you noticed that he is the only one of his siblings to have a middle initial?  Well, that's because he chose the letter "L" as an adult.  His parents didn't give middle names to any of the children, but Hugh picked one so he could be like everyone else.  The "L" doesn't stand for anything.
8- George Kerr- (1856-   )

History of Watertown, Wisconsin