website  watertownhistory.org
    ebook  History of Watertown, Wisconsin
Jones House
Jones / Kreitzman
1325 Western Ave
c.1895
DISTANT VIEWS
<![if !vml]>

<![endif]>    <![if !vml]>

<![endif]>         <![if !vml]>

<![endif]>       
1903
VIEWED FROM ROOF OF OCTAGON HOUSE
<![if !vml]>

<![endif]>  
c.1910
VIEWED FROM ROOF OF OCTAGON HOUSE
<![if !vml]>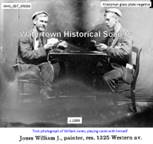 <![endif]>  
_________________________________________________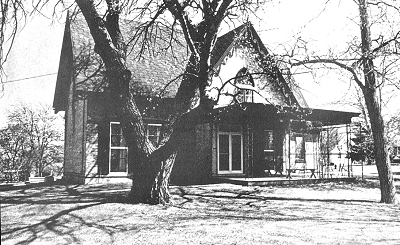 Watertown Daily Times, 06 12 1976
The family that has occupied the home at 1325 Western Avenue for 109 years encompasses five generations.
The home occupies the highest geographic area in Watertown.
<![if !vml]>

<![endif]>This Gothic style back home was built in 1858 by J. H. (Heber) Smith, then connected with the Rough and Ready dam and milling operations in Watertown.
In 1867 the home was purchased by Mr. and Mrs. William Livsey.  Livsey Place in that area was named for them.
The Livsey daughter and her husband, Mr. and Mrs. Charles W. Jones were owners and occupants from 1876 to 1926; their son, William J. Jones, and his wife owned the home from 1926 to 1961.  Mr. and Mrs. Edward Kreitzman and an uncle, Charles Jones, have been owners since 1961.  Mrs. Kreitzman is a great- granddaughter of the Livseys.
Scrollwork which appeared around the gables of the original home has been left intact, but open fretwork over the narrow original porch across the front of the house has been removed and a larger porch extended to the front.
Chandeliers have hobnail blue glass globes in one room, some have beaded shades, and the original chandeliers in the living room have antique vaseline glass globes. There is a wall painting, shutters remain on the house, many original door latches and porcelain knobs remain.  Mrs. Kreitzman has a collection of old Watertown pictures of considerable interest, undoubtedly collected since the family continued to occupy the original home.
Cross Reference:

History of Watertown, Wisconsin