website  watertownhistory.org
    ebook  History of Watertown, Wisconsin
Established 1888
Moved to Watertown in 1901
<![if !vml]>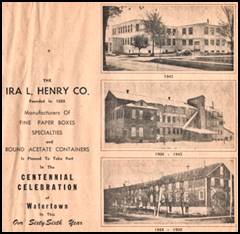 <![endif]>
click to enlarge
1888
COMPANY ESTABLISHED
10 31       WILL ESTABLISH BRANCH IN WATERTOWN
Watertown will shortly have an increase in the number of its manufactory enterprises.  The I. L. Henry Company of Waupun has decided to locate a branch factory here.  The company manufactures paper boxes and enjoys an extensive trade.  The old Ruesch building on Water Street has been rented and is being remodeled so as to fit it for the requirements of the business.  Employment will be given to a force of girls in charge of an experienced forelady, and while for the present the company does not expect to carry on the enterprise very extensively at this point, the possibilities of the future are such as to warrant our citizens in extending to the company every inducement and encouragement.  It is given out by Mr. Henry that if matters go well in the venture the entire plant may eventually be transferred from Waupun to this city, in which case about 300 hands would be required, one-quarter of whom would be men.  The shipping facilities here are much more adequate than at Waupun and altogether it would seem to be a better location than the Prison city.   WR
11 07       HENRY CO. TO BE ON N. WATER ST.
Work in the branch paper box factory of the I. L. Henry Company on North Water Street was begun last Wednesday.  A force of seven is employed, and this will be increased as soon as practicable.   WR
1900
01 16       HENRY BOX FACTORY COMPLETING MOVE TO WATERTOWN
The I. L. Henry company, of Waupun, which is desirous of removing to this city, is evidently appreciated at home, to judge from the following paragraph which appeared in the last week's issue of The Waupun Times :
"The I. L. Henry box factory is now completing the removal of the plant to Watertown, where it already has a branch factory established.  If the city of Watertown will furnish a factory, the move is likely to be made.  Better facilities for shipping and for procuring labor are the incentives.  It is tough on Waupun, which has seen Mr. Henry's business venture grown from a mere experiment to a substantial certainty, to have them taken away from here in the height of their prosperity.  Doubtless the proprietors know their own business better than anyone else, but if any inducement could be held out to Messrs. Henry and Prattt to remain in Waupun, the Business Men's Association should lose no time in looking up the matter."   WR
01 30       The first regular Monday meeting of the Advancement Association was held in the city last Tuesday, President Mulberger presiding.  Routine business was transacted, after which the proposed removal of the I.L. Henry Company's box factory from Waupun to this city was informally discussed.  It was decided to send the committee to Waupun to investigate matters relating to this enterprise, President Mulberger, W. D. Sproesser, S. A. Hoffmann and L. Schempf being designated as the committee.  The gentlemen named went to Waupun this morning and it is expected to be ready to report shortly.   WR
06 19       Last week the Watertown Advancement Association closed the deal with the I. L. Henry Company, of Waupun, whereby the latter will locate its entire interests in this city.  The terms of the agreement include the erection of a three-story building, 50x150 feet, by the association for the use of the company.  The contract for this has been let to Charles Heunefeld and the work of excavating for the foundations has begun.  It is expected that the building will be ready for occupancy about October 1.  Considerable delay has been occasioned in closing this deal because of the difficulty in securing a satisfactory site . . . . The actual delay was caused by the owner of a certain tract of land situated at the foot of Lafayette Street, along the Chicago & Northwestern's railway, whose property was offered . . . . But when the acceptance was tendered the deed was not forthcoming.  It was, however, expected from day to day, until finally the season for building had become so far advanced that it was imperative for the association to take some decisive step, and they therefore submitted to the officers of the Henry company a proposition for the Fifth Ward Improvement company whereby the latter tendered a site of one acre, gratis, provided the factory was erected thereon.  This site is located in the southwest corner of what's is known as Straw's plat in the Fifth ward, and is, as Mr. Henry states, very favorably located as to territory from which he secures his help, and also as to side-track facilities.   WR
1901
02 20       HENRY CO. COMPLETES MOVE TO WATERTOWN
The officers of the I. L. Henry Company and most of the concern's expert help, as well as quite a number of girl employees, removed [moved] here last week and the new plant in the Fifth ward is now in smooth running order.  A certain grade of boxes will be continued to be made at Waupun, where a small force is employed; but all the higher class products will be turned out at the main factory here.  The general offices in the company are also located in Watertown.   WR
06 14       FACTORY INSPECTED
Last Wednesday afternoon a large number of the subscribers of the building of the I. L. Henry Box Factory visited at the factory on invitation of Mr. Henry and gave it a thorough inspection.  They found it a bee-hive of industry, and everything about the place indicating that it is a prosperous institution, and one that is sure to grow.  Nearly every kind of paper box is made — jewelry boxes, confectionery boxes, stationery boxes, etc.  Fancy celluloid boxes also manufactured.  The sample boxes in the sample room at the factory were the center of attraction to the visitors.  They had just been completed for the full trade, and includes many new and fancy decoration varieties.  Over 100 hands are employed at present, and inside of a year the capacity will be increased to about 200.  The subscribers to the factory building were well satisfied with what they saw, and feel that they did well in giving financial encouragement to the locating of the plant here.   WG
08 09       WATER AT PLANT CONTAMINATED
Last week it had been claimed that the water at the box factory was contaminated with disease germs.  The water in that section of the city is taken from a dead end of the waterworks and became stagnant, owing to not enough water being drawn off to keep the water fresh, hence it was very warm for drinking purposes.  Not being desirable for drinking purposes, led to the supposition that it was contaminated.  Health Commissioner J. M. Sleicher had his attention called to it, and on examination said the water was stagnant and unpalatable, but not dangerous to health.  Hereafter, however, the hydrant will be opened more frequently which will give a fresh supply of water and make it more suitable for drinking purposes.  The water supply in this city comes from one of the finest artesian wells in the world and there is no possible way for it to be contaminated.   WG
1908
09 04       An order from one firm for 1,500,000 paper boxes has been received by the I. L. Henry Co. of this city.   WG
09 11       Employees at Waukesha Beach.  WG
1910
12 16       DEED GIVEN IRA L. HENRY CO.
On December 9, 1910, the Watertown Advancement Association deeded the property occupied by the Ira L. Henry Co. in the Fifth ward over to that company.  Ten years ago the Advancement Association advanced a bonus of $12,000 to the company when it removed here from Waupun, and the company, as per agreement, has paid this bonus back in ten annual installments.  The Ira L. Henry Co. has been a good paying investment to our citizens, and it has also prospered here.  We hope its prosperity will continue.   WG
1912
CHRISTMAS BOXES
1913
LOGO FEATURED IN AD
<![if !vml]>

<![endif]>  
1916       Frank Pitterle, employee
1920
07 19       702 ELM STREET / Destroyed by fire in 1945
<![if !vml]>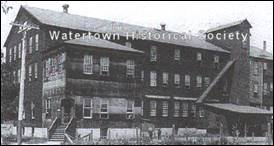 <![endif]>   
1921       Watertown High School Orbit
The Ira L. Henry Company engaged in the manufacture of paper boxes on February 1, 1896, at Waupun, Wisconsin.  During the first few years of its existence, the plant produced plain paper boxes, such as shoe, folding, plain candy boxes, glove, hosiery, handkerchief and other boxes for dry goods and department stores suitable for the holiday trade.
In February, 1901, the company changed its location to Watertown, Wisconsin, which offered better advantages in regard to shipping and to the securing of employees.  The company was incorporated on February 20, 1900, and has shown a steady growth and development.  The business affords employment to about 150 persons.  The plant's daily output is about 20,000 boxes and its yearly output numbers about 5,500,000 boxes.
During the last few years, the company specialized in the manufacture of high grade candy boxes, and its products also included perfume and face powder boxes.  The greater proportion of its products are sold in the state of Wisconsin, although the selling territory covers the Middle West, and a part of the eastern and southern states.  One shipment of candy boxes is made each year to Fairbanks, Alaska, and is in transit several months.
A paper candy box is principally made of board stock, such as chip, straw and news board, and a cover paper.  The board stock is lined with either book or print paper, and then scored and corner-cut.  The scoring operation, which dents the stock just enough to permit bending, determines the size of a box.  A plain box, which consists of a box proper and a cover, is then stayed and covered with paper.  The box proper is usually covered with plain paper, while the cover is wrapped with a paper of better quality which usually has the customer's name and design printed thereon.  After the lace paper is attached to the box, the cover is put on.
They are packed in small quantities in bundles with wrapping paper.  The bundles are placed in wooden cases, and the boxes are then ready for shipment.  While most of the processes in the manufacture of paper boxes are executed by machines, some boxes require very much hand work, particularly those which have specialties such as ribbon straps and bows, trimmed with gold or other special paper, padded top, hinge cover and drop front, or other special construction to meet the requirements of certain trades.
The death of the president, Ira L. Henry, occurred in April, 1920.
The present officers are:
F. J. Barnes ......    President
C. A. Skinner .....    Vice-President
E. A. Pratt .......    Secretary and Treasurer
1930s
<![if !vml]>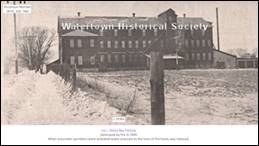 <![endif]> 
1945, Fire, April 11
<![if !vml]>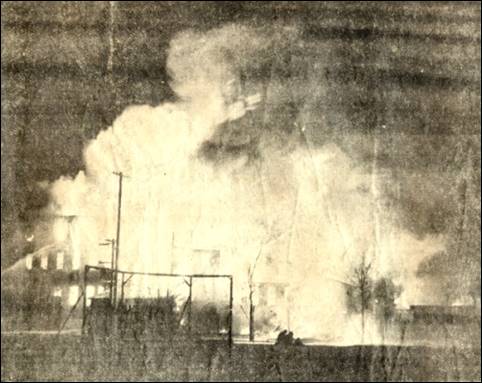 <![endif]>
I. L. Henry Box Factory Fire, 04 11 1945
1940s
DISTANT VIEW, 702 Elm Street
<![if !vml]>

<![endif]>  
1958
06 07       DELUXE CANDY BOXES
Cheesweet Candy Co of Milwaukee placed an order for 100,000 deluxe candy boxes.   WDT
1968
05 24       EXCELLENCE IN PACKAGING AWARD
Charles T. Yeomans, president of the Ira L. Henry Company, announced today that the company won an Excellence in Packaging Award for a box manufactured by his firm for the Zeb Billings Music Company.  The awards presentation took place in Manchester, Vt. when the National Paper Box Manufacturers Association met to observe its "Semi-Centennial" convention.  The Ira L. Henry Company has been in operation since 1888 and supplies rigid paper boxes for manufacturers, department stores, gift centers and specialty stores.  The rigid paper box industry makes billions of rigid paper boxes each year and sales of this package form now reach the half billion dollar point annually.
10 24       GRANDSON OF IRA L. HENRY
A grandson of Ira L. Henry, founder of the Ira L. Henry Co. here, visited Watertown over the weekend, along with his wife.  They reside in Hayward.  He is Philip Barnes who said this was his first visit to Watertown where his grandfather was one of the prominent business men at the turn of the century.  Mr. and Mrs. Barnes were guests at the home of Attorney and Mrs. Richard Thauer and "saw the city" and visited many of the interesting places here.  They enjoyed their visit and have now returned to Hayward where Mr. Barnes is a carpenter.  Among the places visited was the new and modern Ira L. Henry Co. plant, which turns out paper boxes and containers of all kinds, including many of elaborate design and appearance.
2010
08 04       CHARLES YEOMANS, 1828-2010, former owner of Ira L. Henry Co.
Charles T. Yeomans, 93, of Oconomowoc, formerly of Watertown, passed away on Wednesday, Aug. 4, 2010, at Shorehaven Health and Rehabilitation in Oconomowoc.
A memorial service will be held on Sunday at 2 p.m. in Shorehaven Chapel in Oconomowoc with Chaplain Mark Rydberg officiating.  Family burial has been held in Oak Hill Cemetery in Watertown with Pastor John Kennedy of First Congregational United Church of Christ officiating.
Charles was born on Dec. 29, 1916, in Evanston, Ill., the son of Nathaniel and Edna (Perry) Yeomans.  On Oct. 11, 1952, he married the former Marjorie Lois Luttman and she preceded him in death on Aug. 22, 1999.  Charles had been the former owner of the Ira L. Henry Company of Watertown.  He was a former city council member in Watertown and had served as a trustee on the University Lake School Board.  Charles was a member of First Congregational United Church of Christ and a former member of the Watertown Rotary and Toastmasters.
Survivors include his daughters, Jean Yeomans of Janesville, Nancy (Todd) Behnke of Genesee and Ann (Greg) Ploch of Sussex; grandchildren, Taylor, Austin, Shelby and Nathaniel; a brother, Robert (Charlotte) Yeomans of Door County; nieces, nephews, other relatives and friends.  He was further preceded in death by a daughter, Katherine Yeomans; his parents; and a brother, David Yeomans.
Cross-References:
John Slosson obit, 1905

History of Watertown, Wisconsin