website  watertownhistory.org
 ebook  History of Watertown, Wisconsin
Dr. Charles J. Habhegger
108 E Main, physician
1907
1908
1909
Banquet honoring John Beggs and interurban
1911
07 06       Married
Dr. C. J. Habhegger and Miss Evelyn Becker were married in St. Paul on Wednesday, June 28, 1911.  The bride had been visiting with relatives at Eugene, Oregon, and on her way home Doctor Hebhegger met her in St. Paul and they were quietly married.  The groom is a son of Mr. and Mrs. John Habhegger and has resided here all his life, excepting while studying medicine at Rush Medical College, Chicago, and while studying in Germany.  He is one of Watertown's leading physicians and is well known to most of The Gazette readers.  His bride is the daughter of Mrs. Christian Becker and has resided here all her life.  Like her husband she has a very large acquaintance here and is highly esteemed by all of them.  The Gazette extends hearty congratulations to bride and groom.   WG
1914
10 15       Thief Gets $200.
Tuesday afternoon, during the absence of Dr. Habhegger and his office girl, a thief entered his office and stole $200 in cash and several checks from his safe, which was unlocked.  There is no clue as to who the thief is.   WG
1918
11 18       CLOSING ORDER, influenza epidemic
<![if !vml]>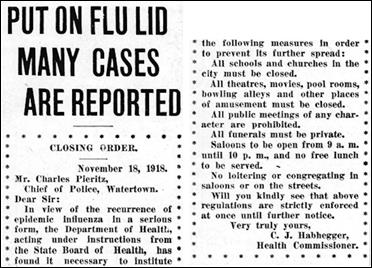 <![endif]>
PUT ON FLU LID
MANY CASES ARE REPORTED
CLOSING ORDER
November 18, 1918
Mr. Charles Pieritz,
Chief of Police, Watertown
Dear Sir: In view of the recurrence of epidemic influenza in a serious form, the Department of Health, acting under instructions from the State Board of Health, has found it necessary to institute the following measures in order to prevent its further spread:
All schools and churches in the city must be closed.
All theatres, movies, pool rooms, bowling alleys and other places of amusement must be closed.
All public meetings of any character are prohibited.
All funerals must be private.
Saloons to be open from 9 a.m. until 10 p.m., and no free lunch to be served.
No loitering or congregating in saloons or on the streets.
Will you kindly see that above regulations are strictly enforced at once until further notice.
Very truly yours,
C. J. Habhegger,
Health Commissioner.
With an alarming increase of Spanish influenza cases in Watertown, the health department has ordered the ban put on for the second time, going into effect today.
Many new cases have been reported the last few days, and Health Commissioner Dr. C. J. Habhegger has been in close touch with the state board of health with the result that Dr. Habhegger advised that gatherings in public places be prohibited until there is a decrease in the epidemic.
The closing order includes churches, schools, theatres, movies, pool and billiard halls. The order will also close saloons until 9 a.m. and after 10 p.m.
Northwestern college will be allowed to conduct studies so long as no cases develop in that institution.
The bowling alleys will also be closed.
The order curtailing the hours in which saloons may be open also prohibits the serving of free lunch in any of the saloons.  This does not prevent the serving of food that is ordered and paid for, but only the serving of free lunch.
So far two deaths have been reported since Friday owing to the flu, but there are a number of cases where the patients are in a critical condition. 
The public library will be open as usual for persons who wish to draw books, but no one will be permitted to remain in the library for reading or study.  Further no books will be issued to homes that are suffering from influenza. 
The public is requested to cooperate heartily in the carrying out of these regulations.
Deaths in Nation.
In its battle with the influenza epidemic this nation has lost 115,000 lives.  This is the number of deaths so far reported to the United States Public Health Service.  It is far from the total since during the first two weeks deaths from influenza were not required to be reported.
One of the outgrowths of the nationwide struggle with this disease as shown by reports reaching Washington is an increased demand for public health nurses who proved their value during these last months as a means of checking epidemics by the care of the sick and the education of the public.  The national organization for public health nursing and its war program committee with headquarters in Washington are putting forth every effort to help meet this demand for more nurses which it is believed will increase as reconstruction progresses.
The war program committee was formed a year ago to raise funds for the increased activities of the organization occasioned by the war and reconstruction.     Watertown News, 11 18 1918
12 02       APPEAL FOR HELP IN STAMPING OUT INFLUENZA
<![if !vml]>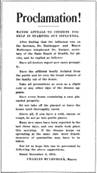 <![endif]>
Proclamation!
MAYOR APPEALS TO CITIZENS FOR HELP IN STAMPING OUT INFLUENZA.
After finding that the influenza was on the increase, Dr. Habhegger and Mayor Mulherger telephoned Dr. Harper, secretary of the State Board of Health, for advice, and he replied as follows;
Have all doctors report new cases promptly.
Have the afflicted family isolated from the public and let only the bread winners of the family out of the house.
Take all precautions as soon as a slight cold or any other sign of the disease appears.
Have every house containing a case placarded properly.
Do not take off the placard or leave the house until thoroughly cured.
Above all, if you have a cold, sneeze or cough, do not go into public places.
Many new cases have been reported in the last three days, and one death took place this morning.  If the disease keeps on spreading at the same rate more drastic measures of quarantine may have to be taken.
But let us hope this can be prevented by following the above suggestions.
Dated December 2, 1918.
CHARLES MULBERGER, Mayor.
1920
William Sproesser funeral, pallbearer
DR. C. J. HABHEGGER STRICKEN BY DEATH
Noted Physician Dies following Lung Attack
1926
August 7, 1926
Dr. Charles J. Habhegger, noted Watertown physician, died in St. Mary's Hospital this morning following a hemorrhage of the lungs.  He suffered an attack while in his office during the evening and was later removed to the hospital but medical aid proved of no avail.  The news of his death was a distinct shock to the whole community as but few were aware of his condition.   He had suffered a like attack some months ago and himself was aware of it serious nature. 
The body was removed from the hospital to the Harry J. Krier Co. funeral home.
Dr. Habhegger was born in Watertown on April 24, 1873, a son of Mrs. John Habhegger and of the late John Habhegger.  He graduated from the local high school in 1891 and then entered the University of Wisconsin where he took a course in pharmacy.  He was for two years pharmacist at the northern hospital for the insane and later attended and graduated from Rush Medical College, Chicago.  He was an intern at the Cook county hospital for two years and for a similar period of time held a fellowship at Rush Medical college.
Dr. Habhegger also studied abroad in Vienna and Berlin.  He was the author of numerous articles on internal impalements for the American Medical Journal.  His methods in this work was generally adopted in surgery.
Surviving Dr. Habhegger are his mother, Mrs. John Habhegger of this city, his wife, formerly Evelyn Becker, two daughters, Kathryn and Caroline, and five sisters, Mrs. A. F. Solliday and Mrs. O. L. Gaston of this city, Mrs. G. W. Norris of Waukesha, Mrs. Fred H. Irwin of Mishawaka, Indiana, Mrs. Dexter Witte of Milwaukee. 
Dr. Habhegger was a member of Phi Rho Sigma fraternity, of Watertown Lodge No. 6566, B. P.O. Elks and of the Masons.
Dr. Habhegger was one of the founders of the first practical hospital established in Watertown and he always took an active interest in its welfare.  Later the hospital was taken over by the sisters, but he always kept up his interest in the institution and died within its portals.
In the death of Dr. Habhegger, Watertown loses a surgeon of marked ability whose skill as a physician and surgeon was known all over the northwest.  Especially as a surgeon will his loss be felt to this community and many noted cases of recovery from injuries in which an intricate knowledge of surgery was necessary are monuments to his practical knowledge.  Not content with graduation from the medical college, after a short practice in Watertown he went to Germany where he studied under some of the most noted physicians of that time and returned to Watertown with an advanced medical education which he used in his daily practice.   His ability in his chosen profession was known far and wide and his practice included people far removed from Watertown where his fame as a skillful doctor had spread.  He was always ready to respond to the call of duty, and withal possessed a kindly nature which was evidenced in the many friendships he acquired in his practice.
Of Dr. Habhegger's exceptional professional attainments and ability and his fine judgment in critical cases the members of the profession in Watertown are best qualified to speak  And their tributes will be cordial.
The funeral will be held from the home of his mother, Mrs. John Habhegger, 413 Fifth Street, on Monday afternoon under Masonic auspices.  Services at the home will be conducted at 2:30 o'clock and the burial will be in Oak Hill Cemetery.  Those desiring to view the body may do so at the Krier undertaking parlor in North Second Street from Sunday afternoon to Monday noon.  Friends are requested to omit flowers.