website  watertownhistory.org
    ebook  History of Watertown, Wisconsin
           Chapter on Watertown Police Department 
Police Captain William Grossert
Captain William Grossert to Retire From Force Jan 1.
<![if !vml]>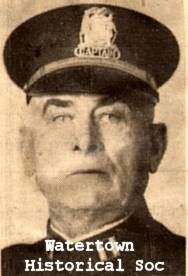 <![endif]> 1943
WDTimes 12 30 1943
Police Captain William Grossert is going to retire from the force on Jan. 1.  He will work his final night shift at his desk in the police department office on New Year's Eve, ending his work at 2 a.m. Saturday.
Announcement of Captain Grossert's decision to retire was made formally last evening.  He submitted his resignation to the board of police and fire commissioners who accepted it reluctantly.  Two years ago he asked to retire but was prevailed upon to remain on the job and agreed to do so.  Since then he has continued to serve, but has now decided that after his long record of service he wishes to end his career as a police officer and has asked to be relieved of his duties the first of the year.
Captain Grossert will receive a pension to which his long service entitles him.
Started Under Pieritz
Captain Grossert began his services as a police officer under the late Chief Charles Pieritz.  That was in 1918 when he served for a time as a substitute officer.  In 1919 he received a permanent appointment and was given the rank of patrolman.  He received some of his first instructions from the late Lucius Bruegger who was for many years a police officer.
Most of Captain Grossert's work has been as a member of the night force, although he has served from time to time as a day-time officer.
Under the present chief of police, Albert N. Quest, he received the advancement to sergeant and later was recommended for the captaincy, succeeding the late Michael Bolger.
Captain Grossert has also served from time to time as acting chief of police, the longest such period being for six months when Chief Quest was on a leave of absence.
Before entering the department, Captain Grossert was a member of the firm of Grossert and Kuehn, sheetmetal concern.
Reluctant to Leave
Captain Grossert said that he leaves the department reluctantly and with some regret, because he has enjoyed his work and has been interested in police methods, but he feels that the time has come when, because of advancing years, he is entitled to a rest and he feels that having been prevailed upon to serve two additional years after he could have retired he should be permitted to do so at this time.
"I leave the department with many fond memories and after having worked with a fine group of men," Captain Grossert said last night.  "I wish to express my thanks and appreciation to the men for all the help and mutual cooperation I have enjoyed through the years I have been on the force.  I wish also to thank Chief of Police Quest who has been an excellent superior officer and administrator.  He has been very fair and has always extended me his fullest help and cooperation.  For this I am deeply grateful."
Chief Praises Work
Chief Quest also had a good word to say for the captain, stating that he is one of the best men he has ever worked with, an officer thoroughly reliable and capable and one who did his duty at all times and who could be entrusted with special duty with the knowledge that it would be carried out to the letter.
He said he regretted to see the captain leave the force, especially now when so much more police work has been heaped upon all law enforcement departments, when experienced men are more valuable than ever.  But, he said, the captain feels he should retire at this time and having put in additional service the past two years he feels that his personal wishes should be considered.
"I am sure," the chief said, "that every man on the force joins with me in wishing him the best of health and happiness in the years ahead and that he may live to enjoy many more years of retirement and the fruits of his long labor."  The board of police and fire commissioners has not yet named a successor to Captain Grossert.  Just when this will be done is not known at this time.
________________________________________
Voigt Named to Succeed Grossert
Former U. S. Marine Gets Captaincy of Police Department
1944
WDTimes 01 04 1944
Theodore C. Voigt, 711 North Fourth Street, a former United States marine, last night was named captain of the Watertown police department, succeeding William Grossert who retired Jan. 1.
Voigt was named at a meeting of the board of police and fire commissioners which met for its regular meeting last evening.
He had been serving as a sergeant of the department.
The board last night also named Arthur Glaser, a member of the night police force to the rank of sergeant.
Captain Voigt assumed his new duties immediately.  He has been serving as acting captain and was to charge of the night desk on occasions whenever Captain Grossert was off duty.

History of Watertown, Wisconsin