website  watertownhistory.org
 ebook  History of Watertown, Wisconsin
Globe Mill Millwheel
1973
   10 16 1973
Floyd Burnett, as a boy in Watertown, had a paper route which took him past the Globe Milling Company on South Water Street.  Since that time he has found fascination in the mill and its workings.  He and Mrs. Burnett presented to the Watertown Historical Society the gift of a large and heavy millwheel.  This millwheel, imported from France in 1878, was used in the Empire Mill, later the Globe Milling Company.
The Burnetts were the last owners of the property on which the millwheel had been mounted near the mill office for exhibition after its working days were over.  Strikingly evident are the hard grooves which gave the stone cutting ability as two circular stones ground the grain into flour.  The stone was originally cut in heavy triangular sections, later fitted together, and the whole bound with an iron wheel or rim.
The Empire Mill, first known as the Emerald Mill, was built by Fay & Cramer of Milwaukee on the west side of the Rock River in 1848.  On the opposite side of the river, built in 1842, was a mill known as the "old yellow mill" and then, in 1848, another called the "big brick mill".  In 1853 there were three flouring mills as they were then called.  This was boom time in Watertown.  The Jefferson County history of 1879 relates "the perpetual hum of machinery along the banks of the Rock River tells the story, and the heavily laden freight cars which leave daily for the east and south, reveal the secret of the growth and prosperity of Watertown".
A plaque is mounted on the pioneer barn on the Octagon grounds near where the millwheel now lies.  It reads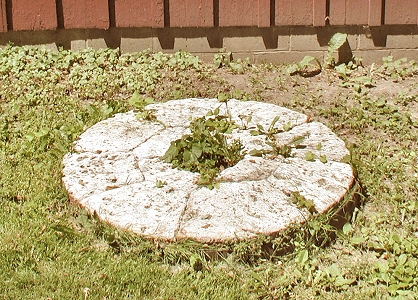 "This grinding stone, called Buhrstone, and made of unusually
hard and sharp stones found only in France, was imported in 1878
for use in the Empire Mill on Water Street, later known as the Globe Mill.
Was donated by Floyd Burnett, last owner of property on which mill wheel stood".
The millwheel enables Octagon House guides to tell young visitors how the early millstones, which could be reset to grind corn into meal, were turned by water pouring over a great waterwheel, how the grooves in the extra hard stone were needed to grind, but they did not shatter or produce any type of powder.