website  watertownhistory.org
    ebook  History of Watertown, Wisconsin
Globe Mill Fire
2001
130-year-old mill building burns
2001
05 03
A part-owner of Empire Globe Corp. of Watertown said this morning that he had big plans for the former Globe Mill on South Water Street, which went up in flames today.
"We had hopes it could be restored," said Larry Mistele, part-owner of the company, which owns much of the property on South Water Street.  Mistele said he also had hopes of operating some type of commercial venture in the historic building.
<![if !vml]>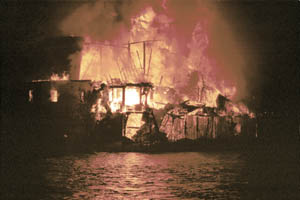 <![endif]>One possibility was to operate a micro-brewery, the part-owner said this morning as he watched flames whip in the smoky air above the charred, collapsing building.
"It's a shame. It would have been a neat pub brewery.  The ambiance would have been incredible," he said.
The building at 321 S. Water St. was built in 1871.  At that time it was called the Empire Mill, he said. It was later known as the Globe Mill. A to Z Farm Center then purchased the building, Mistele said.  That company sold seed, dairy equipment and other items there, he said.
The structure is a historic building with some "pretty neat stuff," Mistele said.  The structure contained large floor joists made of pine and maple timber, he said. In the past the mill was powered by the lower dam, he said.
Empire purchased the building from A to Z Center about eight years ago, Mistele said. Empire used the building for storage, he said.
Flames continued to rise from the former Globe Mill on South Water Street this morning as a state fire marshal searched the scene for a cause of the fire that completely destroyed the historic building.
As of late morning, the Watertown Fire Department was unable to explain why the fast-burning fire occurred, pushing flames through the building's roof.  Acting Fire Chief Keith Becken said the department suspected someone intentionally set it.
This morning, the smell of scorched pine and maple timber drifted through moist air as firefighters and onlookers watched tiny embers, flames, and black and gray plumes push out of the collapsing structure. Smoke blackened the sides of the building.
Watertown resident Sandi Haseleu watched in disappointment as bricks on parts of the 130-year-old structure crumbled. "This is like a funeral," she said, snapping pictures. "Another old landmark is gone."
Haseleu said she once toured the building with the Watertown Historical Society and describes the building as "unbelievable."  She said grain bins and pulleys inside the building were interesting.  She found the names of people from years ago written on walls.
"Someone told me that you remember your hometown not only by its people, but also its buildings," she said.
Firefighters responded at about 11:55 p.m. Wednesday.  Upon arrival, fire shot through the roof.  The structure was engulfed in flames at about 9:15 a.m. today. Firefighters had been at the scene for about nine hours.
The former Globe Mill was built in 1871 and is owned by Empire Globe Corp. of Watertown. That company purchased the structure about eight years ago from A to Z Farm Center, which sold seed, dairy equipment and other items, Empire's part-owner Larry Mistele said.   WDT
05 04       Flames continued to rise from the former Globe Mill on South Water Street this morning as a state fire marshal searched the scene for a cause of the fire that completely destroyed the historic building.  As of late morning, the Watertown Fire Department was unable to explain why the fast-burning fire occurred, pushing flames through the building's roof.   Acting fire Chief Keith Becken said the department suspected someone intentionally set it.  No injuries were reported.  This morning, the smell of scorched pine and maple timber drifted through moist air as firefighters and onlookers watched tiny embers, flames, and black and gray plumes push out of the collapsing structure.  Smoke blackened the sides of the building.   WDT
05 04       Arson is believed to be the cause of the fire that destroyed the former Globe Mill on South Water Street.  Larry Mistele, one of the owners, said he believes the blaze at the mill was intentionally set, which was suspected by Watertown fire and police officials.  Police said today the state fire marshal was still investigating the fire.  The marshal couldn't be reached for comment.  Workers have been cleaning up the site for several weeks.  Mounds of blackened timber and other debris could be seen at the site following the fire.  A brick chimney at the mill site, a popular landmark, was still standing after the blaze.  It was torn down last week.   WDT
Cross Reference:

History of Watertown, Wisconsin