This file part of www.watertownhistory.org website
    ebook  History of Watertown, Wisconsin
        Chapter on Watertown Police Department
Gordon Gerth
1940      High School grad, 1990 reunion
1946     

   Gordon Gerth, 23, son of Alderman and Mrs. Herman Gerth, took over his duties as patrolman with the local police department.  Officer Gerth was a graduate of the Watertown High School, where he played football, and attended Ripon College for two years.
     [*] Herman Gerth:  1956, Last Man's Club, Company E;  1958, G B Lewis 25 year club; member of Auxiliary Police in 1960
1958c    Watertown Police Dept group photo
1968     

   Gerth appointed lieutenant, replacing the late Lt. Herbert C. Eisfeldt
1991      At Bob Webster retirement, Police Dept. 
<![if !vml]>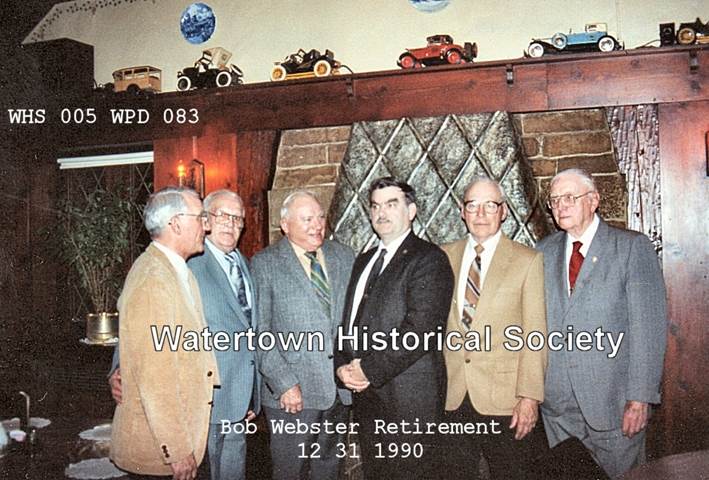 <![endif]>
[l-r] Henry Lehmann, John Crandal, Clarence Tessemann, Robert Webster, Gordon Gerth, Leonard Braunschweig.
Retirement party was held February 2, 1991.
Gordon Gerth
1922 – 2014
<![if !vml]>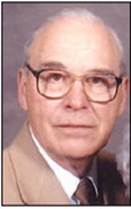 <![endif]>On Jan. 29, 2014, Gordie Gerth, formerly of North Church Street, went on his journey to be reunited with his childhood sweetheart and wife of 62 years, Elizabeth Anne Kehoe — his Anne, who left this world on Feb. 3, 2007.
Gordon was born on March 1, 1922, in Watertown, where he was raised.  Upon graduation from Watertown High School in 1940, he was offered three athletic scholarships and accepted to play football for Ripon College.  While at Ripon he joined ROTC and was a member of the Delta Sigma Psi fraternity.  Upon the outbreak of war, he returned home and worked with his father at G.B. Lewis Co. until joining the Watertown Police Department in 1946.
Gordon was proud to be a member of the police department and believed in education and being the best in his profession.  He attended many FBI schools and classes to give the people of Watertown the best of service; he was a member of the Wisconsin Professional Law Enforcement Association.  In 1969 the Watertown Jaycees presented Lt. Detective Gerth an award in recognition of outstanding service rendered as a Watertown policeman.  He was well recognized in his profession and through the years had worked with many law enforcement agencies and taught search and seizure classes at University of Wisconsin-Whitewater. He was the first lieutenant detective on the Watertown Police Department and retired with that rank after 39 years of service
Gordon loved sports and was recruited by the Green Bay Packers — Anne said "no go" to this.  In his younger years he played on the policeman's ball team, was a good bowler and was proud of making a hole-in-one at the Watertown Country Club.  He loved hunting and fishing was his passion.  He looked forward each year to his fishing trip to the Flambeau Flowage with his fishing buddies.
Gordon loved Watertown and its people.  He was very active in the community and St. Bernard Church, where he served many years as an usher.  As the Grand Knight at the Knights of Columbus you could find him on Friday nights frying fish at the KC Club.
Gordie was known for his walkabouts around town.  Every day he would take his walk to see what was going on in town and to meet and talk with people.  His family would kid him that he was still on patrol.
Survivors include his daughter, Pamela Gerth (Fred) Foster of Manitowoc and their two daughters Monique and Chelsey Jane; son, Bruce (Julie Ann) of Minneapolis and son Harrison; sisters, Dorothy Albrecht of Arizona and Gretchen Sterwalt of Watertown; plus nieces and nephews. Gordon was preceded in death by his parents, Alderman Herman "Dick" Gerth and Minnie (Karge) Gerth; his wife, Anne; three brothers, Floyd "Smiley" Gerth, Lynn "Red" Gerth and Harold "Hermie" Gerth.
A service of remembrance will be held on Saturday, June 7th, at 11 a.m. at St. Bernard's Catholic Church in Watertown with Monsignor Daniel Ganshert officiating.  Burial will be in the parish cemetery. Memorials may be sent to the Watertown Police Department or St. Bernard's Catholic Church.
Hafemeister Funeral Home and Cremation Service 611 E. Main St. Watertown

History of Watertown, Wisconsin