website  watertownhistory.org
    ebook  History of Watertown, Wisconsin
Adelia Fischer
1890 - 1963
Mrs. Geo. M. (Adelia Bandelin) Fischer
Known for Kind Deeds
<![if !vml]>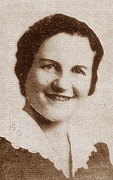 <![endif]>Mrs. George M. Fischer, 72 of 606 South Ninth Street, one of Watertown's most widely known and respected residents died at St. Mary's Hospital at 6 a.m. today.
Mrs. Fischer had suffered a fall on Feb. 3 and was hospitalized for three and one-half weeks.  She was then able to return home and two weeks ago again entered the hospital.  She was responding well to treatment but several days ago a decided change set in and death came peacefully this morning in her sleep.
Mrs. Fischer was the former Adelia L. Bandelin.  She was born in Watertown Aug. 10, 1890, a daughter of the late Mr. and Mrs. John Bandelin, pioneer residents of Watertown.
Mrs. Fischer was married to George M. Fischer of the Charles Fischer and Sons Co. department store family and they would have marked their 48th wedding anniversary on April 8.
Husband, Daughter Survive
Mrs. Fischer is survived by her husband, a daughter, Margaret Jane, who is Mrs. Wallace Zimmermann of Delavan; two granddaughters, Sarah Jane and Gail Ann, one niece, Etta, who is Mrs. Leo L. Barfknecht of Lake Mills and who made her home with Mr. and Mrs. Fischer from her ninth year until her marriage and who remained very close to them through the years.
Other survivors are a sister, Mrs. August Passet, Berkeley, Calif., and one brother, Frank C. Bandelin, Wauwatosa.  There are also several nieces and nephews.
Funeral services will be conducted at 1:30 p.m. Wednesday at the Watertown Moravian Church with the Rev. Thorlief Harben officiating. 
Interment in Oak Hill Cemetery.
Cross Reference:
Mrs. George Fischer, Watertown Centennial Tea, 1954
1940
06 08       CHILDREN'S DAY PROGRAM
A children's day program will be held Sunday morning June 9 at 10 o'clock in the Moravian church by the beginners, primary and junior departments of the Sunday school, Mrs. George M. Fischer will be in charge of the program.  She is being assisted by Miss Ethel Bredow, pianist, Margaret Jane Fischer, violinist, Patricia Heim, violinist, Mae Schilling, clarinetist, Junior Rehbaum, trumpeter, Kenneth Nowack, flutist, Kenneth Schmidt, cornetist and the following teachers, Miss Helen Kohls, Miss Myrtle Wesemann, Mrs. Clifford Schoechert, Mrs. Reinhold Zache, Mrs. Eugenia Zillmer, Mrs. Edward Sprenger and William Radke, Jr.

History of Watertown, Wisconsin