website  watertownhistory.org
    ebook  History of Watertown, Wisconsin
Peter Euper Inn and Residence
Peter Euper Sr
617 S First
Peter Euper Sr
<![if !vml]>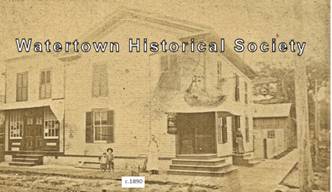 <![endif]>
Photo of inn and residence, c1890       WHS_005_394
Building owned by Peter J. Euper, early Watertown business man.
Former Exchange Hotel on Main St. that was moved to 617 S. First / Now the M&M bar
c.1890
Peter Euper Wood and Cool, c.1890  /  Location has to be S. Water St             WHS_005_199
1896
06 19       NEW SPRINKLER
P. J. Euper's fine new sprinkler has arrived from Milwaukee.   WG
1898
10 19       CLAIM FILED AGAINST THE CITY
At last night's council meeting P .J. Euper, administrator of the estate of his son, Fidelius Euper, presented a claim against the city for $5,000 damages "for the death of Fidelius Euper, on June 11, 1898, caused by the negligence of said city in leaving unguarded a dangerous pond or raceway on land owned by said city." The bill was placed on file.
c.1910
EUPER COAL & WOOD
<![if !vml]>

<![endif]>  
04 04       DEATH OF
Peter J. Euper, a well-known business man and contractor died at his home, 617 First Street, Sunday morning.  He had suffered for some time past with tuberculosis which resulted in death.
Mr. Euper's health began failing last fall, but he was only confined to the house during the past six weeks.  Saturday he recognized his brother, Zacharius Euper, of New Ulm, Minn., who moved from here thirty five years ago and whom he had not seen for the last twenty-eight years.
Decedent was born in the town of Emmet January 3, 1855 and came to this city with his parents when a child.  When a young man he showed a disposition for business affairs and was engaged in some sort of business the balance of his life.  He conducted a store in the earlier years, later a commission business and lately a wood and coal business in connection with a grocery store in First Street.
He was of an active disposition and was not content unless he was engaged in some enterprise.  He was a member of St. Henry's Mutual Benefit Society, Branch No. 120, Catholic Knights of Wisconsin and a member of the Watertown Fire Department almost from the time of its organization, being a member of Phoenix Hose Cos. No. 2.
The flags on the city hall and Phoenix Engine house were placed at half-mast out of respect to his memory.  He is survived by his widow, four sons and one daughter and besides the brother spoken of has one sister, Mrs. Joseph Bliefernicht of this city.  The funeral took place from the home Wednesday morning at 9 o'clock to St. Henry's Catholic church.
1940s

   Hartig's sign by door.  Service star flag on door

   Interior of inn.  Peter Euper Jr
Peter Euper Jr
Peter Euper Jr
George Euper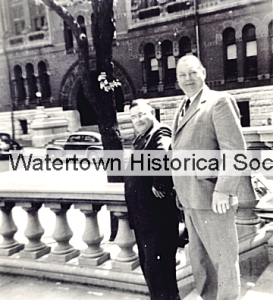 George Euper (l), Peter J Euper II (r)   WHS_005_445
Cross Reference:
Euper, Peter J, 1890, Coal and Wood establishment, 617 S First, WHS_005_199 image
Gertrude Euper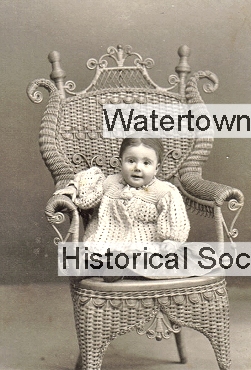 Gertrude Euper, daughter of Peter J. Euper Sr and Annetta (Mattecheck) Euper     WHS_005_399

History of Watertown, Wisconsin