website  watertownhistory.org
    ebook  History of Watertown, Wisconsin
James D. Casey Co.
119-121 S. Water St
Became Witte, Farr and Frost
<![if !vml]>

<![endif]>
undated image
The company dealt in wagons and farm machinery of all kinds, parlor organs, pianos,
early phonographs and records and carried on a horseshoeing and blacksmith business. 
Later went into the auto business.
Mr. Casey, born in Ireland June 24, 1845, founded the business here on January 2, 1870.  Died on December 24, 1925.
1875
<![if !vml]>

<![endif]> 
12 09       PROFILE OF JAMES CASEY
Speaking of the J. D. Casey Cos., the writer remembers forty years ago or more [c.1878] when James D. Casey was the whole cheese in the shop at the corner of Water and Emmet streets.  Previous to his entry into the blacksmith business at that time the shop and buildings to the north of it were occupied by Joseph Lindon for pork packing.  Billy Wilson, a butcher and a member of the 29th Wisconsin regiment in the Civil War, was the boss packer.  Those were the times you could get a barrel full of pigs feet—that meant up to the shoulder—for a cent a piece.  Eggs were 6 cents a dozen and beefsteak 6 cents a pound.  Calf liver was given away.
But to return to J. D. Casey.  Probably no man in like business in the city of Watertown ever gave it the attention he did.  He worked over the anvil early morning and late at night and in the busy summer season the writer has heard his anvil sound as the clock in St. Henry's tolled the hour of midnight.  J. D. Casey, still a long way from the crossing of the divide which separates time from eternity, is probably one of the most virile men in the agricultural business today.  No one taught him.  He taught others, and has built up the biggest retail agricultural business in the state of Wisconsin as represented in towns the size of Watertown or even greater in size.  His motto has always been, honest goods and honest prices, and the guarantee that if the goods fall down he would replace them.  That's a record.  And Casey has it.
Hard work in the years gone by was Casey's main hold.  When a farmer left his order to build a wagon, buggy or other vehicle, he was assured that the goods would be there.  It is only a few years ago when Dick Irving brought a farm wagon to Casey to repair a wheel.  Casey sold it to him about thirty years before and it was the first time it was brought to him for repair.     The Watertown News, 09 Dec 1918
1889
12 06       CASEY'S WAREHOUSE AND CONTENTS TOTALLY CONSUMED
The Old Lindon House Barn with all its contents totally consumed; James Casey's Warehouse burned to the ground; Conley's Saloon slightly damaged and several other places badly scorched.
Last Sunday morning at about 2 o'clock one of the most disastrous fires that has ever occurred In Watertown broke out in the old Lindon House barn on the West Side, and before the firemen could get the fire under control some $15,000 worth of property was consumed.
The old barn fired up like a powder mill and in a few minutes after the blaze was first discovered over half a dozen places took fire therefrom.
James D. Casey's warehouse and contents were totally consumed; Tremont House badly damaged; Conley's Saloon slightly burned, and all the sheds in that vicinity were reduced to ashes.
At one time it looked as though the whole business portion of the west side might succumb to the flames, but by the heroic and excellent work of the firemen the flames were confined to the immediate vicinity where they were first kindled.  The firemen in all the companies did good work, especially when it is taken into consideration that two blocks of frontage had to be protected by them.  It was with difficulty that the American House and barns were saved, also Casey's blacksmith shop, Conley's saloon and Seager's barbershop.
For the fine work of the firemen, they are deserving of great praise from our citizens. . . .     WG
1900       THE BEST VEHICLES AND FARM MACHINERY
08 31       The wide-awake buyer is now searching where he can buy the best Vehicles and Farm Machinery for his fall use.  We have gathered together a line of goods, which for strength, durability and light running are far superior to any other goods on the market.  The J. I. Case Threshing Machines, the McCormick Corn Binder, and Corn Husker, the Milwaukee Corn Husker, the "Deere" Corn Husker and John Deere Plows, the Waupun Steel Giant Wind Mills and Pumps, the Fort Atkinson carriages and buggies and J. D. Casey's Hand-made wagons are goods that have no equal.  You will wonder how we can sell these goods at the low prices often paid for inferior goods. 
Many quick sales and small profits, is how we do it.  Give us a chance to figure with you — we'll save you money.
J. D. CASEY, Watertown. Wis.
One Block south of West Main St.
1901       IMPROVED WAGON JACK FOR SALE
08 16       Jas. D. Casey has purchased of Isaac Kelly, of Madison, the rights to manufacture and sell an improved wagon jack in this city.  The right has also been secured for both Dodge and Jefferson counties.  It is the greatest device of its kind in the market, and can be operated by a child.  All owners of wagons, carriage and buggies in these two counties will do well to consult Mr. Casey.  It saves time and labor in greasing the wheels of vehicles of this kind, and its expense is very reasonable.   WG
1902
01 03       CABRIOLET PURCHASED
Col. Daniel Jones has purchased from J. E. Casey [J. D.] a fine cabriolet, which is one of the handsomest jobs seen in our streets in years.  The design is very artistic and is a duplicate of the cabriolet which captured the first prize at the Paris Exposition.  It is fitted with the famous Kelley-Springfield rubber tire and Bradley patents and every particular gives evidence of excellent quality and workmanship.    WG
1905       DEATH OF EUPHEMIA CASEY
04 14       Last Thursday morning the home of J. D. Casey was certainly and unexpectedly made the scene of a fatal accident which resulted in the untimely termination of a sweet, young life and brought anguish to many hearts.  Miss Euphemia, age twenty-two, was the victim of this sad accident . . . It appears that Miss Casey had decided to start house-cleaning Thursday morning in the upper rooms and carried some of the bed clothes, including a mattress, out on a shed roof adjoining the main part of the house.  On this roof was a brick chimney about ten feet high, which was braced with an iron rod.  She put the clothes on this rod and it is thought that either the weight of the clothes bent the chimney over or she may have slipped on the roof and in falling caught the brace and the added weight and momentum caused the chimney to fall, with the result that her skull was crushed by the tons of brick and mortar and she was dead instantly . . . Help was summoned immediately, but the unfortunate young woman was beyond human aid.
1909
04 02       WALTHAM PIANOS
<![if !vml]>

<![endif]>      WG 04 02 1909 ad 
1910
NORTHWESTERN CUTTERS AND SLE
  <![if !vml]>

<![endif]>    ighs
1913
119 Water, farm implements, dealer
1915
11 04       J. D. CASEY, PIANOS, IMPLEMENTS, AUTOMOBILES
<![if !vml]>

<![endif]>  
11 11       NEW AUTOMOBILE GARAGE
J. D. Casey is breaking ground for a new automobile garage on his property in Water Street, north of the site formerly occupied by the American House.  The building will be fireproof, one story, and will have a frontage of 80 feet and a depth of 60 feet. Mr. Casey has the local agency for Maxwell automobiles and other cars.   WG
                Company caught fire from Barker Lumber fire, across the river
1915
11 08       JAMES SELF-CLEANING MANGER
<![if !vml]>

<![endif]>  
1918
12 09       TWO CAR LOADS OF PIANOS FOR CHRISTMAS SALE
<![if !vml]>

<![endif]>       Located south of the library
1920s
Dealership book; McCormick-Deering tractors
1923
J. D. Casey:  St Bernard's, 50th anniv of cornerstone
1959
09 18       DISTANT VIEW OF
<![if !vml]>

<![endif]>      
1961
01 25       SALE OF CASEY CO.
Sale of the J. D. Casey Co., rumored in local business circles for several weeks, was confirmed yesterday afternoon following the close of negotiations.  Announcement was made by Thomas W. Frost, president of Witte, Farr & Frost, Inc., Cottage Grove, that his company had purchased the Chevrolet business of the Casey Co. in Watertown.  The sale includes the buildings with one exception.  The company has purchased all the property with the exception of the warehouse located in the second block in South Water Street.    WDT
1962
09 28       1963 MODEL YEAR INTRO
      Witte, Farr & Frost, Chevrolet Sales & Service
<![if !vml]>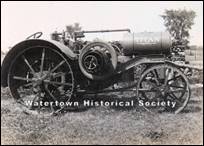 <![endif]>  
1969
01 25       SALE TO FELDNER CHEVROLET
Thomas Frost, president of Witte, Farr & Frost, Chevrolet dealer here located at 119 South Water Street, today announced the sale of the business to Al Feldner Chevrolet of Chicago.  Frost and his associates acquired the Chevrolet distributorship from the James D. Casey Company in January of 1961.  The firm took over on Jan. 20 of that year.  Before coming to Watertown, Frost was a Chevrolet dealer in Cottage Grove near Madison for 17 years.    WDT
Cross References:
 <![if !vml]>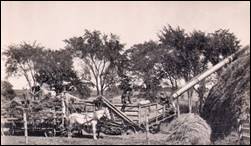 <![endif]>   Elephant in circus parade with Casey Co ad, uncertain year
Matchcover, McCormick-Deering All-Steel Spreader

History of Watertown, Wisconsin