website  watertownhistory.org
     ebook  History of Watertown, Wisconsin
C M & St P Railroad Depot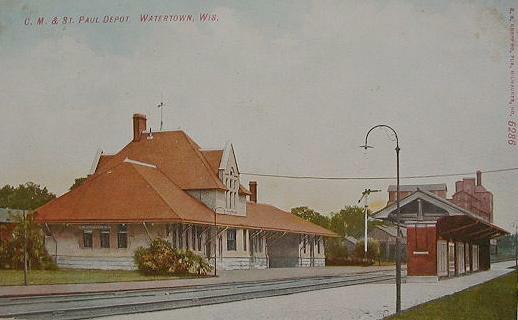 1910
1855
07 26       THE RAILROAD DEPOT
Probably the best depot building now in the state may be seen in the city of Watertown.  It is finished, and last week after careful inspection, was accepted by the railroad company, and is now ready for use.  It is a brick building one hundred and fifty feet long, with an exterior width of forty feet, and substantially built.  The ticket department is admirably arranged, having three rooms, one for delivery, one for ladies, and one for gentlemen.  Directly over these rooms, in the second story, an office has been fitted up for the use of clerks, engineers, and any other purposes to which it may be convenient to put it.  The remainder of the building is for storing, and the reception and delivery of goods.  Mr. P. B. Basford is the builder of this depot, and we know of no better place, or more gratifying evidence of the perfectly satisfactory manner in which he has fulfilled his contract, and to say that on offering the building in a finished state for examination to the company, it was immediately accepted without reservation or delay.  Everything was so well done as to call forth an expression of hearty thanks and entire satisfaction on the part of those into whose [hands it] has now passed.
FIRST BRICK DWELLING.  It may not be uninteresting to remark, that Mr. Basford put up the very first brick dwelling ever built in Watertown, some ten years ago, and may now be seen as perfect and solid as the day on which it was completed.  He is one of our most extensive builders, and the monuments of his enterprise are now scattered all over the limits of the city, to which every year makes new editions.   WD
1873
1873, Tornado damage.  The blast slightly raised the roof of the St. Paul Depot building, but it fell back to its place without doing much harm beyond loosening a few bricks and brackets.
1895
09 25       NEW CHICAGO, MILWAUKEE & ST. PAUL ROAD DEPOT
Mayor Moak "felt" of the Chicago, Milwaukee & St. Paul Road moguls in regard to the much-mooted and almost-worn-out question of a new depot for our city, something which no one will deny is sadly wanted.  General Manager Earling in reply said the company had but recently talked over its affairs in Watertown and had decided that a new depot must be erected there.  He assured the mayor that this was not idle talk, and that he was desirous of being quoted to our citizens to the effect that the first new depot built in 1896 by his company would be at Watertown . . .  WR
1897
<![if !vml]>

<![endif]> 
1898
<![if !vml]>

<![endif]>  
06 01       FLOWER BEDS
Agent Webb of the Chicago, Milwaukee & St. Paul Railway is very proud of the flower beds which now adorn the lawns of the depot grounds.  The plants are from the greenhouses of Mrs. C. T. Lotz and the work of laying out the beds was done under her supervision.  The effect produced is artistic and attractive.   WR
1900
07 20       THEODORE ROOSEVELT STOPS IN WATERTOWN
C. M. & St. P. Ry. train passing through here at 9:12 Wednesday morning had on board Gov. Theodore Roosevelt, of New York, on his return home from the meeting of the republican clubs in Minneapolis.  A large crowd was at the depot to greet him, and a number had the pleasure of shaking hands with him.  He carried on a conversation with Lieutenant Col. Solliday and Surgeon F. C. Moulding about the Spanish American war.  He wore a "rough rider" hat, and looked every inch a soldier.    WG
<![if !vml]>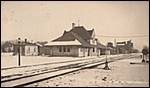 <![endif]>    Image Portfolio        
Cross References:
Chapter on C. M. & St. Paul Railway
Freight office, malt house in distance

History of Watertown, Wisconsin