website  watertownhistory.org
 ebook  History of Watertown, Wisconsin
     Chapter on Watertown Police Department
Ray W. Brier
1930s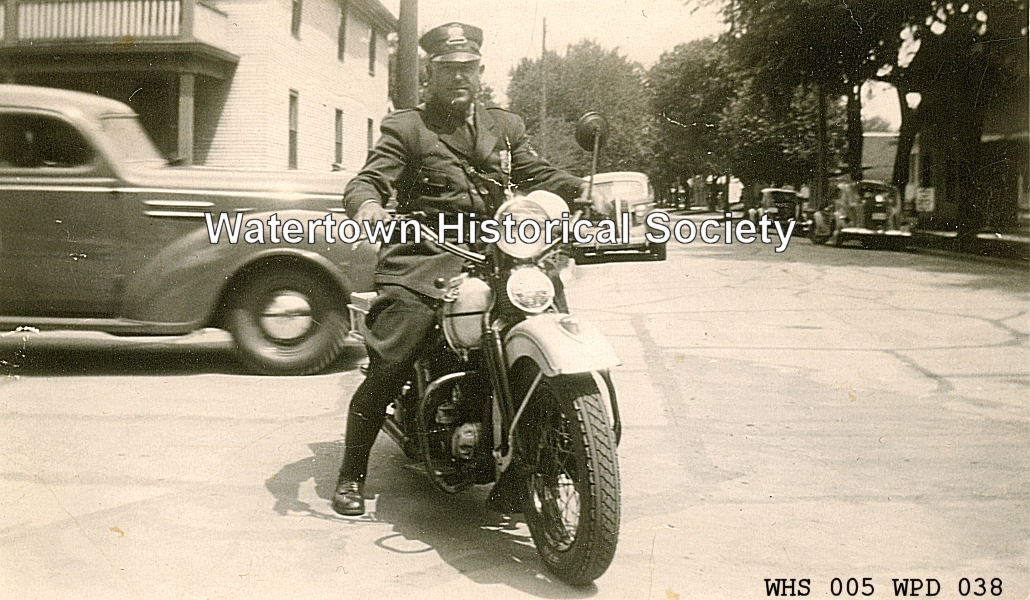 Indian motorcycle operated by Officer Raymond W. Brier, patrolling the streets in the 1930s.
1966      Ray W. Brier, Ex-officer, is Stricken
04 08       Raymond W. (Flate) Brier, 67, of 610 South Twelfth Street, a former Watertown police officer and one of the city's most widely known and liked residents, died yesterday afternoon at his home following a heart attack.
He was a native of Appleton and was born Nov. 30, 1898, a son of the late Mr. and Mrs. Henry Brier.  He had lived in Watertown the past 64 years.
He was married here on Aug. 3, 1929 to Miss June Biefeld.  She survives as do two daughters, Mrs. Arnold W. Strege and Miss Jean Brier [married name Bohnert], of Watertown.  There is also one son-in-law, Arnold W. (Bud) Strege and four granddaughters, Rae Ann, Darla Kae, Kim Susan and Leah Jean Strege.
A  sister-in-law, Mrs. Herbert Brier, resides in Grand Rapids, Mich., and there are numerous nieces and nephews.
    Carpenter by Trade
Mr. Brier had been a carpenter by trade and for many years was a member of the Watertown Police Department from which he retired in 1946.
He was a member of St. John's Lutheran Church and the Carpenters Union Local.
Mr. Brier was a man who enjoyed the outdoors, the woods and waters and in his younger years was active in skating, hockey and other sports and frequently refereed Rock River hockey matches here.  His friendships extended throughout the city and beyond.
Children, in the days when he served as a motorcycle officer, here knew him as a friend and he was popular with "the little kids" of the community.  They looked up to him and respected him.
The funeral will be Monday afternoon at 2 o'clock at St. John's Church, the Rev. Paul R. Schroeder officiating.  Interment will be in the Lutheran Cemetery.
Friends may pay their respects at the Hafemeister Funeral Home on Sunday from 4 to 9 p.m. and on Monday before 10 a.m., after which the body will be in state at the church beginning at 11 a.m.
Rock River Sea Monster Rears His Head
Joe Pinkie said his last sighting was back in the 1960s and it was as he was walking on the North Second Street bridge.
He said, "I'll never forget that day. It was at dusk as I looked over at the sunset across the river. For just a second or two, he raised his head about two feet out of the water and then he was back under."
Joe described the monster as being huge and almost snakelike but with a head akin to a dinosaur. He estimated the animal or fish, or mammal, whatever it is, to be 10 to 15 feet long.
Joe said, "One of the men who worked hard at catching this monster was a police officer by the name of Ray 'Flate' Breier [Brier].  He never caught it but it wasn't for lack of trying."
Then, to show us just how hard Flate had worked on catching the monster, Joe brought a picture of Flate to our office.  The photo shows the "bait" he was using to lure the monster to shore.  The "bait" was actually given to Flate by some residents along North Second Street who were concerned about having a monster virtually in their back yards.
From what we could see, Flate was holding a contraption which featured huge hooks and some feathers, presumably to conceal the hooks from the monster and also give the appearance of something appetizing.  Then, there was a flask of genuine whiskey connected to the feathers to help "sedate" the monster after it was hooked.
Joe thanked us for spending a little time reminiscing about the Rock River Sea Monster. But, he said time was a wastin' and there was a cold mug of golden lager waiting for him at his favorite watering hole.
By Watertown Daily Times Editor Thomas Schultz
Posted: Tuesday, October 1, 2002
Cross References:
1935, Member of Watertown Police Dept