T website  watertownhistory.org
 ebook  History of Watertown, Wisconsin
Joachim and Regina (Euper) Blivernicht (Bliefernicht)
Bliefernicht Joachim    1838-1909
Bliefernicht Regina      1842-1910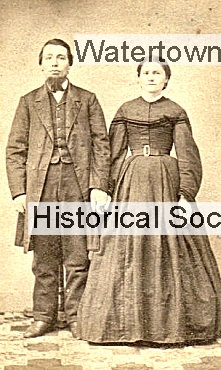 Joachim and Regina (Euper) Blivernicht (Bliefernicht)   WHS_005_396
Married at St. Henry's Church, Watertown; lived at 700 Vine St
Buried at St. Henry Cemetery
_______________________________________________________________
Joachim Bliefernicht Family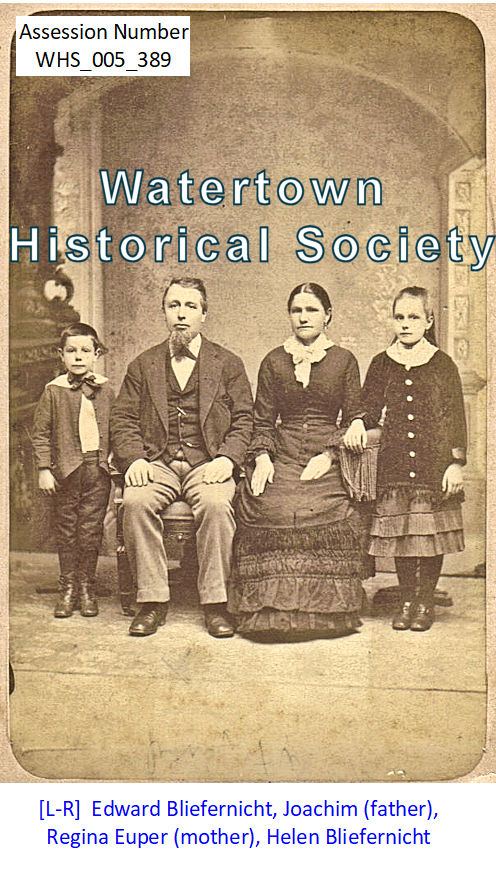 WHS_005_389
Joachim Bliefernicht family Watertown
Left to R:  Edward Bliefernicht, Joachim (father), Regina Euper (mother), Helen Bliefernicht
Picture taken at Chas. W. Rundlett, photographer, Watertown, WI.
Mrs. Joseph Bliefernicht
1842 - 1910
Watertown Gazette, 06 10 1910
Wednesday afternoon, June 8, 1910, Mrs. Joseph Bliefernicht [Regina], 700 Vine Street, died of pneumonia, her final illness extending over a period of only one week.  She was 68 years of age and is survived by one son and one daughter, being Edward Bliefernicht of Kingsley, Iowa, and Mrs. Joseph Hoefler of Watertown. 
Saturday morning at 9 o'clock her funeral will take place from St. Henry's Catholic Church.