website  watertownhistory.org
    ebook  History of Watertown, Wisconsin
         Chapter on Watertown Police Department  
John F. Bentheimer
Officer Bentheimer Dies Suddenly
Second of Two Heart Attacks Proves Fatal
<![if !vml]>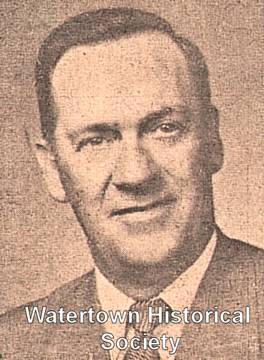 <![endif]>
WHS_009_879
05 22 1953
John F. Bentheimer, 45, of 305 South Seventh Street, a member of the Watertown Police Department for the past ten years, died late yesterday afternoon in St. Mary's Hospital after suffering the second of two heart attacks.
Mr. Bentheimer, who had never complained about a heart condition but who recently had not been feeling well due to a gall bladder condition, went to a physician's office yesterday afternoon to consult about his health.  He suffered a slight heart attack in the doctor's office and was immediately taken to the hospital in the Meyer ambulance.  At the hospital he suffered a second and more severe attack while in the elevator which was taking him to a room in an upper part of the building.  He died in the elevator.  Death occurred about 4:23 o'clock.
Only Wednesday the officer had returned from Superior where he had been the delegate from the local department to the annual convention of the Wisconsin Policemen's Protective Association.  He was in good spirits and had talked over some of the convention proceedings with fellow officers.
Mr. Bentheimer was appointed to the Police Department on July 17, 1943, but had served as a part-time officer previous to his appointment.  He served for a time on the night detail and on Feb. 1, 1947, was transferred to the day force.  He served much of the time as a traffic officer, assigned to a motorcycle, but had also served in other department capacities and assignments.
Police Chief Herbert Vehlow said this morning that the death of Officer Bentheimer has removed from his department an efficient and capable officer.
"We regarded John Bentheimer as one of our best man." the chief said.  "He was reliable and could be depended upon.  He was always ready and willing to do his part in carrying on the work of the department.  He worked well with his fellow officers and I think the general public, coming to know him, regarded him as a friend in uniform.  We are all going to miss him very much.  He has done an excellent job as an officer and aside from that he was also a good citizen in every sense of the word."  It was also recalled that Officer Bentheimer had always been a friend of children and never missed an opportunity to caution them about being careful in crossing streets and avoiding accidents.  He had the welfare of the school children of the city at heart and was a factor in promoting safety at every possible opportunity."
Born in Milford Mr. Bentheimer was a native of the town of Milford and was born May 16, 1908, a son of the late Mr. and Mrs. George Bentheimer.  He had lived in Watertown the past 24 years.  On Nov. 22, 1930, he married Miss Stella Blaese of Watertown.  She survives as do a daughter, Joan, a member of this year' graduating class at the high school; Jack Bentheimer, who recently returned from service in Korea and who is now in the city; and James, who is training at Fort Leonard Wood, Mo.  He is enroute home for the funeral.
Also surviving are two brothers, Gilbert, St. Paul, Minn.; and Philip, Lake Mills; and a sister, Mrs. Harold Brunner, Milwaukee.  Seven brothers, all younger than Mr. Bentheimer, preceded him in death.
He was a member of St. Luke's Lutheran Church and the Men's Club of that parish.  He was a member and vice president of the church council.  He was also a member of the Watertown Parent Music Club at the high school.
The funeral will take place at 2 p.m. Monday with services in St. Luke's Church, the Rev. I. G. Uetzmann officiating.  Interment will be in the Lutheran Cemetery.
Friends may pay their respects at the Hafemeister Funeral Home Sunday from 3 to 9 p.m. and also on Monday up to 10 a.m.  From 11 a.m. until the service the body will lie in state in the church
<![if !vml]>

<![endif]>
History of Watertown, Wisconsin