website  watertownhistory.org
    ebook  History of Watertown, Wisconsin
1907 Graduation Class
Watertown High School
<![if !vml]>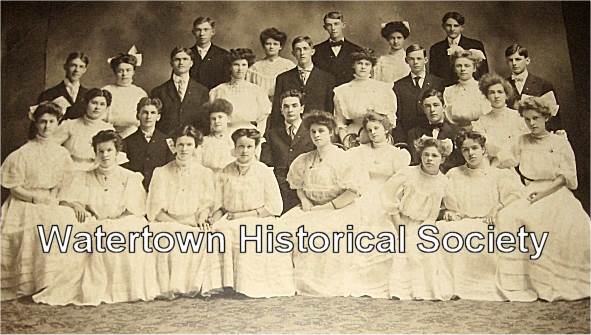 <![endif]>
Above 1907 photo used as reference 75 years later for
Watertown Historical Society models on Fourth of July float
A Society Digital Collection item
In the 1982 Fourth of July Parade dresses from the Watertown Historical Society collection were used to model and above 1907 photo was used as reference.
Graduation Attire
1982 WDTimes articles
The white graduation dresses being modeled in Saturday's Fourth of July parade came from the collection of the Watertown Historical Society.  The five models used a 1907 photograph for details as to footwear, accessories and hair styles. 
Members of the 1907 Watertown High School graduation class shown in the above photo are:
Back row from left:  John Hertel, Maude Spear, Carl Hubs, Lucy Bruegger and John Martin.
Second row:  Erwin Feldschneider, Charlotte Hayes, Walter Grams, Esther Koenig, Walter Schlueter, Malinda Schallert, Leonard Stapleton, Hilda Steinmann and Roger Eberle.
Third row:  Edna Simon, Caroline Berg, Simon Casey, Lillian Frey, Max Baumann, Margaret Habhegger, Fred Hayes, Stella Casey and Alice Voss .
Front row:  Helen Reilly, E. Margaret Reilly, Lillian Jaedecke, Elsa Sproesser, Leona Lewandowski and Anna Bertram.
Historical Society Float to be featured in Parade
A glimpse of local history around the turn of the century will be caught in the July Fourth Parade float entry of the Watertown Historical Society. 
Five girls graduating from Watertown High School this past June will be modeling from the society's collection of white dresses worn by seniors at the graduation ceremony here 75 years ago [1907].  The girls will appear on a float set with furniture pieces from the over 7,000 Victorian items found in John Richards' famous 57 room Octagon House Museum.
The all-white, floor length gowns have been donated to the museum over the years roughly from 1900-1910, and were worn by girl graduates of Watertown High School in bygone days.  Scroll diplomas, tied with white ribbon, were much in evidence but no caps and gowns were worn in early high school graduations.
The girls used a 1917 photograph to guide them in the appropriate hair-do, footwear and accessories of the era to complete their ensembles for the parade.
Participating in the parade Saturday at 9:30 am will be Barbara Dommer, Sue Espeland, Tami Grabow, Jane Kotwicki and Maggie Noon.

History of Watertown, Wisconsin