website  watertownhistory.org
    ebook  History of Watertown, Wisconsin
2019 EVENT CALENDAR
FOR THE
WATERTOWN HISTORICAL SOCIETY
PLEASE NOTE

ALL EVENTS SUBJECT TO CHANGE
CALL (920) 261-2796 FOR UP-TO-DATE INFORMATION

Judy Quam, a guide and former manager of the Octagon House Museum,
joins volunteers in an annual spring cleaning effort at the local landmark. 
For several days each April, workers prepare the historic home for the upcoming tourism season. 
The former home of John and Eliza Richards was built in 1854.
_____________________________________________________________
Octagon House Museum opens May 1st
so mark your calendar to visit us this year.
╰☆╮GREAT DEAL: Become a member of our society now
and receive two tickets for free tour of
Octagon House and grounds on the day of your choosing.
www.watertownhistory.org/Membership.htm
Celebrate your wedding, anniversary, corporate picnic,
or other special event at the Octagon House Museum
E-mail whs@watetownhistory.org  for inquiries.
2019 EVENT LISTING
April 29:  The Interurban Trolley
On Monday, April 29, at 7 p.m., the society will hold its annual meeting followed by a presentation on the historic Interurban Trolley that once ran between Watertown and Milwaukee.  Watertown resident Charles Damaske, author and historian of the Milwaukee Electric Railway & Light Company, will share vintage photos of the rail cars and extensive information about the formation and history of the line, focusing on the segment between Watertown and Oconomowoc.  Damaske is the president of the Milwaukee Electric Railway & Transit Historical Society established in 1983 and editor of the magazine, Live Wires.  His extensive photo and slide collection covers the trolley line from its early horsecar days to the abandonment of streetcars in 1958.
Following Damaske's presentation, an update will be provided on recent successful efforts to transform the former trolley line right-of-way into a multi-use recreational trail.  The presentation will take place at the Watertown Senior & Community Center, 514 S. First St.  It is free and open to the public.
May 4:  Opening for the 2019 season
Opening of the Octagon House Museum for its 81st tour season.
May 19:  Dedication of new Watertown History Center
On Sunday, May 19, the society will host an open house and dedication of its new Watertown History Center – a beautiful new building constructed this past winter at the Octagon House Museum to welcome guests and to better preserve and showcase the society's extensive collection of historical artifacts and Watertown memorabilia.  The construction of the new history center was made possible through a gift provided by Kenneth Riedl, Watertown historian and member of the society's Board of Directors.
The spacious, light-filled new structure features an expanded visitor center with gift shop, handicap accessible restrooms, and a venue for hosting events such as wedding and baby showers and small business meetings.
The open house will run from 1-3 p.m. with the dedication and ribbon cutting starting at 1:15 p.m.  Cake and lemonade will be served and the Octagon House will be open for touring.
For more information, please call the Octagon House at 920-261-2796 or email whs@watertownhistory.org .
August 18:  Annual 1st Brigade Band Concert & Ice Cream Social 
On the grounds of the Octagon House
<![if !vml]>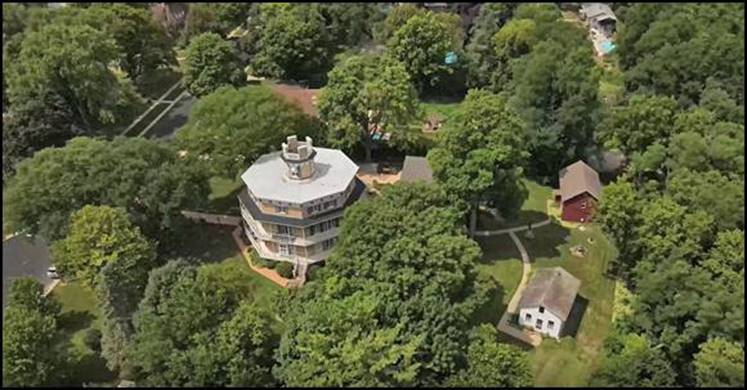 <![endif]>         <![if !vml]>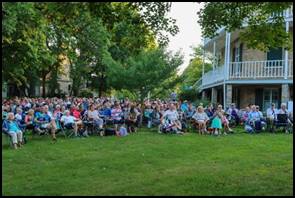 <![endif]>    Video clip  
Enjoy ice cream and homemade cake while listening to the 1st Brigade Band on the grounds of the Octagon House Museum.  The band MAKES HISTORY LIVE by presenting period brass band music, performed on antique instruments.  Attired in uniforms and gowns, the Band's musicians, color guard, and costumed ladies take you back to the 1860's; to that turbulent era known as the Civil War.  A nostalgic portrayal of the atmosphere of days gone by is generated by a unique form of showmanship that blends the sights and sounds of the period with historical anecdotes.
Concert is free  /  Plate of cake & ice cream:  $5.00.
For more information, call 902-261-2796
September 7:  Octagon House Antiques & Art Show (5th annual)
On the grounds of the Octagon House
<![if !vml]>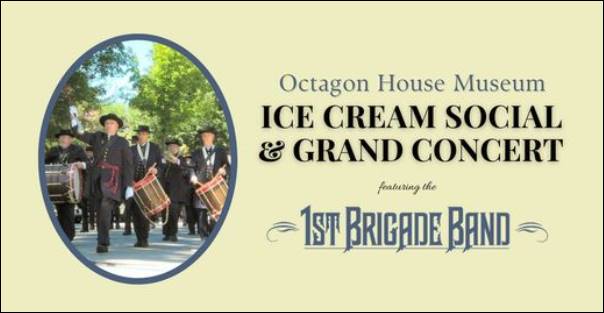 <![endif]>
Quality antiques and vintage collectibles will be featured alongside custom artwork and unique crafts designed by local artisans at the fifth annual Octagon House Antiques & Art Show set for Saturday, Sept. 7 on the grounds of the historic Octagon House Museum, 919 Charles St., Watertown.
The rain or shine event will run from 9 a.m. until 4 p.m. Highlights of the day will include a silent auction filled with quality antique and vintage items, guided tours of the Octagon House Museum at a discounted rate of $5 per person, a presentation on the historical homes of Watertown at 10:30 a.m., and seasonal produce and decorations will be for sale.
A $5 cover charge to enter the museum grounds is requested of adults 18 and older to help support museum operations, and lunch will be sold onsite.
The historical society is seeking donations of quality antique or vintage items in good condition to be sold during the silent auction. Past donations have included antique furniture such as rocking chairs and Victorian parlor tables, Watertown memorabilia, dishware, vintage clocks, frames, and artwork. Space also remains available for antiques dealers and artists to reserve vendor stalls. All donations to the historical society — whether an item or monetary — are tax deductible.
To donate an antique or vintage item to the silent auction or to register as a vendor, call Melissa Lampe at 920-248-0616 or email melissa.lampe@charter. net. Questions may also be directed to Scott Robertson at 920-285-3775 or scottrobertson413@ yahoo.com. Vendor registration forms may also be found on the society's website at www. watertownhistory.org.
The Octagon House Museum is owned and operated by the Watertown Historical Society. Completed in 1854, the five-story solid brick Octagon House was built by pioneer settler John Richards and was the largest single- family residence built in Wisconsin prior to the Civil War. The museum grounds are also home to the First Kindergarten in America, a restored pioneer-era barn, a miniature model of the Octagon House and the new Watertown History Center which houses the museum gift shop and rotating local historical displays.
_____________________________________________________________
The Octagon House Museum is located at 919 Charles Street, Watertown, Wisconsin.
Also on the grounds are the first kindergarten, pioneer barn and tour center gift shop.
MUSEUM HOURS
May:
12-3 pm, Sat & Sun (other by appointment)
June, July & August:
12-3 pm, Every day except Tuesdays (will be open of July 4th)
September:
12-3 pm, Sat & Sun (other by appointment)
October:
By appointment only
Tours are fully guided every hour on the hour in an air-conditioned museum.
For more information please call the Octagon House Museum at (920) 261-2796 or check the Events page of our website, www.watertownhistory.org
_____________________________________________________________

History of Watertown, Wisconsin