website  watertownhistory.org
    ebook  History of Watertown, Wisconsin
2017 EVENT CALENDAR
FOR THE
WATERTOWN HISTORICAL SOCIETY
PLEASE NOTE

ALL EVENTS SUBJECT TO CHANGE
CALL (920) 261-2796 FOR UP-TO-DATE INFORMATION

Judy Quam, a guide and former manager of the Octagon House Museum,
joins volunteers in an annual spring cleaning effort at the local landmark. 
For several days each April, workers prepare the historic home for the upcoming tourism season. 
The former home of John and Eliza Richards was built in 1854.
_____________________________________________________________
Octagon House Museum opens May 1st
so mark your calendar to visit us this year.
╰☆╮GREAT DEAL: Become a member of our society now
and receive two tickets for free tour of
Octagon House and grounds on the day of your choosing.
www.watertownhistory.org/Membership.htm
2017 EVENT LISTING
August 6:  Annual 1st Brigade Band Concert & Ice Cream Social 
<![if !vml]>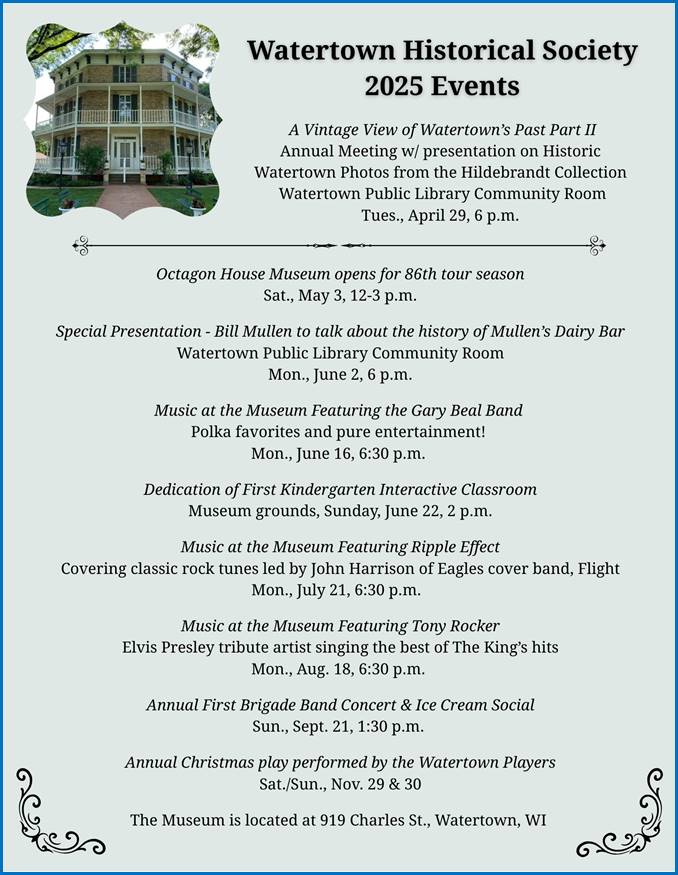 <![endif]>  
The Watertown Historical Society will hold its ice cream and homemade cake social on Aug. 6 on the Octagon House grounds.  The annual event will be held from 1:30-4:30 p.m.
Back by popular demand, the 1st Brigade Civil War Band will perform in the afternoon.  The original 1st Brigade Band, Third Division, 15th Army Corp. marched with Gen. Sherman in his campaign during the War Between the States.  Civil War era music will be performed by the band. The band "makes history live" by playing period brass band music on antique instruments while dressed in Civil War era uniforms and gowns.
The Octagon House, located at 919 Charles St., is open from noon-3 p.m. every day but Tuesday in July and August.  Tours of the house and America's first kindergarten are conducted hourly.  Tours will be held through the day of the social and all members of the public are invited.
Benches will be provided by the Watertown Park, Recreation and Forestry Department and residents are encouraged to bring lawn chairs.  Band members will have both Confederate and Union music on sale. 
For more information, call 902-261-2796
Link to poster that can be printed and posted (a pdf file)
_____________________________________________________________
September 9:  Octagon House Antiques & Art Show (3rd annual)
 <![if !vml]>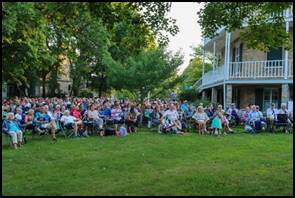 <![endif]>  
Local artists will be featured alongside quality antiques dealers at the third annual Octagon House Antiques & Art Show set for Saturday, Sept. 9 on the grounds of the historic Octagon House Museum in Watertown.
The rain or shine event will run from 9 a.m. until 4 p.m. Highlights of the day will include presentations on specific aspects of antiques collecting, discounted tours of the Octagon House Museum, more than 20 dealers selling quality art and antiques, a food vendor, seasonal decorations and produce, and an expanded silent auction of antique and vintage items. A donation of $5 will be requested to enter the museum grounds for adults 18 and older. All funds raised through the entrance donations, house tours and silent auction will directly benefit museum operations. Attendees will also have the opportunity to use their admission ticket to win a variety of raffle prizes generously donated by Watertown businesses.
The Octagon House Museum is owned and operated by the Watertown Historical Society. Built in 1854, the five-story solid brick Octagon House was built by pioneer settler John Richards and was the largest single-family residence built in Wisconsin prior to the Civil War. The museum grounds are also home to the First Kindergarten in America, a restored pioneer-era barn, a miniature model of the Octagon House and a tour center with gift shop.
The historical society is seeking donations of quality antique or vintage items in good condition to be sold during the silent auction. Past donations have included antique furniture such as rocking chairs and Victorian parlor tables, Watertown memorabilia, dishware, vintage clocks, frames, and artwork. In addition, donations from the community would be welcomed to help offset the cost of tent rental ($600 total), publicity and other expenses related to the event. Space also remains available for antiques dealers and artists to reserve vendor stalls. All donations to the historical society – whether an item or monetary – are tax deductible.
"The Watertown Historical Society is working hard to grow the antiques and art show into a signature fundraising event for the ongoing care of the Octagon House Museum," said Melissa Lampe, society president. "We hope to see many antiques and art vendors on our grounds on Sept. 9 as well as many shoppers and people interested in learning more about fine art, antiques and local history," she said.
To donate an antique or vintage item to the silent auction, to make a donation, or to register as a vendor, please call Lampe at 920-248-0616 or email melissa.lampe@charter.net . Questions may also be directed to Scott Robertson at 920-285-3775 or scottrobertson413@yahoo.com . Vendor registration forms may also be found on the society's website at www.watertownhistory.org .
Link to poster that can be printed and posted (a pdf file)
_____________________________________________________________
November 25 & 26:  Annual Christmas Play
This year's production is titled "A Christmas Adventure."
The show, an original production written by local historian and author W.F. Jannke III, is about two little children, Adam and Marie, who must race against the clock to save their older sister, Anne, who has been spirited away by an evil troll named Saznak who is holding her against her will.
Along the way the children encounter a tin soldier and a mystical old woman who may not be all she pretends to be.
The show, which will be presented Saturday, Nov. 25, and Sunday, Nov. 26, will be presented inside the Octagon House in the four main rooms on the first floor.  There will be continuous performances from 11 a.m. to 3 p.m. each day of the show.
For more information, call the Watertown Players at 920306-4364 or visit www.watertownplayers. org.
_____________________________________________________________
2018:  September 8:  Octagon House Antiques & Art Show (4th annual)
_____________________________________________________________
The Octagon House Museum is located at 919 Charles Street, Watertown, Wisconsin.
Also on the grounds are the first kindergarten, pioneer barn and tour center gift shop.
MUSEUM HOURS
May:
12-3 pm, Sat & Sun (other by appointment)
June, July & August:
12-3 pm, Every day except Tuesdays, but will be open of July 4th
September:
12-3 pm, Sat & Sun (other by appointment)
Tours are fully guided every hour on the hour in an air-conditioned museum.
For more information please call the Octagon House Museum at (920) 261-2796 or check the Events page of our website, www.watertownhistory.org
_____________________________________________________________

History of Watertown, Wisconsin