website  watertownhistory.org
    ebook  History of Watertown, Wisconsin
Otto Winkenwerder
1871-1942
Henry D. Winkenwerder
1866 - 1956
Winkenwerder Hardware
207 E Main
1.0  Henry Winkenwerder Sr (Sophia Kusel; dau Daniel Kusel)   Genealogy of this clan
1.1  Dorothea Winkenwerder  (Married Charles Gamm)
1.2  Henry Winkenwerder Jr
1.3  Ella Winkenwerder
1.4  Otto Winkenwerder (Lillie Fredrich)
                    1.4.1  Helen
                    1.4.2  Harold
1.5  Hugo Winkenwerder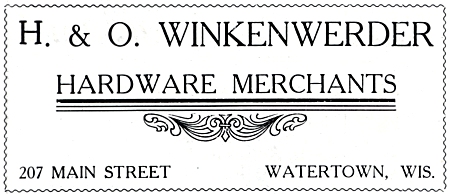 Winkenwerder Hardware 1915, Ad, Orbit
1901
<![if !vml]>

<![endif]>   1901 Fire Insurance Map, 200 block E Main, compared to 1909
1905
09 26       Exhibition of Interurban: Last week, there was a very good imitation of a street railway now in one of the front windows of the hardware store of Henry Winkenwerder.  The car was constructed entirely of hardware and was certainly unique and attractive as an advertisement.  Upon the car were the placards "Third St. Line;" . . . "All aboard for Fair Grounds" and "Watertown Street Railway."  Otto Winkenwerder designed and constructed the car, which was very ingenious.
1906
<![if !vml]>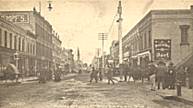 <![endif]>   1906
1908
08 28       Exhibition of Candidates:   Henry Winkenwerder has on exhibition in one of the show windows of his hardware store a choice collection of pictures of candidates for office - a sort of a rogue's gallery of politicians.  Some of the pictures might be used to drive rats out of the barns or frighten children into good behavior.   WG
<![if !vml]>

<![endif]>  Winkenwerder Hardware, far left, 1908, 207 E Main, interurban tracks being laid.
1909
02 26       Retires from Business.  Henry Winkenwerder has sold his hardware business to his two sons, Harry D. and O. Winkenwerder, and will retire from active business.  Mr. Winkenwerder has been in the hardware business here for over 50 years and was one of Watertown's best known and most esteemed business men.  He is 78 years of age and feels that he merits a well-earned rest.  His sons are most worthy young men and are fully competent to handle the fine business their father has so long conducted   WG
<![if !vml]>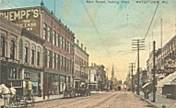 <![endif]>
1913      H. & O. Winkenwerder, 207 E Main, hardware, stoves & tinware.
1914
03 05       FREDERICK KUSEL AND WIFE AND
      HENRY WINKENWERDER AND WIFE CELEBRATE GOLDEN WEDDINGS.
It is seldom that in a city the size of Watertown that two golden weddings are celebrated the same day, but our city experienced that honor on Wednesday, March 4, 1914.  The event had also another side in that a brother and sister joined in that distinction.  Fifty years ago Frederick Kusel married Miss Marie Bodien, and his sister, Sophia Kusel, was married to Henry Winkenwerder, and both couples have made this city their home ever since, and in a social and business way have always identified themselves with the city's very best interests, and on this gladsome event all our citizens, regardless of creed or nationality, join in extending hearty congratulations and in wishing these two venerable couples many more years of married life together.
At both homes on Wednesday many relatives, friends and neighbors called to offer congratulations and wish them many more days of happiness and usefulness.  At the Kusel home Wednesday afternoon their oldest son, Theo. Kusel and N. Thauer spoke feelingly of the event, and what they had to say was greatly appreciated by all present.
Mr. Kusel was born in the Province of Mecklenburg, Germany, Nov. 1, 1839, and in 1849 he came to this country with his parents and located in this city.  His wife is a daughter of the late Peter and Dora (Hausen) Bodien, natives of Holstein, Germany, where she was born April 27, 1845, and with her parents came to America in 1851, locating in Milwaukee.  In 1855 they moved to this city.  Six children were born to them, four of whom are living — Theodore D. Kusel of Watertown, Mrs. Paul Valerius of Chicago, Arthur and Walter Kusel of Watertown.  There are also two grandchildren, Paul and Doris Valerius of Chicago.  All their children and grandchildren and Paul Valerius were present at the golden wedding.
Mr. Winkenwerder was born in Mecklenburg, Germany, August 13, 1831, and located in this city in 1854.  His wife is the only daughter of the late Daniel Kusel, Sr., and was born in Germany March 7, 1841, and came to America with her parents in 1849.  Seven children were born to them, five of whom are living, Mrs. Charles A. Gamm, Henry D., Ella, and Otto Winkenwerder of Watertown, and Hugo Winkenwerder of Seattle.  There is also one grandchild, Irwin Gamm of this city.   WG
10 24       FARE-REFUNDING SALE, full page Weltburger ad 
1921
<![if !vml]>

<![endif]>
The Black and Red, 03 19 1921
1935      H. & O. Winkenwerder Business Sold
1942      Otto Winkenwerder
1871-1942
The funeral of Otto Winkenwerder, 210 South Eighth, retired Watertown; business man who died Saturday afternoon, will be held Tuesday afternoon, with services at 2 o'clock at the Schmutzler Funeral Home.  The Rev. K. A. Timmel of Trinity Lutheran Church will officiate.  Burial will be in Oak Hill Cemetery.
Mr. Winkenwerder died of a heart ailment.  He had been ill for a long time.
He was born in Watertown July 17, 1871, a son of the late Henry and Sophia Kusel Winkenwerder, and lived in Watertown all his life, becoming one of the most widely known men in the community, because of his long association with the business life of the city.  He married Miss Lillie Fredrich on June 24, 1909.
Surviving are his wife, a daughter, Helen, at home, and a son, Harold, also at home.  There are two brothers and a-sister, Henry Jr., Watertown; Hugo, Seattle, Wash., and Miss Ella Winkenwerder, Watertown.
Mr. Winkenwerder was a graduate of Watertown High School and the Spencerian Business, College, Milwaukee.  He and his brother, Henry, followed their father, Henry, Sr., in the hardware business and conducted a store in Main Street under the name of H. & O. Winkenwerder for many years.  Their father retired from the business about 1912 and they took over the business.  The sons sold the business in 1935.  Since then Mr., Winkenwerder had been selling insurance.
Mr. Winkenwerder was a member of Trinity Lutheran Church.  During his long illness he remained cheerful and as active as possible and continued to take an interest in the city and its affairs, being a voluminous reader.
The Winkenwerder Radio Service store at 111 North Fourth Street will be closed all day Tuesday, because of the funeral of Mr. Winkenwerder.  His son Harold operates the store.
Cross References:
Winkenwerder, Henry, 1899, Sept 13-15, home of, 405 N Washington, Harvest Jubilee, WHS_005_204
<![if !vml]>

<![endif]>   Oil painting by Miss Ella Winkenwerder
History of Watertown, Wisconsin