This file part of www.watertownhistory.org website
Test America Laboratories Destroyed by Fire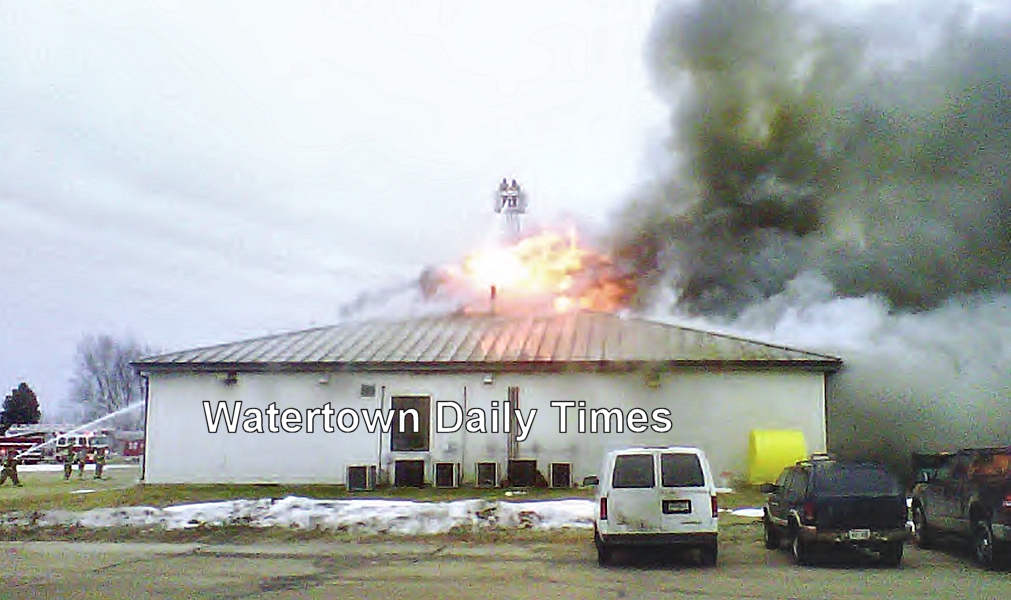 2011
Local firefighters help battle a blaze that broke out Sunday morning, February 20, at Test America Laboratories Inc. on the west side of Watertown.  The facility and its contents were declared a total loss.  The building and its contents, which were valued at approximately $2 million, were declared a total loss.
The Watertown Fire Department was dispatched to the blaze at 602 Commerce Drive on Sunday at 7:57 a.m., and when firefighters arrived at the scene they witnessed smoke and flames coming through the roof of the building.  The building partially collapsed at 8:10 a.m.  The aerial ladder trucks from Watertown and Waterloo were put into use when the facility had an additional collapse, he added.
A total of 44 firefighters were at the scene of the fire. Fire departments that helped extinguish the blaze were from Johnson Creek, Lake Mills and Waterloo.
The Watertown Water Department was called to boost water pressure in the area and to shut off the water service to the building.
McDonald's and Pizza Hut provided food and beverages to the fire personnel at the scene. 
No injuries were reported.