website  watertownhistory.org
    ebook  History of Watertown, Wisconsin
Sharp Corner Saloon / Tavern / Inn
823 E Main
1894
09 21       SHARP CORNER SALOON
Charles Raabe is now fully prepared to serve his many customers in fine style in his new quarters at 823 Main Street, formerly known as the "Sharp Corner."  One of the finest business spots in the city has just been erected on that corner, and it is finished and arranged in fine style.  Mr. Raabe occupies the entire building for residence and saloon purposes.  The bar room proper is large, well ventilated and lighted, and presents a most inviting appearance, with its elegant metallic ceiling, hard wood and tile flooring, elegant bar fixtures, etc.  In the rear of the bar room is a nicely finished card room, and to the right a finely furnished room, in which refreshments are served to ladies.  The building contains fine toilet rooms for ladies and gents, and many other accommodations not to be found in any other resort in the city.   WG
12 05       An amusing sight last Wednesday evening was the march through the mud of Main Street, from the "Sharp Corner" to the post office and return, by three men, to the melodious music of a bass drum pounded by one of them.  The march was made on a wager, and proved to be a good drawing card for Charles Raabe's "Karlsruhe." WR
1900
03 27       MURALS AT THE SHARP CORNER CAFE
"Jumbo" Keels' cafe at the "Sharp Corner" presents a most attractive appearance with the numerous oil paintings which adorn the walls.  The work was done by Artist Henry Schaller and is very creditable.   WR
1946
SHARP CORNER TAVERN, CHARLES HARTMAN, PROP., "TAVERN'S VS. HIAWATHA'S"
01 01          <![if !vml]>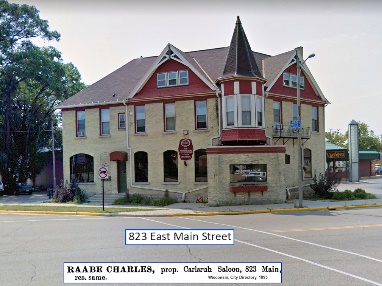 <![endif]>    New Year's 1946
Ken Bornitzke, signal man, C M & St Paul Railroad, roomed at 410 College Ave.
1963
07 01       SHARP CORNER TAVERN
The Sharp Corner Tavern, one of Watertown's oldest and most widely known establishments, today changed hands, having been purchased by Mr. and Mrs. Raymond J. [Bernetta] Coughlin of 813 Main Street.  Mr. and Mrs. Coughlin are the former owners of the R. J. Coughlin Sod Company of Watertown which has been purchased by Warren Neeman of 208 Oak Hill Court, Watertown, who is now operating the sod business.    WDT
1966
07 20       OTTO'S INN TAKEN OVER BY FOSTER PAGEL
Foster Pagel, operator of the Sharp Corner Tavern and before that manager of the Bowl-'A-Fun, today assumed the operation of the famed dining spot Otto's Inn, including the tavern, the dining room and kitchen.  Mr. Pagel will continue to operate the Sharp Corner Tavern also until the first of the year.
c.1968
<![if !vml]>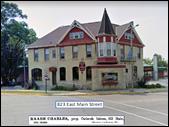 <![endif]>  
Sharp Corner Inn was owned by R.J. & Bernetta Coughlin from July 1, 1963 until 1975.
Cross References:
Emily and Clarence Schultz operated the former Sharp Corner Inn in Watertown
LaVerne Ziebell (1930-1915), had been employed as a cook at the Sharp Corner restaurant

History of Watertown, Wisconsin