website  watertownhistory.org
    ebook  History of Watertown, Wisconsin
Reinhold Schott
"Champion of the Northwest"
1897       Schott's hometown was Watertown.
<![if !vml]>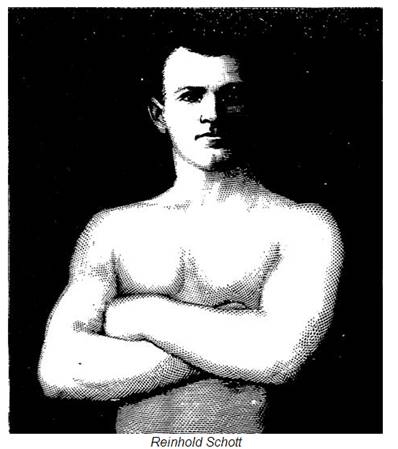 <![endif]>
Fred Beell's fame was spreading among the bigwigs in wrestling, as he was propositioned to travel the state giving wrestling exhibitions.
In Beell's following two matches [he] defeated Martin Tolepson and Tom Beaver. His next major match was against Reinhold Schott.
Schott was from Watertown, WI and had been claiming to be "champion of the Northwest" since around 1890.  Schott issued a challenge in the September 30, 1897 issue of the Marshfield News, which stated:
"Editor of the Marshfield News: -- Dear Sir: -- Seeing by Milwaukee Sentinel that Mr. Beell and Mr. Beaver are going to wrestle Friday, Oct. 1st. now I wish you would kindly state for me that I will be at Marshfield on the night of the match and am going to challenge the winner of the match to a catch-as-catch-can match for any amount of money they want to wrestle for.  Man and money ready."
The match took place on November 4, 1897 with Jack Carkeek once again as referee. Schott gained a fall in 52 minutes. Beell evened the score after 1:05:00. By then it was 12:00 AM so Carkeek ended the bout and declared it a draw.
1898
01 13       SCHOTT vs. BEELL
The rematch came in Schott's hometown of Watertown, on January 13, 1898.  Beell only won one fall, and lost the other two to Schott.
Beell claimed he got a raw deal from the referee and asked for another match with Schott.  Some time later, Schott accepted, and the match took place on April 23, 1898 in Stevens Point, WI.  The men agreed on a side bet of $50.
Beell won two out of three falls to win the supposed "championship of the Northwest," and $50.  Schott won the first fall in ten minutes.  In the second fall Beell used Evan Lewis' signature move, the strangle hold to win the bout in four minutes.  And then the third fall went to Fred seven minutes with a half-nelson and leg-hold.  After the match, Schott said Beell had improved a great deal since their last match, and desired to train him.      [Source:  www.freewebs.com/wisconsinprowrestling/fredbeell.htm (this website no longer available]
01 19       WRESTLING EXHIBITION AT OPERA HOUSE
The athletic tournament at Concordia Opera house last Thursday night was attended by a large and orderly audience, which numbered some of our best known citizens.  The different exhibitions were highly interesting and the show as a whole gave excellent satisfaction.  It was the quite general sentiment that Reinhold Schott, who arranged the tournament, had provided a first-class entertainment and that his future efforts along this line would be heartily encouraged . . . While Beell had the better of Schott in weight by about ten pounds, the latter proved superior in science and experience.  The first fall was won by Schott in thirteen minutes, the second by Beell in seventeen minutes, and the third by Schott in six minutes.  Of course, Schott was the favorite of the audience, being a local man, but Beell gained many friends here and it is evident that, with proper handling, he has a promising future as an athlete.   WR
05 30       BACKS 1899 BASEBALL TEAM
Three persons have agreed to back the baseball team this year.  They are Gustav Buchheit, Albert Fredrich and Reinhold Schott.  A lease has been granted for Washington park and everything will be done in the proper way.  The season will open about June 2 and it is hoped that only success awaits the undertaking.   WR
1900
07 12       SCHOTT BROS. SALOON
<![if !vml]>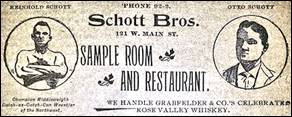 <![endif]>  
Reinhold (wrestling champion) & Otto, 121 West Main Street
1902
12 19       WRESTLING EXHIBITION AT OPERA HOUSE
The athletic exhibition at Concordia Opera House last Tuesday evening witnessed by a fair-sized audience.  First on the program was a six-round two minutes bout between James O'Brian and R. M. McLaughlin, which was declared a draw.  Harry Falls and Charles Berry, of Milwaukee, then gave a sparring exhibition, which was also declared a draw.  Reinhold Schott was sick in bed, hence the wrestling exhibition advertised did not take place.   WG
1907       WRESTLING EXHIBITION ON MAIN STREET
Main Street was thronged last night as it was never before, the occasion being the free attractions in connection with the fair.  Platforms were erected on Main and West Main streets.  At the corner of Water and Main streets, Clayton Jenkins and Jasper opened the evening free bill in knock-about acrobatic work with Jasper (a donkey) a good share of the show.  On the platform at the corner of Main and Second streets, a wrestling exhibition took place between Reinhold Schott and Max Ullrich, consisting of two five-minute bouts.  The first proved no fall, while in the second Schott threw his opponent just before the call of time.  On the platform at the corner of Main and Fifth streets a juggling exhibition was given by the Ovtora family, three clever little ones. Music was furnished through the performance by the band.  The theatres, the Empire, Palace and Victor were all open and performances given to record breaking crowds.
1908
07 24       MEMBER OF WATERTOWN RETAIL LIQUOR DEALERS' ASSN
H. W. Kronitz, Reinhold Schott, Carl F. Otto, W. C. Radtke, W. J. Beach and S. Molzahn were elected delegates and Max Staats, Ernst W. Hoeffner, Otto Winklemann, Henry Diekoff, Edward Voigt and Otto Schott were elected alternates of the Watertown Retail Liquor Dealers' Association to the state convention of the organization at Kenosha this week.   WG
                Schott Brothers Saloon and Restaurant, 1908, 116 E Main.   Portion of WHS PC 034
1910
03 11     MEMBER OF SAUERKRAUT CLUB
Last Tuesday evening at Foresters' Hall in West Main Street the Watertown Sauerkraut Club was organized by electing the following officers:
President—Reinhold Schott
Vice President—A. J. McDonald
Secretary—Charles Motz
Treasurer—Charles Gruel
Finance Committee—August Schott, William Malwitz, Jessie Wallace
The club is organized for social purposes only.  WG
1912
12 19       Reinhold Schott, the Watertown wrestler, although he has been in the game for over twenty years, is still open for matches in the middleweight division.  At present he is not matched up, but says he expects to get into the game during the season.  Considering the length of time Schott has been in the game he is quite a remarkable athlete.
Yes, Reinhold is still in the ring, hale and hearty.  He conducts one of the up-to-date saloons, such as are generally found in large cities, and while he has been in the liquor business a number of years he is a temperate man in all things, which is more than the prohibition cranks can say, who are continuously howling about the saloonkeepers. — [Goodfellow]   WG
1940
<![if !vml]>

<![endif]>
Although he's 75 years young and many of those years were spent in wrestling and in officiating at wrestling matches, Reinhold Schott admits he wouldn't sit up in bed to see what passes as wrestling these days.
He knows the fans of the past 10 years have demanded the clowning, hippodroming and foolishness that prevails on the mat today and blames them – and greedy promoters, managers and what passes as wrestlers – for the unpopularity of the game now.
Reinhold lives in Okauchee and his vast experience as a star of the game during the last century and the early days of this century, during which he held the Wisconsin title and wrestled stars from all over the world, makes him a qualified judge.
The crowning blow of all, he explains, happened a few years back when a promoter in southern Wisconsin got him to referee a match.  Time for the match came and the "wrestlers" failed to show up.  He went to the dressing rooms and found one in a sulk.
"What's the matter?" he asked.
Well, I was SUPPOSED to win this one and now he says he won't let me win.  I know he can beat me, but when I took the match I was supposed to win and I won't go on unless he let me win."
"That was the end for me," he said in recalling the incident," although I tried to get them to agree to each take a fall and let the best man win the last fall."
TRAINED WITH STRANGLER
Schott started his mat career in 1884 when he was 19 years old.  Born at Highland, Wis., he became interested in Evan (Strangler) Lewis, the Ridgeway, Wis., farmer boy who originated the strangle hold and is still rated as one of the great grapples of all time.
He trained with Lewis and took his first match against Scofield, as Englishman, for $10 a side.  They met in a hayloft and Schott lost in two straight falls.  Then followed a long training period under Lewis.  The year before the first Chicago fair the duo worked for Parson Davis, Chicago promoter, and Schott, despite lack of weight, took on all comers.
The Badger farm kid won his state middleweight title by defeating Henry Eilers of Oshkosh in two straight falls at Madison.  After this he met Tim Connors, English 165 pound champion, at the People's theater in Milwaukee.  They wrestled until 2:02 on a Sunday morning when the referee called it a draw and told the boys to go home and start the coffee so the good wifes of the fans wouldn't be up on their ears.
Along about the time Freddie Beall of Marshfield, another light-heavyweight, was coming to the front.  They met at Watertown.  Shott was too smart of the up-state youngster and won in straight falls.  Then Beall went east with Harvey Parker who taught him many tricks and while there met the great Tom Jenkins, losing after a fast match.  Upon Beall's return to Wisconsin the Badger rivals were matched again and met at Augusta at a soldier's reunion, Beall gaining revenge by winning in straight falls.
ESCAPED ANGRY MOB
Schott met 'em all, big or small, but the match he recalls most vividly was one with Soren Hanson of Milwaukee, at Turner Hall.  Hanson quit twice during the bout after Schott gave him the knee (they did a little of the present day stuff in those days, too, evidently) and the second time our hero found the crowd so incensed he decided flight was the most immediate concern.  He flew!
Despite his friendship with the original Strangler Lewis and high regard for Frank Gotch, Schott says the original Mahmout the Turk was the greatest wrestler who ever lived.
"He weighed 306 pounds and had strength and speed to go with it.  He met Lewis in Chicago and Lewis got his famous strangle hold clamped on in a hurry.  That usually meant a fall, but the Turk broke it, picked up Lewis and tossed him for the fall.
"Between falls I said to Lewis, 'give him the knee,' but it didn't do any good.  The Turk was just too big and too strong.  He slammed Lewis around the ring like you'd toss a doll and when it was over Lewis was bleeding from mouth, nose and ears.  There never was a wrestler like the Turk."
The Turk drowned when the ship carrying him back to Turkey went down.  The tale still prevails that the Turk would have been saved but for the huge amount of gold he had in a money belt, gold he'd won here and was taking back home for "storage."
Schott quit active wrestling in 1910 after making a farewell tour up state where he met all comers.  He'd like to see present day wrestlers put as much time in training and learning the real tricks of the trade as they do "rehearsing" their hippodrome stuff.  If they would, he says, the sport would regain popularity.   The Milwaukee Sentinel – 09 18 1940

History of Watertown, Wisconsin