This file part of www.watertownhistory.org website
     Also part of History of Watertown Fire Dept
Mason Pugh
05 21 2008
<![if !vml]>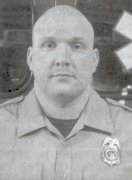 <![endif]>The Watertown Fire Department has hired Waukesha resident Mason Pugh as a new firefighter/paramedic.
He replaces Ray Tessmann, who resigned earlier this month.
Pugh, a 1995 graduate of Waukesha South High School, earned degrees in marketing and business administration from Lakeland College in 1999.
He entered the fire and EMS program at Waukesha County Technical College and has been certified as a Firefighter 1, Firefighter 2, EMT-B, Driver Operator, Fire Instructor 1 and CPR, Instructor.
Pugh attended Gateway Technical College from 2001-04 for his paramedic certification.  Pugh had worked with the Town of Waukesha Fire Department and the Delafield Fire Department since 2001.
Pugh has been married for nine years to his wife, Tricia.