website  watertownhistory.org
    Chapter on  Watertown Police Department  
        ebook  History of Watertown, Wisconsin
Chief of Police Pieritz Retires
Chief of Police Pieritz Retires From Job Today
Watertown Daily Times, 12 31 1930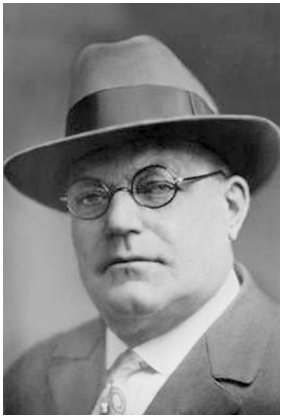 Chief of Police Charles H. Pieritz served his last day on the Watertown police force today.  At 6 o'clock tonight, his service, covering a period of 37 years, will have come to an end.  His resignation, which was announced on October 6, becomes effective at that time.
He will retire on a pension of $1,000 a year for life.  This has been made mandatory under the state law and applies to Watertown since it became a third class municipality following the completion of the 1930 census.
Mr. Pieritz, who was 67 years old on May, 13, was appointed a member of the police department on August 15, 1894, by the late William F. Voss, then mayor of Watertown.  He was made a patrolman.  In those days the mayor had the power of appointment.
Mr. Pieritz served in the capacity as a patrolman for 17 years.  In 1911 he was appointed Assistant Chief and in 1916 he was made Chief of the department, succeeding the late Herman C. Block.
Thirty-seven years police service in Watertown is a record.  The nearest approach to it was that of the late Chief Block who served 24 years as a member of the department, 22 years of which he was Chief.
The new Chief of Police, Albert Quest, until recently a detective sergeant in Milwaukee and before that a member of the Milwaukee police department, will take over his duties as police chief on Friday.
The retiring chief said today that he has no immediate plans, except to spend the winter quietly at home.  Maybe later he and his wife will take a lengthy trip.  After 37 years of being at the city hall daily it will be difficult to desert the place altogether and he plans to drop around occasionally to visit the ''boys" at the city hall.
Many people dropped in at the police headquarters today to bid the chief farewell in taking leave of his office and to wish him many more years of life in this community.
After 6 o'clock tonight he will have dropped the title of "Chief" but it is safe to say that for the rest of his life he will still be called that by the thousands of people who have come to know him during has years of service on the force.
1926
04 26 1926 edition of the Milwaukee Sentinel
<![if !vml]>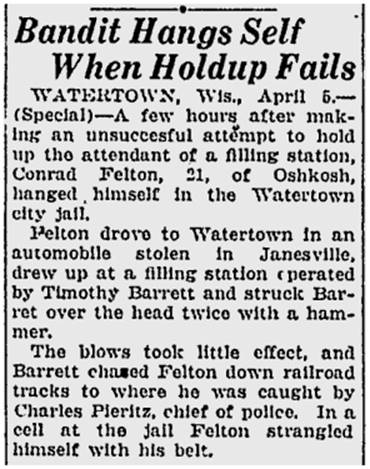 <![endif]>
Charles H. Pieritz
1864-1935
FORMER POLICE CHIEF CALLED TO FINAL REST
Member of Police Force for 37 Years;
Popular and Widely Known
Watertown Tribune, 06 27 1935
The city of Watertown was robbed of one of its most widely known and most popular figures when former chief of police, Charles H. Pieritz, 507 Seventh Street, died at his home Wednesday morning after a lengthy illness.  He was 71 years of age.
Some four weeks past his illness took a more serious turn and his demise was expected for some days.  Surrounded by the members of his family, he passed away at 8 o'clock in the morning.
Born in the town of Emmet May 13, 1864, he spent part of his youth on a farm, worked on a Great Lakes vessel and later came to Watertown and was appointed a member of the police force in 1894 by Mayor William F. Voss.  After 17 years as a patrolman he was promoted to the position of assistant to the late Police Chief Herman C. Block.  In 1916 he was again promoted, to chief of police, and held that position until his retirement in 1932 [should be 1930, see 1930 article, above].  His entire tenure of office in the police department covered a period of 37 years. 
Living quietly at home except for short visits to neighboring communities, Mr. Pieritz spent his declining years in comparative retirement.  He was widely known throughout this section of the state and well thought of due to his general good nature and courteous, but firm, conduct.  Ever remembering he had been young himself, he treated wayward youngsters with all due consideration, although he was not to be imposed upon and could be severe did the occasion demand it.
Lost Wife Years Ago
On July 16, 1921, Mr. Pieritz lost his first wife, the former Hulda Anton.  He married Mrs. Anna Goeldner in 1923 who, with three sons by his first marriage, survives him.  The sons are Douglas, Milwaukee, Adley, Saginaw, Mich., and Carl, Nashua, N. H.  Two stepdaughters, Miss Ida Goeldner, Milwaukee, and Mrs. Leona Robischaud, Chicago, survive him along with four grandchildren.  There are also three brothers, Frank, Detroit, Mich., Fred, Fort Atkinson, and Albert, Juneau, and sister, Mrs. Henry Hartmann, Fort Atkinson.
Services will be conducted in the Schmutzler Funeral Home by Rev. C. W. Pinckney of the First Congregational Church at 2 o'clock on Friday afternoon.  A multitude of friends called at the funeral home to pay their respects on Thursday.
Interment will be at the Oak Hill Cemetery under the auspices of the Masonic order, of which Mr. Pieritz was a member.

History of Watertown, Wisconsin