website  watertownhistory.org
    ebook  History of Watertown, Wisconsin
"Phillis" the Bird Girl
Mowder-Hill Fountain Statue
The Statue of the Bird Path
<![if !vml]>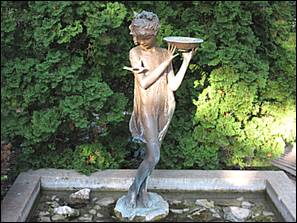 <![endif]>
1930      STATUE IN FORMER MEMORIAL PARK (now location of Municipal Building)
<![if !vml]>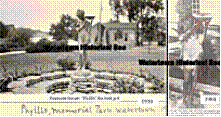 <![endif]> 
"The Statue of the Bird Path," which is also known incorrectly as "The Statue of the Bird Bath," was originally located in Memorial Park.
1963
The Watertown Historical Society made an offer to move the Mowder-Hill Fountain statue from Memorial Park to the Octagon House in 1963 when it was in a state of disrepair.  The offer was accepted and the statue was restored.  Memorial Park shortly after that was used as the site for the Watertown Municipal Building.
The statue was a gift to the city of Watertown by Mrs. Carrie Mowder Hill who was born here and later moved to San Francisco.
There is a little bronze plaque on the base of the statue which states:
"Presented to the city of Watertown by Mrs. Carrie Mowder Hill,
in Memory of the Mowder and Hill families,
1849-1930."
The original statue is the work of Bessie Potter Vonnoh, who at the time was one of the foremost women sculptors in America.  It is an exact replica of the statue called "Phyllis," one of a group of two figures, a boy and a girl, which were located in New York's Central Park.  Mrs. Vonnoh admired the figure of the girl so much she had it cast independently of the grouping.
Mrs. Hill, during a visit to New York City she saw the original statue, and immediately began to make arrangements for a replica.  Her gift was announced in 1930.  Mrs. Hill's parents were Mr. and Mrs. Jerry Mowder and were pioneer settlers in Watertown, arriving at what was then a bustling community on Jan. 31, 1849.
<![if !vml]>

<![endif]>
    Watertown City Directory, 1866-67
The little pool in which the statue was placed and where running water trickles was constructed by Albert Kaddatz of Watertown. 
Statues by the sculptor have been given prominent placements in the leading art galleries in the United States.  She received many awards for her work.
1970      STATUE MOVED TO OCTAGON HOUSE GROUNDS (present location)
2014
"PHILLIS" THE BIRD GIRL OUTSIDE TOURIST CENTER
<![if !vml]>

<![endif]>       <![if !vml]>
<![endif]>
Cross References:
BESSIE POTTER VONNOH   Profile of
BURNETT MEMORIAL FOUNTAIN IN CENTRAL PARK, NYC
<![if !vml]>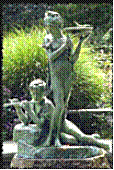 <![endif]>  
Burnett Memorial Fountain – This lovely garden sculpture and fountain honors the well-known children's book author Frances Eliza Hodgson Burnett (1849-1924).  Designed by Parks' Chief Consulting Architect Aymar Embury II (1880-1966), with statues by Bessie Potter Vonnoh (1872-1955), the memorial was created in 1936.
In 1925 Vonnoh sculpted a grouping of children for a fountain at the Roosevelt Bird Sanctuary at Oyster Bay, Long Island. Her similar conception for the Burnett Memorial depicts in bronze a standing girl holding a bowl, a boy playing a flute reclining beside her, and swallows. Based on the characters of Mary and Dickon from Burnett's Secret Garden, the figures relate to several other versions of the subject in private collections.
The dedication of the memorial was on May 28, 1937, by Mayor Fiorello LaGuardia.

History of Watertown, Wisconsin