website† watertownhistory.org
††† ebook† History of Watertown, Wisconsin
Mullenís Dairy Bar & Eatery
Founded 1932
212 W Main
<![if !vml]>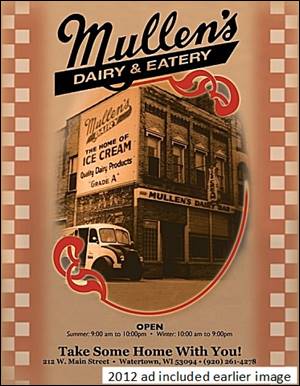 <![endif]>
<![if !vml]>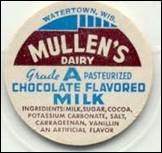 <![endif]>
1843†††††† MULLEN FAMILY DATES BACK TO 1843
Widow Mrs. Mary Mullen and seven sons immigrated from Ireland and settled on the present F. R. Mullen farm (now operated by Robert Wilke family).† The land was purchased from the Government.† This same farm has remained in the possession of the Mullen's through four generations (111 years).
1911
11 16†††††† THE MULLEN DAIRY
Frank R. Mullen Sr.† has opened a dairy and milk route in connection with his other farm interests southwest of this city.† He is now supplying butter, milk and cream daily to a large number of customers in Watertown, and all say Frankís butter, milk and cream are the very best to be had.†† WG
1918
08 30†††††† ANDREW MULLEN, 206 First Street
<![if !vml]>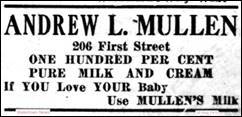 <![endif]>†††
12 04†††††† DAIRY AT 216 WEST MAIN STREET
The Mullen dairy opened a branch station for the sale of milk and cream at 216 West Main Street today for the accommodation of west side patrons.
1932†††††† MULLENíS DAIRY BAR FOUNDED
In 1932 (depression years) Frank R. Mullen and sons, seeking a better market for the milk produced on the Mullen farm, started the Mullen Dairy which has progressed and is now Watertown's only Grade A milk bottler.
Started in 1932 by Frank R. Mullen (4th generation) and two sons, Frank R. Jr. and Weber Mullen.† Joined in 1934 by third son Gerald.† A fourth son, Bernard is affiliated with Guardian Life Insurance Company. (Fifth generation).
By 1954 the fifth generation of Mullenís operated Watertown's favorite ice cream bar and dairy processing plant.
1945
08 16†††††† DAIRY TALES / DICKY & DAISY
<![if !vml]>

<![endif]>†††††
1950
<![if !vml]>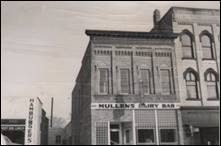 <![endif]>†
1951†††††† HOME DELIVERY
<![if !vml]>

<![endif]>††
1954†††††† IF ITíS MILK . . . ITíS MULLENíS
<![if !vml]>

<![endif]>†† City Centennial ad
c.1960
<![if !vml]>

<![endif]>††††††††† <![if !vml]>

<![endif]>
c1970
VANISHED
There was a time when the city had any number of ice cream parlors and among those were the A. E. Baumann ice cream parlor and candy kitchen which was located at 210 West Main Street, E. Herro and Son at 210 Main Street, William Pappas at 407 Main Street, George Spyros at 105 Main Street, Miss Abbie Norton at 614 West Main Street and Mrs. Marie Vick at 107 West Main Street.† And of course, there was the Edward M. OíByrne establishment, also in Main Street, and the OíBryne and Kuehn Candy Co.† There also were others.
The old ice cream parlor was a vital community institution.† It afforded a pleasant and relaxing place to meet friends, enjoy ice cream and good homemade candies and itís too bad that it is now just another part of a vanished era.
Cross References:† OíByrne/Spyros Ice Cream:†
10 28 1915† /† OíByrne Candy and Ice Cream:† Edward M. OíByrne has disposed of his retail candy and ice cream business at 104 [105?] Main Street to Spyros Bros., who also conduct a similar business at Wausau, Wis.† Mr. OíBryne has very successfully conducted this business for the past five years and for a year past has also conducted a wholesale business on Second Street, which he will continue and enlarge the same.† This brand of business has assumed large proportions and he will devote his entire time to it in the future.† Spyros Bros. have already taken possession of the retail business and are making several fine improvements in it.† They come to our city well recommended and our people wish them success.†† WG
01 04 1918† /† Pappas Ice Cream Parlor.† LEASES BUILDING.† William Pappas Will Conduct Two Stores After February 1.† William Pappas, enterprising young merchant located at Fifth and Main streets (417 E Main), recently leased the Brunner building at 407 Main Street and will install an up to date ice cream parlor.† Previous to leasing, ďBill,Ē as he is familiarly called, was pressed for room in the old location.† He will continue in his present stand as the corner is one of the busiest spots in town and attracts many patrons.† The (407) building was occupied previous to Mr. Pappas leasing it, by the late Jacob Brunner, who conducted a tailoring establishment there for fifty years.
c1970
<![if !vml]>

<![endif]>†
1976
WILLIAM ďBILLĒ MULLEN
<![if !vml]>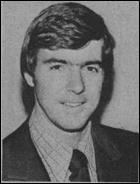 <![endif]>
Mullenís Dairy was started by the grandfather of William Mullen in.† At that time milk was delivered house to house by horse and buggy, with deliveries starting at 4 a.m. daily.
Over the years there have been at least 14 dairies operating in Watertown, and Mullenís is the last one to survive.
The local dairy receives all of its milk for processing from six area farmers.† Milk is processed three days a week and the firm also makes its own ice cream.† Mullenís is one of only a few dairies in the state that still uses glass bottles in distributing the product.
Mullen purchased the dairy earlier this year from his two uncles, Jerry and Frank.† His father, the late Weber Mullen, had also been a partner in the business until his death.
A 1961 graduate of Watertown High School, Mullen attended Arizona State University on a basketball scholarship.† He said he did not like big time college basketball and as a result at the end of the first semester he transferred to Carroll College in Waukesha where he lettered in basketball and track and received his bachelors degree in 1965.
Following graduation from Carroll he was employed by Employers Mutual of Wausau as an insurance investigator.† After three years working for Employers in the Chicago area, he accepted a position with Dura Containers, Inc., which deals in corrugated packaging.† He remained with Dura for eight years, living in Mount Vernon, IL., before returning to Watertown this year to operate the business.
Mullen is married to the former Karla Johnson of Watertown.† They reside at 208 South Washington Street with their three children, Tiffany 9, Bill, Jr. 8, and Andrew 3.†† WDT
1977
<![if !vml]>

<![endif]>††
1980
10 25†††††† MULLENíS DAIRY TERMINATES HOME DELIVERY
<![if !vml]>
<![endif]>
So many things arenít like they used to be.† Delivery of milk in Watertown wonít be like it used to be after the end of October.† Mullenís Dairy will terminate home delivery, a business it has pursued since 1932.† Gone are the days of everyone having milk boxes, of cream rising to the top of the returnable milk bottles and on winter days of an icy column pushing the cap off the bottle as it expands.† Oct. 31 will also mark the retirement of Howard Herold, a man everyone knows as Pinky.† Heís the last one to drive a delivery truck.
The firm will still manufacture its own ice cream and is a distributor for Golden Guernsey dairy products.† Milk products will still be sold through the store and Mullenís plans to continue to deliver wholesale dairy products.†† WDT
Cross Reference:† Howard Herold (1923-2014).† Died Dec. 23, 2014.† Herold was a 1942 graduate of Watertown High School.† Howard was a veteran of World War II, having entered the Army Air Force in February 1943. He served as a ball turret gunner on B-24s until July 1945 when he was honorably discharged after flying 50 missions. He attained the rank of staff sergeant. Howard was awarded the Good Conduct Medal, the Air Medal with two oak leaf clusters, the Presidential Unit Citation, the Victory Medal, the American Campaign Medal and the European Theater Medal with five battle stars.† Upon his discharge he became an employee of Mullenís Dairy and worked there for 35 years. He was the last door-to-door milk delivery man for Mullenís.† Hafemeister Funeral Home and Cremation Service 611 E. Main St. Watertown.
1984
08 29†††††† SUSAN TESCH, STORE MANAGER
Mrs. Susan Tesch has been named store manager of Mullen's Dairy, 212 West Main Street, Watertown.† She has been employed at the dairy since 1977.† Operating since 1932, Mullen's Dairy offers a complete menu of ice cream treats, along with soups, sandwiches and salads.† The dairy carries a full line of Golden Guernsey dairy products and features their own homemade premium ice cream.† The store is open seven days a week.†† WDT
2001
01 26†††††† Mullen's Dairy Bar & Eatery Lake Mills will open at 134 E. Lake St. across from Commons Park in April, according to Ron and Gloria Luepke, owners of Mullen's Dairy Bar and Eatery in Watertown.† Mullen's Dairy Bar and Eatery in Watertown will supply ice cream to the Lake Mills business, which will be operated by other owners.† The names of the new owners of the Lake Mills business have not been announced.† The Luepkes own the building where the business will be located.†† WDT
04 05†††††† Mullenís Dairy Bar and Eatery has opened at 134 E. Lake St., Lake Mills, across from Commons Park.† A grand opening celebration is being planned for May.† Owner Dean Daubert presides over an authentic soda fountain with shiny fountain heads that people remember from a bygone era.† A large rear mirror evokes visions of Richie, Fonzie and his pals of the 1960s.† The black-and-white squares of the flooring, ceiling fans, and red-and-white checkered tablecloths bring back memories of old-fashioned ice cream parlors and the simple pleasures of yesterday.†† WDT
10 04†††††† About 15 former employees of Mullenís Dairy, with their spouses, gathered Sunday afternoon for their first reunion, with the farthest participant coming from Wautoma.† The idea for a reunion came after some past employees began getting together on their own and someone suggested the mini-reunion expand.† The group met at Windwood Country Club for brunch with Gerry Mullen welcoming the guests, Bill Mullen discussing his part in the family business and present owners, Ron and Gloria Luepke, explaining their maintenance of the product line.† ďEveryone had a good time reminiscing,Ē said event coordinator and past employee Earl Lehmann.† ďIt really was better than I thought it would be. It really turned out very well.Ē†† WDT
2006
08 09†††††† NEW OWNERS
A Watertown business that has served the community for 74 years has new owners.† Mullenís Dairy Bar owners Ron and Gloria Luepke have sold the restaurant to Watertown residents Troy and Shannon Milbrath.† Troy Milbrath, who worked at Mullenís while he attended high school, told the Daily Times that the purchase of the business has been a dream come true.† Ron and Gloria Luepke owned Mullenís since 1997, when they purchased it from former owners Bill Mullen and his wife, Karla.† Bill and Karla Mullen became the sole owners of the then family business in 1976.† The restaurant was started by Frank Mullen and his two sons, Frank Jr. and Web, in 1932.† ††Full WDTimes article††
2007
10 25†††††† 75th ANNIVERSARY
Mullenís Dairy and Eatery is celebrating its 75th anniversary by creating a special book featuring memories from customers over the years.† Residents are asked to submit a favorite memory to Mullenís, 211 W. Main St., Watertown, by Dec. 31.† The restaurant opened in 1932 by Frank Mullen and his two sons, Frank Jr. and Web.† Bill Mullen and his wife, Karla, became the sole owners of the family business in 1976.† In 1997 Ron and Gloria Luepke purchased the business and then sold it in 2006 to current owners Troy and Shannon Milbrath.
2010
10 04†††††† CHAMBER CLIP
<![if !vml]>

<![endif]>† Video clip†††
2012†††††† MULLENíS DAIRY EXPANDS ICE CREAM LINE
Premium Ice Cream Available at Area Grocery Stores.
[online press release dated Dec. 1, 2012] - Mullenís Dairy and Eatery will begin selling its premium quality ice cream under the name, Bucky Badger Ice Cream.† The ice cream will be available at Piggly Wiggly and Breselowís Family Market in Watertown starting December 1, 2012 with plans to expand into larger markets in 2013.
Bucky Badger Ice Cream will be available in five of its signature flavors:† Blue Moon, Vanilla, Chocolate, Mint and Strawberry.† It will be distributed via Emilís Pizza Distribution.
ďIn this ever changing economic climate we realized the need to expand our business beyond bricks and mortar while not changing anything in the dairy,Ē said Mullenís Dairy and Eatery Owner, Troy Milbrath.† ďWe have 80 years of history manufacturing and selling ice cream and are excited to offer our homemade ice cream via distribution through a brand that is not only known locally, but statewide and beyond.Ē† Mullenís has signed an exclusive licensing agreement with L&L Foods, Inc. to manufacture ice cream under the name, Bucky Badger Ice Cream.
Mullenís has been making homemade premium ice cream since 1932. As one of the top 50 Ice Cream destinations in the United States, Mullenís still makes its ice cream using the same recipe that has tickled the tongues of generations of customers. The dairy is listed as the ďCream of the CropĒ in the Sundae Hall of Fame.
2015
09 22†††††† STAINED GLASS PANEL UNCOVERED
<![if !vml]>

<![endif]>†††††† Discovered behind large fan above front door.
2016
March††††† MULLEN'S REMODELED
<![if !vml]>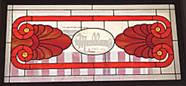 <![endif]>††††† Aly Lou Photography
After being closed for remodeling, Mullen's is open once again, with a slightly different antique style look.† So many memories made here over the years.
09 09†††††† ĒMULLEN'S IS MOVINGĒ AFTER 84 YEARS
Page one ad, Watertown Daily Times
10 02†††††† FEUD CLOSES MULLEN'S DAIRY BAR; NEW LOCATION SOUGHT
Wisconsin State Journal article, Oct 2, 2016.
10 08†††††† MULLEN'S OWNER CHARGED WITH IDENTITY THEFT, CREDIT CARD FRAUD AND FORGERY
Wisconsin State Journal article, Oct 8, 2016.
10 13†††††† MULLEN'S DAIRY BAR & EATERY ONLINE AUCTION
ďThe majority of manufacturing equipment currently installed at Mullenís Dairy, a Watertown, WI icon for more than 70 years, along with select memorabilia sells at online bidding only event.† This is your only chance to get your hands on some one-of-a-kind items of Watertown history.Ē††† WDT pg 1 ad
12 13†††††† NEW OWNERS OF MULLEN'S
<![if !vml]>

<![endif]>
Brothers Josh, Adam and Matt Keepman.
Ron and Gloria Luepke announced that Kandyman Can, LLC has agreed to purchase the company and all of its assets.† Josh, Matt and Adam Keepman, brothers with roots in the Watertown community, make up Kandyman Can's principal ownership team.
Grandfather Erv Keepman Jr. grew up on Second Street in Watertown.† As a young boy, he had a paper route and would come to Mullen's after collecting to enjoy an extra thick chocolate malt with a raw egg on top.
Josh Keepman said he and his brothers look to restore Mullen's to its former glory; to do this, the trio have launched an online Kickstarter campaign.
Matt Keepman is no stranger to frozen fare. He owns Savoy Sorbet, a company based out of Irving, Texas. After his product was picked up by Wisconsin grocery store Sendick's, he decided to move production within the state.† The Keepman's plan to sell Savoy Sorbet alongside Mullen's traditional ice cream treats.††† [ Full article ]
2017
01 10†††††† ďMAKE MULLEN'S GREAT AGAINĒ /† Mullen's Dairy Bar Kickstarter
<![if !vml]>

<![endif]>† Video clip†††
01 27†††††† MULLEN'S MEMORIES WILL RETURN
04 24†††††† SIGNAGE PAINTED
<![if !vml]>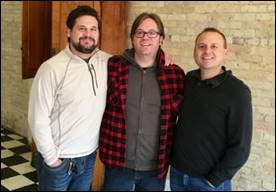 <![endif]>†† WDTimes photo
05 01†††††† MULLENíS DAIRY BAR REOPENS
<![if !vml]>

<![endif]>†† WSJ article††
<![if !vml]>

<![endif]>† Video clip†††††††
-- --†††††††††† 1993 REFRIGERATED TRUCK FOR SALE
<![if !vml]>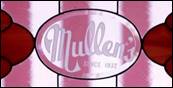 <![endif]>††††† <![if !vml]>

<![endif]>
01 27†††††† AN 87-YEAR-OLD ĎFROZENí TRADITION:
††††† Free cones at Mullenís Dairy Bar when itís -20 or below
<![if !vml]>

<![endif]>††
"Mullen's Winter Tradition" since 1932
Itís a winter tradition at Mullenís Dairy Bar, since 1932!† When the temperature drops to -20 degrees or colder, single dip ice cream cones are free!
Guests on Saturday, Jan. 26 were able to come in out of the cold for a free frozen treat.† Itís a tradition started by Frank Mullen and his sons soon after they opened Mullenís Dairy Bar in 1932.† According to Adam Keepman, Managing Partner/Chef at Mullenís Dairy Bar, ďWe are excited about today. This is the first time weíve seen this temperature since my brothers and I took over operations in 2016, so Iím not sure when the last time Watertown saw -20 degrees.Ē Keepman joked, ďRumor has it that the Mullenís brothers would make customers eat their free ice cream cones outside.† We donít plan on continuing that part of the tradition.Ē
Mullenís Dairy Bar is the last surviving dairy in Watertown, Wisconsin ó a city that once boasted 14 dairies operating within its boundaries.† Known for their homemade premium ice cream (12 percent butterfat) made onsite at their Watertown facility, Mullenís Dairy Bar ice cream is now available at select scoop shops and retailers throughout southeastern Wisconsin area. †Mullenís Dairy Bar is located at 212 W. Main Street in Watertown, WI and is open from 11 a.m. to 9 p.m.
06 21†††††† FOX-MILWAUKEE VISITS DAIRY BAR DURING DAIRY MONTH
<![if !vml]>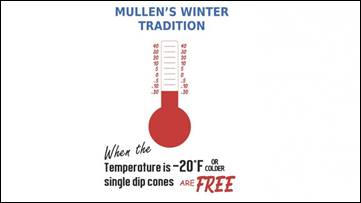 <![endif]>†††
2020
02 16†††††† MULLENíS DAIRY BAR NAME SECURED Ė EXPANSION AND GROWTH PLANNED:
A court case over ownership of the company name has been decided after more than three years of litigation and now the owners have plans to double production and take the brand into stores and shops around the country.
Plans include finding a distributor.† The Keepmans currently deliver their ice cream to more than 40 locations between Madison and Milwaukee using a 2008 Mercedes sprinter van purchased from Kraemer Wisconsin Cheese, another longtime Watertown business that was founded in the 1920s.† The Keepmans want to add cafe seating on the sidewalk in front of their shop and an outdoor deck in the parking lot.† The moves come as a $10 million expansion of the Watertown Public Library is planned across the street and just to the east, buildings on the south side of West Main Street in the 100 block are being removed to make way for a public plaza that will include a splash pad, seating, a kayak launch and improved access to the Rock River.
07 07†††††† NEW OUTDOOR SEATING
<![if !vml]>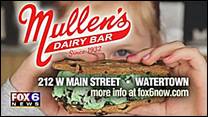 <![endif]>††
07 07†††††† MULLENíS ADDING NEW LOCATION IN OCONOMOWOC
<![if !vml]>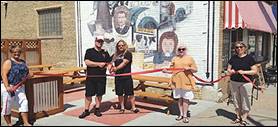 <![endif]>††
Mullenís makes all their ice cream in Watertown and that will continue
2022
07 04†††††† MICHAEL "MIKE" MULLEN <> 1939-2022
OBITUARY:† Mike worked at family-owned Mullen's Dairy in Watertown throughout this youth. Mike graduated from Watertown High School in 1957.† Some highlights from his Watertown High School days were . . . . .
__________________________________________
Cross-References:
Profile of, WDTimes, 06 14 2000
A place where memories are made, Dairy Star article, 2/25/2022

History of Watertown, Wisconsin