This file part of www.watertownhistory.org website
Miscellaneous set
Watertown Republican, 03 08 1902
The German Soldiers Union, of this city, consisting of veterans who had borne honorable service in the army of their native land, attended the reception of Prince Henry in Milwaukee.  The company numbering sixty strong, under command of Captain John Schaatz, went to Milwaukee on the 9:22 train.  With their new uniforms and badges the men presented a fine military appearance, and though age may have taken some spark from the elasticity of their step and brightness from their eyes, the spirit seems still here.  These men love their native land, and feel a just pride in the services in its behalf and why not?  A man who does not love his native land will never make a loyal citizen of an adopted one.
Watertown Gazette, 03 21 1902
Mrs. Anna Kane, 205 Main Street, will have here spring millinery opening to which the ladies of Watertown and vicinity are cordially invited.  All the latest things in style in millinery can be seen at her place of business and at her opening many fine pattern and trimmed hats will be offered for sale.  Miss Mary Hyland, of Madison, the popular trimmer at this stand for some years, has been secured by Mrs. Kane and will-be pleased to meet all her-old friends there. 
Watertown Democrat, 12 19 1861
Suicide.  Last Monday, a German named Peter Eiffler, a saddler and harness maker on Second Street, very deliberately made away with himself.  He had been in the habit of drinking liquor excessively and was bound to stop this at any rate.  About 10 o'clock in the forenoon he went and purchased sixpence worth of powder and a penny's worth of shot, proceeded to his house in the 2nd Ward, took a gun, loaded it and shot the charge into his body a little below his breast, tearing the skin, mangling the intestines, and injuring the liver.  Dr. Eger was soon called to see him, but the most that could be done was to alleviate his self-inflicted pain.  He survived these terrible wounds until 6 o'clock in the evening when he died.  He leaves a wife and several children.  We learn that his conduct has been such during the last two or three years as to render his death no great loss to his family or anybody else.  This may seem a harsh reflection, but that part of it must be credited to its truth.  
Watertown Daily Times, 02 17 2002
Mallach's Book Store plans to close its doors, leaving the city without an independent book store and the services it provided for over 24 years.  The close-out sale will begin on Thursday at 9 a.m. at the store, 300 E. Main St.  Owner Jeannine Mallach, who is retiring, said the store will be closed because of unsuccessful attempts to sell the business.  She plans to join her husband, Jerry, in pursuing retirement activities.  "Jerry has been retired for four years, and it is time for us to do more things together," she said, noting that they love to travel and spend time with five grandchildren.
Faith Evangelical Lutheran Church
Watertown Daily Times, 02 17 1987
A strong commitment to full time Christian education has resulted in the formation of a new Lutheran church in Watertown.  The newest congregation in Watertown, Faith Evangelical Lutheran Church of Watertown, is affiliated with the Missouri Synod, and will be formally accepted into membership at the next synod convention.  Dave Nelson, president, and Don Roell, vice president of the congregation, said a group of people who saw the need for a Missouri Synod Christian school decided to form the congregation.
_____________ more on Faith Evangelical _____________
Watertown Daily Times, 07 25 1988
Faith Evangelical Lutheran Church will hold dedication of its new worship facilities on Sunday at 3 p.m.  The Rev. Lon R. Haack, pastor of the new congregation, will preside at the special services. Homilist will be the Rev. Charles E. Werth, associate pastor of Sherman Park Lutheran Church, Milwaukee, and church chairman of the Milwaukee circuit of the English District. The church is a non-geographical congregation of the English District of the Lutheran Church-Missouri Synod.
Watertown Daily Times, 02 16 1987
A small downtown building purchased by the city to tie in with the Rock River walkway is so deteriorated it would cost $26,000 to rehabilitate, an architect says.  James Kersbergen, of Hustisford, who was hired by the city to prepare use alternatives for the building at 1 Main Street has told the city the structure needs extensive work in order to be saved.  According to Kersbergen's estimates, the cost of rehabilitating the building would be four times more than what the city paid for it.
_____________ more on 1 East Main _____________
Watertown Daily Times, 03 13 1987
Options for the former One Hour Martinizing building at 1 Main Street were reviewed again at a meeting of the public safety committee of the Watertown Common Council this week. The council last November purchased the property for $3,000 from Valley Bank of Watertown to extend the Rock River walkway from the South Water Street parking lot to Main Street. The committee reviewed the possibility of constructing a walkway directly through the building, and a second option was to demolish the west edge of the building and construct a walkway in that area. The committee did not decide on an option, but did recommend that the council authorize Oliver Construction of Oconomowoc to offer an idea as to what should be done with the project and also an estimate of the cost of that work. The price would be an estimate only and not a bid, members emphasized.
_____________ more on 1 East Main _____________
Watertown Daily Times, 06 02 1987
The city engineering office has received one bid for the demolition project of the former cleaners building at 1 East Main Street.  Beaver Wrecking of Beaver Dam submitted the lone bid of $12,400 for the work.  The Watertown Common Council recently decided to seek bids for the razing of the city-owned building, formerly the One Hour Martinizing building, and to have plans drawn for the project.  The city is considering the creation of an open park space on the land that would extend the Rock River walkway to Main Street.  The city used tax incremental financing to purchase the building and plans to complete the project with TIP funding.
Watertown Gazette, 04 04 1912
Martin Noon, while working a wood sawing machine in John Schleicher's sawmill southeast of this city, was quite severely injured by a slab striking him in the face, breaking his jaw and otherwise injuring him.  Dr. Shinnick attended him and says he is getting along nicely.
Watertown Gazette, 04 04 1912
Earl Wilkes, a trotter belonging to Charles Miller, Waukesha, which gained quite a reputation for itself at the racing matinees held there last summer under the auspices of the Waukesha Driving Club, has been sold to Otto Schott of Watertown.  Mr. Schott will put the horse in the Wisconsin circuits and he will probably be seen at the races in Portage at the fair. — [Portage Register]
Watertown Gazette, 04 11 1912
John Schmidt, aged 64 years, a resident of the settlement in the western part of the city and employed as section hand on the C.M.&St.P. Ry., was killed near the junction in this city shortly after 5 o'clock last Tuesday evening by being struck by a locomotive that pulls the evening train on the Madison branch.  There was a passenger train coming from the west at the time and he got confused and stepped in front of the Madison engine as it was backing west.  He leaves a wife and grown-up family. His body was badly mangled.
Watertown Gazette, 04 11 1912
While playing with other children at the southeast end of Second Street bridge last Tuesday afternoon the four year old son of Gustav Prahl climbed over the railing and fell into the river and was drowned.  The body was recovered a short time after.
Watertown Gazette, 04 11 1912
Justice Schwieger Has the Right Idea of Punishing That Class of People.
Herman Kraft, a resident of the Sixth ward, was in Justice Schwieger's court on Tuesday, charged with wife beating.  He was fined $20 and costs or 30 days in the county jail at Juneau.
Not having the cash, he was given the jail sentence, whereupon he stated when he got out he would give his wife a worse beating – Justice Schwieger added 30 days more to give him time to think the matter over. 
A wife beater is about the worst specimen of a human being called a man, and Justice Schwieger is to be commended for punishing him severely. 
It is too bad he could not be placed at work in a stone pile at Juneau and his wages sent to his family, who are in needy circumstances.
GEN. GRANT IS DEAD
Watertown Gazette, 04 18 1912
SON OF NOTED CIVIL WAR GENERAL SUCCUMBS TO ATTACK OF HEART DISEASE.
WIFE IS NEAR HIM AT END
Interment of Soldier May Be at Riverside by the Hudson or in National Cemetery at Arlington
Sudden End Shocks Nation
New York, April 13.—Arrangements for the funeral of Gen. Frederick Dent Grant, son of the Civil war general and former president, are under way.  An impressive military funeral, it was predicted, will be given the army man.
It is suggested here that General Grant's body may be interred in the tomb where his father lies in the great memorial in Riverside Park, New York City.  Or burial may be in the national cemetery at Washington.
Having been at the time of his death an officer of the highest rank on the active list in the army, the general will be entitled to an imposing military funeral if such is the desire of the members of his family.
The news of General Grant's death was a shock to army officials, none of whom had been informed he was so critically ill.  So suddenly did the end come that his sister-in-law, Mrs. Potter Palmer of Chicago, was on a train at the time, on her way home from Florida, and could not be informed of his death until she reached Chicago.  Mrs. Palmer and the other Chicago relatives are expected to come on to New York at once.
Gen. Frederick D. Grant, commander of the department of the east, son of the famous Civil war general, died suddenly at the Hotel Buckingham, where he had been secretly taken on Wednesday evening by his physicians.  His presence in this city was not known until the news that he had been stricken was flashed to a newspaper office by the police.  A policeman stationed near the hotel had called an ambulance at the request of an employee, who told him that General Grant was choking to death.
1,400 ARE DROWNED
GIANT SHIP TITANIC GOES DOWN
AFTER HITTING AN ICEBERG
Greatest Marine Disaster of History Occurs off Coast of Newfoundland
Over 800 Survivors in Lifeboats are Picked Up
Watertown Gazette, 04 18 1912
[The RMS Titanic was a passenger liner that struck an iceberg in the north Atlantic Ocean on her maiden voyage from Southampton, England, to New York City, United States, and sank on 15 April 1912]
New York — The White Star liner Titanic, the world's largest steamship, sank about 500 miles off the dangerous coast of Cape Race, Newfoundland.
The latest wireless reports from Cape Race give the number of lost at 1,800, but the exact number in this appalling catastrophe, the greatest in marine history, cannot yet be known.  Probably few men passengers were saved.
Eight hundred and sixty-six women and children were taken off the liner in lifeboats after her appalling collision with a submerged iceberg, and placed aboard the Carpathia.
It is feared that not one of the Titanic's passenger list of distinguished and wealthy men is alive.  It is believed that not a man of the crew of the Titanic is alive to tell the tale of the epochal sea horror . . .
     Titanic Disaster Story
In this issue of The Gazette you will find a complete story of the sinking of the Titanic.  In order to give our readers the authentic facts told by survivors of this great maritime disaster, we run the details received from New York on arrival of the Carpathia, the vessel that brought to land the only people rescued.  Following our usual policy to always give our subscribers the authentic facts concerning news events we are pleased to be able, at additional expense, to gift the true story of this appalling tragedy of the sea.
Watertown Gazette, 04 18 1912
Many of The Gazette readers will recall two articles that appeared in the fourth or fifth readers when they were at school forty years or more ago. 
If any have the old books that contain "The Bell of the Burning Steamer," also "The Wreck of the Arctic," we will gladly reproduce same if favored with the originals. 
No better descriptions of a wreck at sea will be penned about the loss of the "Titanic" than was written forty or fifty years ago by authors we cannot now recall. 
They were gems, however, and many would no doubt be pleased to read them once more.
Federal Building in Beaver Dam
Watertown Gazette, 04 25 1912
Postmaster A. B. Chandler received a letter from Senator Isaac Stephenson today saying that he had been successful in having his bill for an appropriation of $75,000 for the purchase of a site and the erection of a Federal building in Beaver Dam passed by the U. S. Senate and that if the bill passed the Lower House, Beaver Dam would soon have a substantial building which will greatly benefit the citizens of Beaver Dam and vicinity.
Henry Schlueter and Charles Kiefer
Watertown Gazette, 04 18 1912
Henry Schlueter and Charles Kiefer have purchased the plumbing business of the late William Schiebel, and the firm will be known as Schlueter & Kiefer.  The business will be carried on at the old stand of Mr. Schiebel.  Both members of this firm are well and most favorably known here and are experts in their business.  Their many friends wish them success.
Hold Your Whip in Driving Oxen
The Ohio Farmer says there is more in the movements of the driver of an ox team, and in the carrying of the whip, than most farmers think.
Oxen, however quick in their movements or upright their walk in the yoke, soon become dull, and get the practice of "shoving" or "hauling," in consequence of the driver lagging along, or, as is often the practice, going ahead of the team, and from time to time stepping back and whipping them.
A driver of an ox team should walk directly opposite to the yoke, walk straight, and carry his whip as upright as a soldier would his gun.  Use a whip stock with a short lash, and touch the cattle only with the lash, and never strike them on the nose or over the eyes.
Influenza in Horses; "distemper"
It is quite rare that horses are seriously affected with this disease when they run at large. It is most frequent in the spring season, and most serious in those stables in which ventilation and cleanliness have little or no attention.  Horses, by breathing the foul and debilitating atmosphere of an unventilated stable through the winter, are in a proper condition to take this disease.  After the disease has once been engendered, the proper course is to remove the causes, when the animal will usually recover with little treatment.  Let the stable be kept warm.  Secure this by exposure to the rays of the sun.  Cover the horse with a blanket and give warm drinks to induce perspiration.  Move the bowels by green food, or bran mashes.   Make a nose bag about two feet long, of wire, leather, or slats of wood, with a strap to secure it by passing over the head.  Let the bottom contain holes for surplus water to pass off.  Fill it half full of finely cut, clean rye straw, which has been saturated with vinegar.  Pour on this a pail full of boiling water, and then place it to the horse's nose, and secure it over the head for steaming the nostril.
Gypsum
If you can procure gypsum — plaster of Paris — sprinkle a small quantity every morning over your cattle stalls.  It is a good absorbent of ammonia, and consequently tends not only to economize a most valuable element of vegetable nutrition, but to sweeten and purify the air.  The generation of ammonia in stables, and other confined situations, is not infrequently the cause of disease, and should be prevented.  Copperas water, sprinkled over the floors and surface of cattle yards, has a still more sanitary effect.  It is a powerful deodorizer, and should be liberally used about out-buildings, especially in hot weather.
Cattle Racks — A western farmer who feeds 150 head of cattle, estimates that the construction of good feeding racks saves him at least five tons of hay yearly — more than enough to pay annually for the racks.  Judging from the amount of hay we have often seen trodden in the mud, or used as litter by the cattle, as many tons would be yearly saved by some who have not 50 head.
Watertown Daily Times, 03 31 1962
The Cook County, Ill., Superior Court has approved the settlement of the estate of the late Dr. Ella Ruebhausen under which the Watertown High School will have something like $42,000 in University of Wisconsin scholarships made available.  The court approved the settlement as worked out in an agreement between the university board of regents and school authorities in Watertown.  The agreement, in a petition to the court, was the subject of a hearing in Chicago on March 7 and the court's approval, which had been taken under advisement, was made public today.  Under terms of Dr. Ruebhausen's will was specified that the regents were to set up a women's self-help college in Watertown or, failing that, the city of Watertown was to do so.  However, the regents and the city contended that this would be impractical in light of changing conditions and rising costs since Dr. Ruebhausen made her will.  They petitioned the court to have the provision changed so that the regents could establish a scholarship fund at the state university for Watertown High School students.
Watertown Daily Times, 04 12 1962
A sum of between $40,000 and $50,000 set up under the terms of the will of the late Dr. Ella Ruebhausen, a native of Watertown, to aid Watertown High School students to obtain an education at the University of Wisconsin, was accepted this morning in Milwaukee by the board of regents of the state university.  A previous report to the Times when the settlement of the estate was agreed upon in Cook County Superior Court in Chicago several weeks ago indicated the sum would be in the neighborhood of $42,000.  Dr. Ruebhausen who received her degree from the University of Wisconsin in 1893 after graduating from Watertown High School, later taught in high school here before going to Illinois where she was for 34 years a professor of German at the University of Illinois.  She died in 1960.  She spent her last years in Batavia, Ill.
Watertown Daily Times, 11 30 1901
It is not often that a person is so near death and escapes, as it were miraculously, as did Fred. Woodtke, a farmer residing southwest of this city, while on his way home last week Wednesday night.  As he was driving his team across the C.N.&St.P. Ry. at the Milford Street crossing the fast mail train going east at 11 o'clock ran into his wagon, smashing it to pieces and throwing Mr. Woodtke up against the crossing-tender's shanty on the south side of the track.  The horses escaped serious injury and were caught at the home of John Heiden, a quarter of a mile further on, and were cared for.  The train was stopped in a few seconds and the train crew sought Mr. Woodtke expecting to find him dead, but imagine their surprise when they found him as lively as a cricket and as talkative as an auctioneer.  He received only a few slight bruises, and was able to be around the next day.  Roadmaster Buffmire saw Mr. Woodtke driving toward the track at the time and tried to stop him, but Fred was in a hurry to get home and did not expect that the fast mail was faster than his team of pacers.  He had a narrow escape from death, and no doubt believes he has a charmed life.
Market Street Parking Lot
Watertown Daily Times, 08 11 1951
Watertown will take possession of the newly acquired off-street parking lot which it has purchased in Market Street on Oct. 15.  The purchase was approved by the city council at its meeting this week, the property being acquired from Johanna Vander Heyden of Green Bay.  The price is $ 18,000.  The lot in question is located in Market Street, between South Third and South Fourth streets and is on the north side of Market Street.  It will accommodate some 30 automobiles after it is cleared.
2008
Stella Coughlin, Watertown, WI. - Mrs. Coughlin passed from this life on March 26, 2008 at the age of 96.  Stella and Ervin Coughlin were married on May 21, 1938 and farmed for many years.  The Coughlin's had been involved with Clydesdale horses since the early 1960's, breeding and raising many prominent Clydesdales during those years.  Mrs. Coughlin is survived by two daughters and four sons, including Association [Clydesdale Breeders of the U.S.A.] member Eugene (Vickie) Coughlin also of Watertown, WI.  The Coughlin family tradition will live on through Eugene and his family.
Mrs. Coughlin was blessed with 10 grandchildren, 17 great-grandchildren, and two great-great grandchildren.  She was preceded in death by her husband, Ervin, who passed away in 1991.  Her family shares that she loved seeing all the Clydesdale people.  In my memory, Mrs. Coughlin always appeared to be a most pleasant lady with a kind, loving smile. Our sympathy is with her family.
http://clydesusa.com/Documents/FallLeadHorse.pdf
Watertown Daily Times, 04 18 1968
According to several county histories of Jefferson County the following facts about early physicians are recorded:
The first one cited is: "The History of Jefferson County, Wisconsin, Western Historical Society. MDCCCLXXIX": "First Settlers, page 406:  "Mr. Cole then proceeds to give from memory a list of those who had come to Johnson's Rapids for the purpose of settling, to December, 1937. . . . Dr. Colbough, Canada . . . ."  Page 464: "Drs. Cokeley and Goodenough were the first practicing physicians:  Drs. Cody and Spalding are the leading physicians at the present time."
The second history cited was edited by John Henry Ott.   "Jefferson County Wisconsin and Its People, 1917."  On page 137 of volume one: "Doctors Goodenough, Cokeley, Hamilton, Breckenridge, Schindler (a Swiss) were the first practicing physicians in Watertown.  Little is known of these men. Dr. James Cody, born in Newfoundland in 1820, a graduate of Harvard Medical School, came to Watertown in 1846 and was highly esteemed until 1885 (died in 1894). . . . Dr. M. N. Barber (born in 1821) came to Watertown in 1848, from Racine; he was a native of New York, called himself a botonic eclectic. Dr. Spalding, born in 1825, a graduate of New York University, came to Watertown in 1849, died 1903. Dr. C. J. Eger, born 1828, still living, is a graduate of Leipsig University, a man of good ability and scholarly tastes. –
Watertown Daily Times, 04 19 1968
The Watertown Male Chorus of the Watertown Vocational and Technical School will present its annual spring concert at Watertown High School auditorium Sunday night, April 21 at 8 o'clock. 
Shown are:  Carol Rasmussen, Emily Lewandowski, Nordien Schuett, Angelo Torres, Clarence Kapheim, George W. Block, Loran Marmes, Clayton Lewis, Thomas Stoppenbach, Fred Roth, Hugo Block, Gordon Pacske, Leo Imming, Gerald Updike, William Urban, Karl Schuchter, Roy Block, Ed Rebbaum, Donald Wittchow, Robert Peterson, Robert Steinbach, George O. Lewandowski, guest director, Harry Erickson, director, Rev. Robert H. Hett, R. J. Conklin, Albert Schultz, Elmer Strege, Neal Buckland, Dr. E. E. Burzynski, Donald Mabie, LeRoy Robalt, Atty. Harold W. Hartwig, Ernest C. Block, Arnold Block.
Not present when picture was taken: George Day, Don Schilling, Bob Imming and John Sheffield.
Watertown Gazette, 05 02 1912
Saturday evening a bicycle rider ran into Louis Stallmann at the corner of Main and Fourth streets and knocked him senseless.  He was taken to his home in an automobile, and Dr. Whyte who is attending him says no serious results will follow.
Martz' Muzzlez Range and Dealership
Mid-town gun shop, shooting range gets approval
Watertown Daily Times, 04 24 2012
The Watertown Plan Commission granted a conditional use permit to allow a retail gun dealership and a shooting range to open at 209 E. Main St.  The new business would be called Martz' Muzzlez Range and Dealership.  In the initial phase, the business is planning on opening the firing range, retail space and a member's lounge.
The building at 209 E. Main St. has been vacant since Calico Cottage moved out five years ago. [former location of Kresge, Klines, Montgomery Wards and Schempf's.]
The company also plans on renovating the second floor to open an education center for gun safety and training classes, advanced laser ranges for police training and a gunsmith shop.
The company will also be purchasing and renovating 207 E. Main St. and will look to rent the space out to a separate business.  Also plan on renovating the third floors on both 207 and 209 E. Main streets to rent out as residential living spaces.
"This will be a safe and sound business and is a well needed facility in the city, not just for outdoor shooters, but for the police department as well," Baumann said.
Woman Suffrage
Watertown Gazette, 05 02 1912
Monday evening Miss Alice Curtis, county organizer of the Wisconsin Equality League, spoke before the Twilight Club at the New Commercial Hotel and at 8:30 o'clock the same evening she spoke to a large audience composed of ladies and gentlemen at the public library.  She is a fine talker and delivered an interesting address, presenting a good argument for woman suffrage, among other things saying that responsibility and self government develops everybody.  It develops the men and it will develop the women.  Also that there are over seven million women in the United States who are wage workers and their health and that of our future citizens are often endangered by evil working conditions that can only be remedied by their votes and that the working women can only bring about better conditions by the ballot.
Miss Curtis said that women of leisure who attempt to serve the public welfare should be able to support their advice by their votes.  That women pay taxes just as men do, thus supporting the government, and women suffer from bad government just as men do, therefore they should vote equally with men.  Mothers can only make surroundings of their children better by having the ballot, therefore they should have it.
Police Officers Should Act As Gentlemen,
Not as Boors
Watertown Gazette, 05 02 1912
Editor Gazette:
Complaints are being made that police officers are making use of their authority to gratify personal spite or to "get even" for political reasons.  One or two officers in particular seem to have it in for certain parties and never lose an opportunity to insult them.  Indeed, they seem to go out of their way in their efforts to provoke a quarrel.  They evidently take great delight in sneering at persons of different political belief than themselves, and in hurling low, cheap witticisms at them, which they perhaps read in the comic supplements and try to pass off as original, while others are allowed to loaf in doorways and on corners, undisturbed as long as they wish.  They appear to be under the protecting wing of these officers, and no doubt they are, since it was voters of this brand who had much to do with electing the present administration.
It is indeed cowardly for officers to shield themselves behind their stars so that people can give no back talk to their insults.  Such officers generally hold office through political "pull" and are unfit for the position.
When it is necessary to censure persons for loitering, etc., it should be done in a gentlemanly manner.  For instance the other evening a group of young men were standing in front of a candy store.  One of the older policemen came along and said "They want you inside boys."  The boys took the hint and moved along laughing.  The officer's words had no sting or insult in them to provoke anger.
A Minor
Should Take His Own Advice
Editor Daily Times Might Take Own Advice
Before "Rushing Into Print"
Watertown Gazette, 05 09 1912
Editor Gazette -
The Daily Times of Saturday evening calls an unsigned article in The Gazette against members of the police force" cowardly," that it "cast odium upon the whole department."  If this is so, then how much more cowardly was that unsigned article in favor of a mashing ordinance, which appeared in a recent issue of The Times, in which special mention was made of High School students.  Did not that throw odium upon the entire school?  According to The Times own reasoning then, that was an insult to the entire student body, and not only that, but to every parent who has a child in High School.  If any complaints are to be made against High School students, why don't they take it to the school board?  That body is a regularly-constituted one, and complaints should be made to it.  All its members are respectable men, and it has always contained men of good reputation.  The Times says "Of late it seems to be the fad to discredit everybody connected with the conduct of city affairs, and the police of course come in for their share."  On the contrary, it seems to be the fad for some of those connected with the city administration to insult everyone with any claim to respectability, and the police can expect nothing else than to be discredited if they follow the lead of some of their superiors.
A Minor.
Good Fly Poison
Watertown Gazette, 05 23 1912
It is estimated that a pair of flies starting housekeeping in May will, baring "swats" and other accidents, have 1,911,000,000,000,000,000,000,000 descendants by September.  As the season for this wonderful fecund pest is approaching we publish the following fly poison recommended as excellent by the Chicago Board of Health:
1 pint of milk,
1 pint of water,
1 tablespoon of formaldehyde,
1 tablespoon of sugar.
Place a slice of bread on a plate and thoroughly saturate it with the above mixture, having surplus of mixture in the bottom of the plate.  The bread not only affords a place for the fly to alight and feed, but it also attracts him.  Place these plates out of reach of children and animals.
Watertown Democrat, 01 10 1861
The sportsmen have had a fine time hunting rabbits this winter.  This variety of game has been plenty.  Some days three or four hunters have brought in as many as fifty or sixty.  The season when they are in the best condition is now about over, and they should have a respite from danger.  They increase rapidly, and if let alone will be as plenty next year as they have been this.
_____________ more on rabbits _____________
Watertown Republican, 01 01 1890
Never in the history of this state were rabbits known to be as plentiful as they are this winter.  This is the case in nearly all parts of the state, but of course in some localities they are more plentiful than in others.
Watertown Gazette, 05 09 1912
Janesville — A Master Plumbers' Association for southern Wisconsin was organized here on Tuesday with forty representatives from Janesville, Madison, Watertown, Beaver Dam, Baraboo, Edgerton, Evansville, Mineral Point, Darlington, Geneva, Burlington and Walworth.  Wm. McVicar, Janesville, was elected president; William Owens, Madison, vice president; Fred Baker, Evansville, secretary; Donald Osborn, Beloit, treasurer.  The next meeting will be at Watertown on July 9.
Watertown Gazette, 03 14 1890
Notice the mode of ceiling decorating, just completed at Lee's barbershop by Theodore Dobbratz.  It shows off to fine effect, and Mr. Lee can now congratulate himself that there Is not a finer looking barbershop in Wisconsin.
_____________ more on W. J. Lee _____________
Watertown Republican, 01 30 1901
After a business career in this city for over twenty years, W. J. Lee has disposed of his tonsorial parlors at 119 West Main Street and retired.  Richard W. Emerson is his successor and took possession yesterday.  Mr. Lee will be in the employ of the new proprietor until May 1.  His old friends and patrons regret his retirement exceedingly, and only hope that wherever he may cast his fortunes in the future his place of business may be as popular and inviting as it has always been here.  He has conducted an up-to-date establishment and given the best of service at all times.  Mr. Emerson is a rising young man, proficient at this trade and will no doubt prove a worthy successor to Mr. Lee.
<![if !vml]>

<![endif]>
1899-1900 Watertown City Dir
_____________ more on W. J. Lee _____________
Watertown Gazette, 05 02 1912
Sunday afternoon W. J. Lee died the Wyocena hospital, where he had been taking treatment some time.  He was 53 years of age and is survived by one son, Russell Lee of Chicago.  Deceased was born at Beaver Dam, and came to this city in 1879, and for many years conducted a barber shop and bath rooms here on the site of the Masonic Temple and later on the West side, in the building now occupied by Kusel & Kusel, plumbers.  He was a member of Log Camp No. 401, Modern Woodmen of America.  His hosts of friends here heard of his death with sincere sorrow.
<![if !vml]>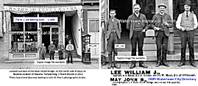 <![endif]>   c.1890 image, E Main location
Watertown Gazette, 05 30 1912
Thos. J. Holland of Antigo, brother of James P. and Miss Anna Holland of this city, visited them here on Sunday.  While in the city Mr. Holland exhibited to me drawings of his patented automobile wheel, which he claims will revolutionize the automobile business.
He says the wheel has been tried and tested in every conceivable way and has withstood all tests satisfactorily.  By its use the pneumatic tire is done away with and any kind of a tire may be substituted, iron, wood, hard rubber or other material.  It has successfully stood the test for jarring and also the load and in case of damage to the wheel to the extent of half the spokes, the hub compensation part is so arranged that the balance of the wheel will work automatically to distribute the load.  The wheel is so arranged that the springs which take off the shock are placed within the wheel spokes.  In the hub is arranged the compensation part which receives the jar and neutralizes it, giving and taking as the case may be.  Mr. Holland had worked on this part of the device a long while until at last he feels satisfied that he has the right idea.
Watertown Gazette, 05 02 1912
There will be a special meeting of the Watertown Farmers and Dairymen Association in Military Band Hall on Saturday afternoon, May 4, at 2:30 o'clock.
Real Estate
Watertown Gazette, 05 09 1912
Joseph Toussaint has sold his residence at 308 Cole Street to John Spiegelhoff.  Consideration not stated.
Watertown Gazette, 05 30 1912
At St. Henry's hall next Wednesday evening at 8 o'clock the following named young ladies will hold their graduating exercise:  The Misses Emma Lydia Wetzel, Lottie Pearl Wells, Sarah Mary Rabenhorst, Rebecca Vernia Goffard, Retta Elmira McChesney and Marie Anna Reck.
Watertown Gazette, 02 01 1912
Miss Kate Emerick, an old resident of Watertown, was adjudged insane last Friday and was taken to the county asylum at Jefferson by Deputy Sheriff Vaughan.
Watertown Gazette, 02 15 1912
Will Locate in Watertown.  Edward Barnick, who has conducted a general merchandise store at Richwood for the past 19 years, has disposed of his business to Beloit parties and he and his family will remove to this city about March 1st and reside in North Second Street.
Proposed State Prison in Watertown
Watertown Daily Times, 05 31 1987
The city's finance committee has directed Mayor David R. Lenz to look into pursuing the possibility of locating a state prison in the city.  Lenz said Monday that the city was gathering the necessary information for applying for the institution.  Applications must be submitted by July 1.  The Dodge County Planning and Development Department recently informed cities in the county about the state's need for another prison site.  The state is looking to locate a 400- to 450-bed medium/maximum facility with a secure perimeter including double fence, roadway and guard towers.  The prison will have a maintenance garage, warehouse, power plant and parking outside the secure perimeter.
Proposed Perry Printing Corporation Plant
Watertown Daily Times, 06 01 1987
The Watertown Planning Commission gave its approval to the initial site plan for the proposed Perry Printing Corporation plant, to be located in the Alvoss Drive Industrial Park.  The planners approved the site plan, contingent upon a satisfactory landscaping scheme.  Additional site plans for further expansion also will need to be approved by the commission.  Perry plans to build a new printing facility on a 35-acre parcel in the industrial park.  It will be east of the proposed Miller Brewing malt processing plant.
Watertown Daily Times, 10 05 1987
Perry Printing Corp. plans to begin production at its new label finishing plant in Watertown during the week of Oct. 26. Jim Lucas, manufacturing manager for the new plant, said construction workers have completed the outside of the 60,000-square-foot building and now are working on the inside carpentry, as well as heating and duct work. Although the plant won't be entirely finished by Oct. 26, Lucas said the production area will be ready by then. Perry is moving its label finishing operation to Watertown from Norway, Mich.
Watertown Democrat, 07 10 1862
We give a prominent place to the following wise and salutary law and call attention to it.  The whole community is interested in its rigid observance, especially at this season of the year . . .
STATE LAW. CHAPTER 273.  An act to regulate the keeping and management of slaughter houses in this state.  The People of Wisconsin, represented in Senate and Assembly, do enact as follows:
Hereafter it shall be unlawful for any person or persons to erect, maintain or keep a slaughter house upon the banks of any river, stream or creek, or to throw or deposit any of the carcasses or offal therefrom in or upon the banks of such river, stream or creek, which shall flow through any city or incorporated village in this state . . .
Cheap Homes
Now is the time to build
Watertown Democrat, 07 03 1862
There never was a time in the history of this city when desirable lots and houses were as cheap as at the present time.  The prudent and knowing ones are availing themselves of the opportunity.  We hear of several purchases of lots at these low figures for the purposes of a permanent home.  This is as it should be.  We notice a sale for four desirable lots on Clyman Street, opposite Ald. Prentiss' at auction, by the administrator of Blount's estate, at $40 each.  These lots sold in 1856 at $250 each.
Stumps in the North Road
Common Council Proceedings
Watertown Democrat, 07 03 1862
On motion of Ald. Brown, the Aldermen of 5th Ward were instructed to contract for the removal of the stumps in the North Road, from the railroad crossing to the north line of the city.
Watertown Democrat, 07 10 1862
The special attention of farmers is called to the advertisement of J. A. & O. Hall, setting forth the superior merits and advantages of the threshing machines they manufacture in this city.  It should be remembered that these machines are made at home and are intended for actual and steady service, and if they fail to come up to the recommendations of the proprietors, it is easy to return them.  But there is no danger of such necessity as this – we only speak of it to show that the manufacturers have inducement to make the strongest and best machines possible and the most satisfactory trials have proved that they successfully accomplish this end.  There is no machine in use that combines more desirable qualities for threshing grain rapidly, thoroughly, and in large amounts, than the one offered to the public by Messrs. Hall.  It is strong and durable, runs easily and regularly, seldom gets out of repair, and is as cheap or cheaper than any other in the market.  Let us support home institutions, as it certainly is the interest of all to do so.
Watertown Democrat, 06 09 1864 
Hall's Premium Threshing Machines
J. A. & O. Hall are manufacturing a few of their improved spiral cylinder threshing machines with a solid cast steel shaft running in brass-lined boxes, so adjusted that there is not a place where there are three teeth opposite, giving a steady motion and constant draft to the grain, avoiding the continual thumping incident to straight bar cylinders.
Our beater shaft, over which the balance of the separator is run, is so supported by the posts in which it runs that it must keep its place, thus avoiding the friction which has in some other separators set fire to the straw and done immense damage . . .
Repairing will be done this year by Hill & Taylor, who have rented our shops.
A Day on the Lakes
Watertown Democrat, 07 17 1862
Last Friday a small party from this city made a trip to Oconomowoc for the purpose of passing a few hours in fishing on the beautiful lakes that encircle that village.   Mr. D. S. Curtiss of the Free Press, and Mr. G. W. Fay of the La Belle House met the party at the railroad depot and to their unfailing kindness and attention all were under many obligations. 
The day was warm and genial — there was just breeze enough to temper the atmosphere with a balmy coolness — the waters of the lakes seemed to sparkle with their brightest smiles — all nature was radiant in its most gorgeous dress of summer loveliness — and nothing was wanting to make all a brilliant success – but a disposition on the part of the finny tribes to form a more intimate acquaintance with their anxious visitors – that act of hospitality they refused to perform.  No coaxing with the most tempting bait could allure them from their seclusion, even so far as to offer the excitement of a nibble. 
Patience not being an abounding virtue with the company, without some prospect of reward, that object of the journey was soon abandoned, but the boat rides over the waters, the forest Pic Nic dinner, the rambles in the shady groves, the gay party from the village that came to welcome the visitors, the evening supper at the La Belle House, with Curtiss at the head of the table, and Fay blandly "smiling all around," were enough to render the excursion delightful and fill the hours with pleasure and enjoyment. 
After all, we did not return wholly game-less — we caught some white bass, more than all the crowd put together, and this time we didn't even have the liberality to divide.  We were in luck once.
Watertown Democrat, 01 30 1862
Mr. Isaac Atwood of Lake Mills, the skillful and successful grape Culturist of Wisconsin, has presented us with a box of grapes that have all the freshness and sweetness of clusters just gathered from the vines in autumn.  He informs us that by very simple means and small expense, he can easily keep them, free from decay or change, through the whole summer.  Those we have are packed in a box about two feet long and a foot wide and deep, slightly open at the sides.  A coarse piece of wrapping paper lies at the bottom, reaching to the top, and on this are layers of grapes, covered with about an inch of thoroughly dried saw dust, and then another layer of grapes, and so on till the box is nearly full, when it is covered with saw dust and put away beyond the reach of frost and dampness. Mr. Atwood states that last year he used old newspapers instead of saw dust and found they answered the purpose about as well.
He is of opinion that this delicious and healthy fruit can be kept just as securely and long as apples, and with as little care and risk.
Grape Culture
Watertown Democrat, 07 24 1862
Present appearances indicate that a large amount of fruit will be produced in this state this year.  Not only are apple trees heavily burdened with growing fruit, but the vines are thickly covered with clusters of the rich and delicious grape.  When the vines are properly taken care of and cultivated, there is no difficulty of securing a large yield.  Perhaps the most extensive vineyard in the state is that owned by Isaac Atwood, in this county.  It is well worth a visit to his residence at Lake Mills to examine it, even at this season of the year.
He has acres of vigorous and thrifty vines, full of forming and growing fruit, promising the most prolific crop he has yet gathered.  We have no doubt that six hundred bushels is a low estimate of the amount he will have for sale when autumn shall have matured and mellowed the long hanging stems into the perfection that makes them so luscious and juicy.
He will be able to supply them in any amount and save us the trouble and expense of getting them abroad, and all know that no finer varieties can be found in any market. 
Another consideration which should induce a large number to engage in grape culture is the profitableness of the business.  From the facts in our possession, it pays better than almost any branch of agricultural industry and is attended with no more risk of failure in this climate, when the requisite care and intelligence are used.  Let any one look over Mr. Atwood's model grounds and he will be convinced that this statement is true.
His soil is no better adapted for the vine than thousands of other pieces of land and it only needs his method of culture to enable thousands of farmers to add another variety of fruit to their other products, and thus render their industry more remunerative, at a small cost of labor and time.
Watertown Democrat, 07 24 1862
Mr. Judson Prentice, one of our most successful and extensive fruit growers, has now some very fine and choice raspberries for sale.  Among other varieties he has the Antwerp, which is very large and sweet and of the most delicious flavor.  Such of our citizens as wish to enjoy the luxury of having this fruit can procure it of Mr. Prentice on the shortest notice.  He delivers it fresh from the bushes and in its best condition for the table.
The three new brick blocks on the corner of Main and Third streets are all nearly finished.  Bertram & Co. have already moved their large Boot and Shoe establishment into theirs and we understand that sometime next week Fischer & Rohr will move their clothing store to the one built by E. W. Cole, which is being fitted up and arranged for their use.
Winter Wheat
Watertown Democrat, 07 24 1862
Many farmers have already commenced cutting winter wheat, which has ripened finely.  There is a good deal of this variety of grain in this vicinity, and according to universal testimony, it has done exceedingly well.
The farmers are now busy in the meadows cutting as fine and large a crop of hay as ever was grown in this state.  It will be more than normally abundant and in quality unsurpassed.
We saw some very choice huckleberries at Brook's.  If they are gone Peter knows where there is more and he will have them.
Mr. Searles
Watertown Democrat, 07 24 1862
Mr. Searles entertained with brilliant success a large and fashionable audience in this city last Tuesday evening.  His experiments were witnessed with wonder and admiration by all present.  He is a distinguished master of his profession and his superior cannot be found in this country. 
The beauty of his feats is that they are all done before the audience without any attempt at concealment, but performed with such perfect skill and art that the closest watching fails to detect the means he uses.  His exhibitions are well worth attending.
New Medical Center in Doctors' Court
Watertown Daily Times, 06 05 1962
Dr. E. Allen Miller, Dr. Eugene Schuh, Dr. Robert C. Baldwin, Dr. E. E. Burzynski and Dr. Wm. W. Reinhard, who will occupy the city's new medical center in Doctors' Court, will move into the new quarters over the weekend and be ready for light service next Tuesday.  The three physicians, Doctors Miller, Schuh and Baldwin, will practice in one building called Medical Associates of Watertown.  This building fronts the corner of Hall Street and Doctors' Court.
Another Brick Block
Watertown Democrat, 07 03 1862
Mr. Henry Maldaner is now laying the foundation of a new brick block on the south side of Main Street.  It will be 22 feet in front and 56 feet in depth and two stories high.  It will have a neat and elegant front and be finished off for a business building.  We think this is the fifth brick block that will be built on Main Street this summer.
Philharmonic Society of Watertown
Operatic Concert
Watertown Democrat, 07 10 1862
On Tuesday evening, the 22nd, at Cole's Hall, the Philharmonic Society of Watertown, aided by the German Orchestra under the direction of Prof. Gaebler, will perform the Cantata of the "Haymakers," in custom, with scenery.  The "Haymakers" is founded upon scenes and actions connected with the hay field, farm house, and rural life generally.  Interspersed with gay and comic strains, full of incident and interest, it is unsurpassed.  The proceeds will be donated to the widow of the late Thomas S. Davis.
[Thomas Davis was drowned in Rock River, near the Rough and Ready Mill, while assisting in making some repairs on the dam]
Watertown Gazette, 03 07 1902
John Burdick was taken to the reform school at Waukesha by Chief of Police Block on Saturday.  Thursday evening of last week he created a disturbance at home, and when his stepfather attempted to hit him he cut him in the wrist quite severely it is supposed with a knife.  His mother appeared before Justice Henze and told him the boy would not go to school and that she could not control him, hence the Justice sentenced him to the Reform school.
Watertown Republican, 02 15 1871
PAINFUL ACCIDENT -- Mr. Richard Humphrey, residing in the town of Ixonia, met with a painful accident on Wednesday of last week. A tree which he was chopping down fell against another one nearby with great force, and swinging around, the end caught Mr. Humphrey on the leg, throwing him against the fence and fastening him in such a manner that he could not stir.  His cries for help were heard at his home, and some of his sons were soon at the spot, rendering him assistance.  His leg was found to be so terribly crushed that amputation became necessary, and the operation was successfully performed the same day by Doctor Cody, and Doctor Williams, assisted by Drs. Solliday and Mastersen.
Suffrage Meeting
Watertown Gazette, 06 27 1912
Last Saturday evening Mrs. C. A. Laddy, president of the New Jersey Women Suffrage League, addressed a large crowd in the German language at the corner of Main and Third streets.
Mrs. Laddy stated that in every city there was at least one woman uprising for the uplift of her sex, and that because a woman does her duty in a democracy by paying taxes, obeying laws, etc., she has the right to vote.
She said that years ago women spun the thread, wove the cloth, cured the meats, controlled the water and food supply and the sanitary and moral conditions.  Now the trusts have entered the home and woman depends upon the trusts for everything from morning until night, since wheat cereals are manufactured by the trusts, and, the meat is controlled by them and the vegetables canned by the trusts.  She stated that since all the work formerly done in the home by the woman is now done in the factories, women have to go to the factories to do the work, and since she is now taken out of the home, it is right that she should have a voice in saying under what kind of conditions she should work.
She said that Dr. Wiley stated that he was only able to get the national pure food law passed through the aid of the women.
Watertown Gazette, 06 27 1912
The State University Tennis Club has awarded a silver cup to Malcomb Whyte of this city, he having won the varsity championship in tennis.
Watertown Daily Times, 06 29 1962
The annual doll buggy parade will be held at 9 a.m. Tuesday, July 3.  Starting at North Washington, the parade will proceed down Main Street to the Recreation Building where they will receive dixie cups, courtesy of the Mullen's Dairy and candy.  The children are encouraged to wear costumes to add extra color and excitement to the parade.  A good attendance is anticipated.  In case of rain the doll buggy parade will be rescheduled for Thursday, July 5.
The Skating Park
Watertown Republican, 01 25 1871
The Grand Masquerade at the Skating Park last Saturday evening was largely attended, and the fullest enjoyment realized by all who participated in the pleasures of the evening.  Many unique and comic costumes appeared among the skaters, and the masqueraders, one and all, both male and female, appeared to be in their happiest mood.  These skating pastimes are both pleasant and invigorating and we are glad to see that the Skating Park is so well patronized.
_____________ more on Skating Masquerade _____________
Watertown Republican, 01 18 1871
The skating park is now in running order again, and the masquerade, (which was unavoidably postponed on account of the storm) will come off Saturday evening next.  Let all remember the time.  The band will be in attendance this (Wednesday) evening; also on Saturday evening next.  Pleasant times may be expected.
_____________ more on Skating Masquerade _____________
Watertown Republican, 02 01 1871
Another of those pleasant and invigorating amusements, in the form of a masquerade, at the Skating Park is announced for Thursday -livening of this week, if the weather is favorable.  There will be doubtless a large number of pleasure seekers in attendance and we are sure all will receive their money's worth of fun and frolic.
_____________ more on Skating Rink _____________
Watertown Republican, 01 11 1871
SKATING RINK.--Since the opening of the Skating Park, the visitors at this favorite place of resort have had a most happy and charming time.  On every favorable evening the lovers of the skatorial art have been out in large numbers, taking part in this favored and healthy pastime.  Messrs. Eaton & Green were not prepared to entertain the vast numbers that have flocked to that place of entertainment, and to provide for their comfortable reception, the proprietors last week built a large addition to their premises, enabling them now to receive their patrons in the most agreeable and pleasant manner.  A most cheerful and pressing, feature at the park is the sweet and enlivening music discoursed on Wednesday and Saturday evenings of each week, by the fine brass band of this city, giving an additional zest to the otherwise lively times, experienced by all present.  We advise everybody to buy a ticket to the Park, for never since-our recollection could so much downright enjoyment be obtained for same outlay.
_____________ more on Skating Rink _____________
Watertown Republican, 01 11 1871
MASQUERADE AT THE- PARK.--The Skating Park of Eaton & Greene will be the scene of a gay and festive time on Saturday evening next.  Arrangements are underway for a grand masquerade to take place at that time.  Splendid music will be in attendance, and fine enjoyment may be expected.  See the notice in another column.
Watertown Republican, 09 27 1876
Friday morning of last week, a man named Richard Pritchard employed on the farm of John Jones, in the town of Emmet, about 5 miles from this city, was attacked by a bull while leading it to water and terribly gored in the groin by the infuriated animal. Medical assistance was at once obtained, but nothing could be done to save the man's life and he died in great agony Sunday evening. Mr. Pritchard was about thirty five years of age, and came here from Wales some two years ago.  He leaves a wife and one child to mourn his sad and terrible death.
Double Wedding at Clyman
Watertown Gazette, 08 22 1912
The marriage of sisters, on the same day, was responsible for a double wedding which took place in St. John's Catholic Church in Clyman, on Tuesday, Aug. 20, 1912.  The young people who joined hands for life on that eventful day are Edward Langer of Waterloo, and Miss Loretta Manning of Clyman, and also Eugene Becker of Juneau, and Miss Marcella Manning of Clyman.
Rev. Chas. Olsen, pastor of St. John's Church performed the double marriage.  The brides are daughters of Mr. and Mrs. Michael Manning, prominent citizens of Clyman, of which town Mr. Manning is the chairman.  He is also a county official, being coroner of Dodge County.
The young ladies are well known school teachers of Dodge county and both are high school graduates, Miss Loretta of the Waterloo high school and Miss Marcella of the Juneau high school.  The grooms are both industrious and progressive young men.  The Gazette joins their hosts of friends hereabouts in extending hearty congratulations.
Watertown Daily Times, 07 21 1987
Three years from now, a full fledged YMCA facility could be constructed in Watertown.  But a lot of footwork, fund-raising and moral support for such a project lie between the transformation of that idea into a reality.
The Watertown YMCA Organization Committee has begun a spirited effort to bring a YMCA to the city.  The committee recently invited the National YMCA National Staff to Watertown to conduct a survey to determine the feasibility of a YMCA in the city.  The national survey team interviewed several community leaders.  Based on the survey, Watertown and a YMCA would be very compatible, according to Roger J. Brown, YMCA field consultant.
_____________ more on YMCA _____________
Watertown Daily Times, 03 05 1988
A YMCA in Watertown would make the city more viable for prospective home owners and would provide healthy activities for the community's youths.  Those would be two of the benefits Watertown would receive if it established a YMCA, according to Dennis D. Handrow, executive director of the Town and Country YMCA in Oconomowoc. Handrow has been addressing Watertown's service clubs. He spoke to Watertown's Rotary Club and Lions Club Monday. He addressed the Watertown Kiwanis Club last week.
_____________ more on YMCA _____________
Watertown Daily Times, 06 14 1988
Although the Watertown YMCA Founder's Campaign has already exceeded its three-year pledge goal, the drive to bring a YMCA to the city is continuing at full steam.  More than $182,000 has been pledged for the Watertown YMCA Founder's Campaign, according to Rolland Freitag, campaign chairman.  The original goal was to raise $150,000 in pledges over the next three years.  "We are truly excited to see such support for the start-up of the Watertown YMCA.  Pledges for contributions have come from corporations, businesses, service clubs and individuals," Freitag said.
New Hotel Building at the Junction
Watertown Republican, 01 12 1876
Mr. N. W. Pierce has broken ground for his new hotel building at the Junction of the Milwaukee and St. Paul, and the Chicago and Northwestern Railways in this city.  Mr. Pierce expects to have the building well under way by early spring.
Watertown Republican or Democrat, 07 03 1876
A brutal and disgraceful affair occurred in our city Wednesday afternoon of last week, creating intense excitement for the time being, and, as was painfully apparent, indicating a bad condition of matters in our midst.  The chief actor in the scene was Mr. Louis Kniesel, a resident of the Third ward.  While in an intoxicated condition he drove a horse and buggy through the streets the greater portion of the afternoon at a rapid speed, wholly indifferent to the rights of pedestrians, placing persons, especially children, in great danger of getting run over, on account of his careless, head strong driving.  He whipped and abused his horse, fretting and tiring the animal to a wicked degree, every moment making himself liable to arrest for cruelty to animals.
Watertown Boot and Shoe Manufacturing Co
Watertown Republican, 01 25 1871
A bill to incorporate the Watertown Boot and Shoe Manufacturing Company has been introduced into the Assembly, by Mr. Hall.
Watertown Republican, 09 28 1870
About noon on Monday last George Charboneau, son of Mr. Louis Charboneau, discovered the body of a man in the water race north of the head gate of Blanchard & Co.'s Grist mill, in the 1st ward.  The finding of the body soon spread, and within a few minutes a large number of our citizens were on the spot, all eager to learn particulars and if possible to obtain some clue to the mystery.  The body was placed upon the bank, and found to be in a decomposed condition, presenting a sickening sight, having apparently been in the water for a week or ten days.  He wore a suit of black clothes, and on his person were found two family pictures, a note or hand drawn by J. Radly, Waterloo, for $64.00, on which $5.00 had been paid; two letters, a pocketbook containing $1.15 and several keys.
He was soon identified as Adolph Trettin, a German by birth, about 23 years of age, unmarried.  He had resided in the village of Waterloo, working at the blacksmith business for Mr. Jos. Radly, until the 15th of last July, when it is supposed he went to work at Lowell station.  He was last seen alive by Mr. Radly on the 15th of the present month, at which time Mr. R. gave him the $5.00 endorsed on the note found on his person.  No persons here remember to have seen him, and it is highly probably that he was drowned a short time after reaching the city.  A Coroner's Jury was summoned on the case, and the verdict was that the deceased came to his death by accidental drowning, Doctors Spalding, Cody, and Eger having in the meantime examined the body and were unable to discover any marks of violence.
From Mr. Radley's testimony it would appear that the deceased was a good steady working man, not addicted to the excessive use of intoxicating drinks, and while the exact cause of his will perhaps always remain a mystery, yet the general impression prevails that he was drowned when under the influence of liquor.
Phillips 66
Watertown Daily Times, 08 31 1962
Herbert Zoellick, 1305 Schiller, and Rudolph Voigt, 811 South 10th Street, are the new owners and operators of the Phillips 66 Station at 800 East Main Street. The station to be known as Rudy and Herb's Phillips 66 will open Saturday under the new management. The station will feature a service department for general repair. A grand opening is planned in the future.
Watertown Republican, 04 12 1876
A man named J. Morgan, by trade a mason, and a resident of the 6th ward, was arrested last Thursday on suspicion of being the principle in the thieveries that have taken place here recently.  In fact, on his promises were found the evidences of his guilt.  A portion of a keg of fish stolen from the grocery store of Mr. E. Sweeney was found, and evidence was discovered that Morgen was the perpetrator of the butter robbery at the store of Mr. Goette.  It has also become pretty well established in the minds of the community that this man Morgen was engaged in the cigar robbery at Mr. H. Vaudel's a few weeks ago and it can be proven that he sold some of the cigars to several parties in Milwaukee.  Morgan had his examination before Justice Krebs and his trial was postponed for ten days. Meanwhile he was lodged in jail.
09 20 1907
Main Street was thronged last night as it was never before, the occasion being the free attractions in connection with the fair.  Platforms were erected on Main and West Main streets.  At the corner of Water and Main streets, Clayton Jenkins and Jasper opened the evening free bill in knock-about acrobatic work with Jasper (a donkey) a good share of the show.  On the platform at the corner of Main and Second streets, a wrestling exhibition took place between Reinhold Schott and Max Ullrich, consisting of two five minute bouts.  The first proved no fall, while in the second Schott threw his opponent just before the call of time.  On the platform at the corner of Main and Fifth streets a juggling exhibition was given by the Ovtora family, three clever little Japs.  Music was furnished through the performance by the band.  The theatres, the Empire, Palace and Victor were all open and performances given to record breaking crowds.
06 08 1966
A bright future for Watertown Metal Products, which recently acquired the machinery, inventory and equipment of Syncromatic Corporation, was pictured by two officials of the company, who were guests of the Watertown Association of Commerce Promotive Corporation at a luncheon gathering Thursday noon at the Legion Green Bowl. Watertown Metal Products is a division of Western Industries, Inc., of Milwaukee. Western Industries is well known and highly regarded in the metal fabricating field. It will observe its 50th anniversary next year. All Syncromatic employees, including front office personnel, have been retained, the promotive association directors were told. Considerable growth in both business and employment here is anticipated, Jack. F. Kellner, president of Western Industries, Inc., told the gathering. Plant expansion, he said, also is under consideration.
_____________ more on Watertown Metal Products _____________
06 25 1968
An extensive building expansion program which will add another 40,450 square feet to its plant is announced by Watertown Metal Products, Inc.  The concern is located in the former Syncromatic Corporation property, located directly south of the Milwaukee Road tracks between South Tenth Street and South Twelfth Streets.  Announcement of the expansion is made by E. P. Soder, general manager.  When the work is completed, there will be 102,600 square feet of floor space under roof, Soder said.
_____________ more on Watertown Metal Products _____________
09 24 1982
Watertown Metal Products, a division of Western Industries Inc., is planning a $60,000 addition to the spray painting booths on the west side of its current plant. The 10-foot by 135-foot addition will initially provide improved access to the robots used for painting microwave over interiors, office furniture and telephone booths, and the existing spray painting booths will eventually be enclosed, said Ronald Jacob, manager of engineering. Work on the addition is set to begin this fall and to be completed before winter, Jacob said. Oliver Construction of Oconomowoc is the main contractor.
_____________ more on Watertown Metal Products _____________
05 02 2009
Western Industries Inc. Engineered Products Group in Watertown will suspend second shift operations effective Monday, resulting in the indefinite layoff of 55 hourly employees, company officials said in a press release.  Officials said the layoffs are necessary so that operating costs can be brought in line with reduced revenue levels.  Western Industries, which designs and manufactures products for the high-end consumer appliance and agricultural equipment markets, has experienced significant revenue declines since last January.  The declines are attributed to the prevailing economic climate, particularly the slump in the new housing market.
06 27 1957
With construction of its new factory building underway here, Vultel, Inc., South Twelfth Street, is already employing some 40 persons at its steel pre-fabricated warehouse.  The workers will be transferred to the plant building when it is completed.  The Maas Bros. Construction Co., Watertown, is in charge of the building which will cost an estimated $423,000.  The new factory should be ready for operation toward the end of the year, it was indicated today.
Watertown Gazette, 12 26 1912
Richard Foley died at Deer Park in the northwestern part of the state on Friday, December 20, 1912.  Deceased was a son of the late Patrick Foley and wife of the town of Emmet, and a brother of James, John, Ellen, and Joanna Foley of this city.  His wife and one son survive him.  Deceased was well known in Watertown and his death is sincerely mourned by all his old Watertown friends.  Several years ago he was cheesemaker at the North Road cheese factory
North Road Cheese Factory
Cheese Officers Elected
Watertown Gazette, 01 02 1913
The North Road Cheese Factory Association has elected Fred. Zubke, president; Chas. Wuestenberg secretary, Adolph Boelter treasurer, and G. A. Stallman manager.