website  watertownhistory.org
    ebook  History of Watertown, Wisconsin
Robert E. Lewis
1825 - 1904
Watertown Daily Times, 12 09 1904
Robert Emmet Lewis, one of Watertown's most esteemed citizens, died at his home in Washington Street at 10 o'clock on December 8, 1904, at the close of an illness that confined him to his home for nearly a year. The cause of his death was brain trouble.
Mr. Lewis was born December 23, 1825, at Morrow, Saratoga county, New York; January 30, 1850, he was married at Glens Falls, New York, to Miss Fannie Parker, of Parkinsville, Vermont; in 1853 he came west and located in Oshkosh, from where he engaged in the sash and door business; in 1861 he came to Watertown and in company with his brother, the late George B. Lewis, bought a sash and door factory located on the present site of the G. B. Lewis factory in Water Street; in 1869 he sold his interest to his brother and removed to Iowa; in 1892 he returned to Watertown and has since made this city his home.
His wife survives him. Two children were born to them:  Hattie, who died in 1868, and Clifton, who died in 1894.
The death of Mr. Lewis is most sincerely regretted here, for his was one of Watertown's most esteemed citizens, and during his residence among us he always took a great interest in the welfare of our city and its citizens, devoting generously of his means to every public enterprise and bestowing charity and benevolence in many ways, in which he was always encouraged and aided by his devoted wife.  May 30, 1898, he donated to the city the elegant soldiers' monument that ornaments our city park, and a few years, previous to that erected the fine drinking fountain in West Main Street in memory of his son Clifton Lewis, who died in 1894.
Besides being generous in a public way, many people were aided by him privately, and the manner in which he extended his benevolence was truly edifying, for he did it in a simple, unostentatious manner, and with genuine sincerity. Very few men enjoyed the esteem and respect of his fellow citizens at large, as did Mr. Lewis.
He was honest in his business dealings with others, kind and good-natured to every one, and always a friend to those in trouble. He was devoted to his wife and home, kind and genial to his neighbors and his whole nature was kindness. He lived a most excellent life, and for such a man there is certainly a reward above. He has passed from earth, but he will live long in the memory of his friends, and his noble character, his influence for good will survive him.
Funeral of Robert E. Lewis, 12 16 1904
Sunday afternoon the funeral of Robert E. Lewis took place from his late home in Washington Street, the internment being in Oak Hill Cemetery. From 9 o'clock in the morning until funeral services at 2 o'clock in the afternoon a large number of friends and citizens called at the home to pay their last tribute of respect.
Rev. Thos. B. Thompson, of the First Congregational Church, and George C. Weis, of Waukesha, officiated at the funeral services, both paying fine tributes to the departed.
Vocal music was furnished at the services by a quartette composed of Messrs. Julius Wiggenhorn, William Sproessor, Max Rohr and Edward Schempf.
Mayor Wertheimer, members of the city council, of the Board of Education, other city officials, and members of the O. D. Pease Post. No. 94, G. A. R. was present in a body.
The honorary pallbearers were Messrs. Theodore Prentiss, M. J. Woodard, Col. D. Jones, W. P. Brown. The active pallbearers were Messrs. C. A. Skinner, H. T. Eberle, Fred A. Schmutzler, Edward J. Brandt, F. A. Hoffmann, J. C. Harrison.
Note on Passing
Watertown Daily Times, 12 30 1904
At a meeting of the board of managers of the Old Ladies' Home at Glen Falls, New York, held December 12, the following was adopted:
Inasmuch as Robert Lewis, of Watertown, Wis., has been called to his reward, we desire to express our regret and sorrow on the loss of so public a philanthropist. As a benefactor to the Old Ladies' Home we shall all cherish the memory, not only for what he had done, but for the manner in which and for the time he made his generous gifts.
His splendid donation comes almost unsolicited, mainly because of his long generous impulses and desire to do good, has been the mainstay in support of the home for the past two years, at a time when without his contribution it would have been impossible to have maintained it on the basis on which the institution has been left.
But for this contribution many of the inmates would not have been able to enjoy the comforts of the home. Surely it can be said without fulsome flattery that the promise "Inasmuch as ye have done it unto the least of these ye have done it unto me" applies in its whole meaning to Mr. Lewis.
The manager and directors of the home feel they have lost a friend, a man of generous impulses and one whose judgment and discrimination renders him peculiarly fitted to do wisely and well his full duty to his fellowman.
Annie Lewis
Mrs. Robert Lewis
1845-1895
WR W ApriI 24, 1895
A highly esteemed member of society, and a lady enjoying a wide acquaintance, Mrs. Robert Lewis, of 400 North Church Street, has been called to the heavenly Father's home, the end coming at 3 o'clock last Thursday afternoon.  Her disease was tuberculosis, which about a year since began to make inroads upon a not too robust constitution.  All that the best of medical skill and the kindest attentions of loving hands accomplished was of no avail toward staying the inevitable result of the dread malady, and she laid down life's burden, after this long, patient suffering, when but little past the zenith of earthly existence, being in her 51st year.  She is survived by her husband and one daughter, Mrs. D. M. Woodard, who in their bereavement have the tender sympathy of many friends.
[Buried on Oak Hill cemetery] 
Clifton Lewis
<![if !vml]>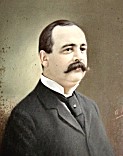 <![endif]>
Watertown Historical Society Collection 
Funeral of Cliff Lewis, 1894
Watertown Gazette, 06 29 1894
Cliff Lewis died of Bright's disease at the home of his parents on Washington Street, south, on Saturday, June 23, 1894, in the 44th year of his age.  Diseased was born in Fort Edwards, New York, and removed to this city with his parents when quite young.  Several years ago he located in St. Paul and engaged in the cracker business, selling out to the cracker trust a few years ago, and from which he annually drew large dividends.  He was also interested in real estate in that city, and had extensive interests in Dunedin, Florida.
He had a large acquaintance throughout the west, all of whom sincerely mourn his departure.  Genial and pleasant in all his dealings, all who knew him took kindly to him and became his friend. 
In common with our city we extend to his aged parents our sincere sympathy. 
On Monday afternoon his remains were laid at rest in Oak Hill Cemetery, a large number of sorrowing friends turning out to pay the final tribute of respect to him.
1902
03 28       Glenn Falls, N. Y., March 24.—Robert P. Lewis of Watertown has announced his intention of giving $7,000 in bonds to the Glenn Falls Home for the Destitute Aged, to become part of the endowment fund.
The above dispatch appeared in the daily papers on Tuesday last.  Mr. Lewis has already made this magnificent donation for the charitable purpose above stated, and it is another indication of the good that is in him.  Mr. Lewis and his worthy wife has been also very generous donating things of great value to our city, among them being the fine soldiers' monument which ornaments our city park, and the drinking fountain in West Main Street.  Wealth in the hands of such people is a great blessings to mankind, and it is indeed a great pleasure to the people of Watertown to have in their midst two so worthy people.  Would that a few more of Watertown's wealthy residents (and we have quite a few of them) would come forward and do something for the benefit of mankind with some of their surplus wealth.   WG
1909
05 28       Memorial Day, decoration of graves of M/M Robert E. Lewis   WG
1910
06 03       Memorial Day, decoration of graves of M/M Robert E. Lewis   WG
1925      Lewis Fund use proposed for new Memorial Park
02 18       A fund of approximately $9,000 is also being held for the use of the park board in converting the "brewery lot" into a park.  This is the accumulated interest from a fund which was created by the late Mr. and Mrs. R. E. Lewis.

History of Watertown, Wisconsin