website  watertownhistory.org
    ebook  History of Watertown, Wisconsin
Keck's
Founded 1853
John Keck
1818 - 1891
In 1853, only 17 years after Watertown was settled by Timothy Johnson, the first issue of The German Press, the Anzeiger, carried a card advertisement announcing the opening of the shop of John Keck, cabinet maker, at 314 Main Street.
At the time, Watertown was a bustling frontier town with a population of 4,000. The downtown and surrounding neighborhoods were home to 28 dry goods stores, 24 groceries, 5 meat markets, 9 hardware stores, 6 clothing stores, and 6 boot and shoe shops. The rapids of the Rock River powered saw mills, flour mills, carriage shops, blacksmith shops, and lumber and brick yards.
From its humble beginning, Keck Furniture relocated twice before moving to its current location on Main Street in 1897. The store still occupies this character-rich location, complete with tin ceilings and floor joists of tamarack logs, cut during the earliest days of settlement in Wisconsin.
In 1924, F. G. Keck's "Big Furniture Store" underwent extensive exterior and interior remodeling, executed by George, Fred and William Keck, grandsons of the founder, and one of America's leading architect teams of the mid-20th century.
During the dark days of the Great Depression, the personal service of Keck Furniture provided through its early years paid dividends, as the business persevered, and area residents continued to patronize the store.
From 1938 until his passing in the mid-1950s, Keck Furniture was operated by John Keck, grandson of the founder.  During this period, a young Ken Beyer was employed as a delivery and salesperson.
After John's passing, the Keck family struggled to find a suitable candidate to pilot the furniture store.  They chose Ken Beyer, who had left Keck's a few years earlier to work at another area furniture store.
Under Ken's leadership, Keck Furniture experienced a period of growth, culminating in an expansion in 1989, which tripled the store's size.
Upon his retirement in the late 1990s, Ken Beyer relinquished the store's operation to his son, Tom, and daughter, Lyn Quinn. Under their leadership, Keck Furniture continues its tradition of service and value that started in 1853.
_______________________________________________________________
Keck's was one of the furniture store businesses founded by a prominent German family.  The Keck Furniture Store was started by German immigrant John Keck in the 1850s, and continued by Keck children and grandchildren until the recent past.  The second furniture store was Schmutzler's, started with pioneer carpenter and builder Christian Schmutzler's son Edward entering the firm of Charles and Frank Nowack in 1874.
1853
Keck Furniture was founded in 1853 by John Keck, who later left the business to his son, Fred George, who in turn entrusted the business to another John Keck.  This John died at a relatively your age, and though he had three brothers, none were interested in the furniture business.  A series of managers were hired, none lasting long.  Ken Beyer worked in the store since 1948.  Having worked in the store for so many years, he was fully prepared for management, which he assumed from 1963 until 1998.  At that time, his son, Tom, and daughter, Lyn, took over the business.
Keck Furniture is the oldest continuously running furniture in the state and the fourth oldest in the nation.
1859       Keck & Lehmann's Cabinet Ware Rooms . . .
06 09       at corner of Main and Third streets.  Sofas, Bureaus and Bedsteads of every kind, from the most common to the most valuable.  They also are prepared to make to order any piece of household furniture after the most tasteful and approved patterns and warrant whatever they deal in to be what they represent.  They invite all who wish to purchase whole sets of furniture to call and examine their extensive and varied stock as they are satisfied that for durability and finish it cannot be surpassed.   WD
1860
10 12       4000 feet molding for frames.  Gilt and rosewood of every pattern and variety, from 1/2 inch to 4 inches in width, of the richest patterns.  Frames made to order and on short notice, at Keck's Cabinet Warehouse, Watertown.   WR
1861
01 11       John Keck, manufacturer and dealer in furniture and upholstery, second story, cor. Main and Third Sts.  Bedsteads, sofas, bureaus, lounges, chairs, looking glasses, gilt moldings, rocking chairs, mattresses, center tables, etc., always on hand, at low prices.   WR
1863
08 13       SECOND STREET LOCATION:  a cabinet warehouse
By Ald. Skinner:  Resolved, that John Keck has permission to occupy one half of Second Street, in front of his lot, next south of Heymann's Saloon, for the purpose of depositing building material for two months from this date.  Adopted.   WD
08 20       NEW BRICK BLOCK
Mr. John Keck is now digging the foundation of a new brick block on Second Street, just south of Cooley's block.  The new building will be 80 feet deep, 24 feet wide and two stories high, and is to be finished off and fitted up for a cabinet warehouse.   WD
[John Keck, furniture manufacturer, w s 2d bet Main and E Washington, 1966-67 Watertown City Directory]  
1866
08 20       JOHN KECK BUYS OUT PETER MAY
1880       "F. Keck" CUT INTO BRICK IS FOUND in 1966; 110 S Second St
WDTimes article of 07 01 1966 contains image
The Keck Furniture Co. dates back to 1853, the year John Keck, the grandfather of Pete Keck of the Keck Advertising Agency in Oconomowoc and other members of the family, started in the furniture business here.
During the recent remodeling of the former Buerger's Meat Market, later Block and Andres and then Block's Market at 112 South Second Street the workers came across a brick on which was carved "F. Keck."  The building will soon be occupied by Grempel's Shoe Store, the remodeling project having prepared it for the new occupancy.
Because of the cumbersome transportation facilities during the middle of the last century, with Milwaukee being a five to seven day round trip by way of Oconomowoc and Waukesha, it is considered a pretty safe guess that the brick in question, along with thousands of others, was made in the old Quentmeyer and Boomer brickyard at the south end of Utah Street in Watertown.
About that time, the brick in question became part of the street end of a common wall between the buildings still in existence at 110 and 112 South Second Street.
In 1863, after having been in several different downtown locations, John Keck decided to move his expanding furniture business into the building at 110 South Second Street.  Fred G. Keck, father of Pete Keck, was born in 1869, the youngest of five children of John and Rosina Keck.  His youth was spent in the vicinity of the building as the family home was at 300 South Second Street, a block and a half south of the store.
"Sometime in the year 1880, my father, Fred G. Keck, at that time 11 years old, faced the brick wall to the south of his father's place of business and, apparently, began scraping out his initial "F" and his last name "KECK" into a brick about 36 inches above the sidewalk.  Over the years, the face of the brick was painted and repainted to almost obliterate the carved name. But, through it all, the indentations still stood out legibly." – Pete Keck
<![if !vml]>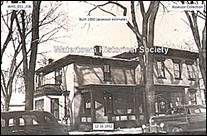 <![endif]>                 <![if !vml]>

<![endif]>     
Cross Reference: 
<![if !vml]>

<![endif]>
1875 Watertown City Directory
c.1890
FORMER STRAUSS BOOT & SHOE SHOP OCCUPIED KECK LOCATION
<![if !vml]>

<![endif]>  
1891       JOHN KECK OBIT
Death has claimed one of Watertown's oldest and most esteemed citizens, in the person of John Keck, who departed this life at his home in the First Ward on April 18th, 1891, his final illness being pneumonia. He had been seek but a few days, hence his death was unexpected by his friends.
Deceased was a native of Germany, being born there on December 19, 1818; consequently he was in his 73d year at the time of his death.  He came to America and located in New York City in April, 1850, remaining there until June, 1851, when he removed to this city.  He worked here as a cabinetmaker until 1858, when he engaged in the furniture business for himself, which he conducted very successfully up to the time of his death.
He was a member of Washington Lodge, No. 77, L.O.O.F., and was one of its organizers some 35 years ago.  He also helped to organize the Concordia Society in 1862.  Mr. Keck was possessed of an honest and frank disposition and all who knew him honored and esteemed him for his integrity and honest manner of dealing with his fellow man.  Our citizens mourn his death as that of a good and noble man.
His wife, two sons and three daughters survive him.
His funeral was held from his late home, under the auspices of Washington .Lodge. L.O.O.F., Rev. Mr. Sterz of the German Evangelical Protestant Church conducting the religious services.  His remains were followed to their final resting place in Oak Hill cemetery by a very large number of sorrowing friends.
JOHN KECK, MRS, OBIT (Rosina Keck)
12 21 1898 - Another of our early residents has been called to eternal rest in the person of Mrs. Rosina Keck, whose death occurred Monday morning at the family residence, 300 Second Street.  Mrs. Keck was born in Germany in 1835, being therefore 73 years of age.  In 1849 she emigrated to the United States, settling here two years later.  She was the wife of John Keck, a pioneer cabinet-maker and furniture dealer in this city, who died in 1891.  Two sons and three daughters are left to mourn the loss of a kind and loving mother, while a host of warm acquaintances of the deceased will part with a woman who in life was all that could be desired in a steadfast friend and true Christian person.  The children are:  Mrs. Bruegger, Williston, N.D.; Albert, St. Paul, Minn; Anna, Molly and Fred, of this city.   Final resting place in Oak Hill cemetery. WR
1895
05 01       Bold deed of thievery was perpetrated at Keck's furniture store   WR
1898
<![if !vml]>

<![endif]>  
1900
12 06       WATERTOWN'S IDEAL CHRISTMAS HEADQUARTERS
<![if !vml]>

<![endif]>  
c.1900
<![if !vml]>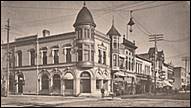 <![endif]>  
1902
<![if !vml]>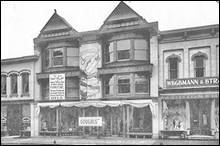 <![endif]>  
Distinctive roofline was made of wood and was becoming a danger.  It was removed in 1923 when the building was expanded and remodeled.  George Fred and Bill Keck were architects in Chicago and added "Chicago style display windows" to highlight the furniture displays.
<![if !vml]>

<![endif]> 
-- --         REMODELING AND 3-STORY ADDITION ON REAR
<![if !vml]>

<![endif]>    1910 (appears to be what actually took place in 1924)
c.1910
-- --           HYNOTIST PUTS ON A 3-DAY SHOW IN SHOW WINDOW
Memories of the days when a hypnotist came here about once a year to demonstrate his powers by selecting some local young woman to put to sleep for a period of 3 days.  The exhibition usually included the public display in one of the city's large store windows where the sleeping subject was placed in a bed and allowed to slumber while under the hypnotic spell. 
Many times the Keck Furniture Company donated its window for this purpose, also furnishing a bedroom set.  A crowd would usually gather to witness the hypnotist do his stuff and then, after the subject was asleep, the public would keep its eye on whatever window housed the sleeping woman.
On the third day the hypnotist had the woman transferred to Turner Hall where he would "awaken" her, but not until a good crowd had collected there and had paid admission to witness the "awakening" act.
During the three days and nights in the window, no food was allowed to pass into the store, according to the press agents of the time and there usually was a special police officer stationed in front of the store at night just to see to it that nobody got inside to feed the sleeping woman or to put one over on the public.
The city was pretty certain to have such a stunt performed at least once every year, or every other year.
1911
04 06       RUGS ADDED TO FURNITURE LINE
<![if !vml]>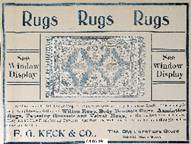 <![endif]> 
04 0         G.B. LEWIS BOX SEATS . . . at Keck's
<![if !vml]>

<![endif]> 
At a loss as to what this was but could be the standard wood and wire boxes made by GBL at their Bee Hive and Box manufactory.  Boxes-to-use-as-seats, as opposed to box-seats?
c.1912
<![if !vml]>

<![endif]>   100 block E Main at night, c1912
1914
10 24       FARE-REFUNDING SALE, full page Weltburger ad 
---           HIGH CLASS REED FURNITURE
"Linger longer" chairs and rockers.  Ad in 1918 Watertown High School Orbit  
-- --           EXPANSION AND REMODEL 
Distinctive roofline was made of wood and was becoming a danger.  It was removed in 1923 when the building was expanded and remodeled.  George Fred and Bill Keck were architects in Chicago and added "Chicago style display windows" to highlight the furniture displays.
1924
09 09       REBUILD OF KECK FURNITURE STORE NEARS COMPLETION
The new front of the F. G. Keck & Co. furniture store at 110-112 Main Street has been practically completed and now presents a real fine appearance and being a great addition to the business section of the city.
The first story is of Indiana limestone and the other two of red pressed brick.
The new roof, raised high enough to give three full stories, is all finished and the balance of the work of rebuilding can be made regardless of weather conditions.  At present the contractors are engaged in interior work on the third floor as well as putting in the show windows on the ground floor.  The show windows on the second floor have been installed.
Several weeks additional will be consumed before the repairs are all done and when finished the building will not only be a source of pride to the owners but a credit to the city.     WDT
1941
12 10       KECK'S NOW HAS RECORD BOOTHS
Keck's store, which recently took over a Columbia Masterworks and Columbia records agency, has now added a number of booths where customers may listen to records and try them out before making a selection.  The booths will be ready within a day or two.  They are located on the main floor.  The store also has a large assortment of Columbia Masterworks in albums and also single records. . . .
c.1950
DELIVERY TRUCK
<![if !vml]>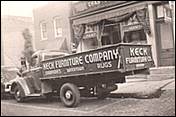 <![endif]>  
1957
<![if !vml]>

<![endif]> 
1958
10 03       JUBILEE EVENT
105th jubilee marked by special anniversary sale.   WDT
1961
02 22       OFFICERS ELECTED
At the annual board of directors meeting of Keck Furniture Company, the board appointed the following officers:  William Keck, president; George Fred Keck, vice president; Ernest (Pete) Keck, secretary and treasurer; Jack Stranckmeyer, manager.  The Keck Furniture Company is now in its 107th year of operation in the city of Watertown and looks forward to 1961 as a year of expansion along with the city.  Several physical changes of the store are planned as well as several innovations in merchandising in tune with the needs of the community.   WDT
1963
08 09       KEN BEYER NEW MANAGER
Kenneth Beyer is the new manager of the Keck Furniture Co. store in Watertown, at 110 Main Street.  He is no stranger to the business or to many of its customers since he was employed at the store from 1948 to 1959 after which he was similarly employed at Jefferson.  Mr. Beyer is a native of Lake Mills but came to live in Watertown at the age of five.  His father was the late Carl Beyer.  His mother still resides here.   WDT
1964
01 15       BOARD OF DIRECTORS APPOINTMENTS
At the annual meeting of the Keck Furniture Company, Ken Beyer was appointed to the board of directors, along with George Fred Keck and William Keck of Chicago, and Pete Keck of Oconomowoc.  The Keck brothers are grandsons of John Keck, the original founder of the retail furniture business now in its 111th year of operation.  Ken, better known as Kenny to his many friends in this area, took over the active management of the business in August 1963.  He recently returned from a two day buying trip in Chicago at the American Furniture Mart, where he has selected many new lines to expand the offerings of home furnishings to the people of this community. WDT
1965
01 12       KEN BEYER PRES. & GEN. MGR.
At the annual meeting of Keck Furniture Co., the board of directors elected the following officers: Kenneth Beyer, president and general manager, William Keck (Chicago), vice president, Pete Keck (Oconomowoc), secretary-treasurer.  Beyer started as general manager in August 1963 and has made many improvements both in personal service and broadening of the lines of household furnishings offered to homemakers of Watertown and vicinity.   WDT
1967
10 25       KEN BEYER PURCHASED A FINANCIAL INTEREST
Pete Keck, secretary of Keck Furniture Company, Watertown, today announced that Ken Beyer has purchased a financial interest in the 114 year old firm.  Beyer has been manager since the summer of 1963, and has just completed the 4th anniversary celebration of his appointment.  In 1964, he was elected president and has served as president and general manager since that time.  According to Beyer, he has utmost faith in the future of Watertown as an important shopping center for the area.  The improvements and paving of Main Street, with its new boulevard-look, will contribute greatly to the success of the future, he said.   WDT
1989
May          Keck's Furniture began its retail store addition, valued at $312,500.  WDT
2012
Old stores still going strong, WSJour article, 02 14 2012
2016
02 04       KENNETH BEYER, 1927-2016
Kenneth F. Beyer, age 88, of Watertown, passed away on Feb. 4, 2016.  Funeral services will be held on Monday at noon at Trinity Lutheran Church in Watertown with the Rev. Brett Brauer officiating.  Burial, with military graveside rites performed by the Watertown American Legion Post No. 189, will take place at Lutheran Cemetery in Watertown.
Kenneth Francis Beyer was born on Nov. 9, 1927, in Lake Mills, the son of Carl F. and Lydia (nee Albrecht) Beyer. He was a 1945 graduate of Watertown High School and he attended one year at the University of Wisconsin-Madison. Ken served in the United States Navy during World War II and was company commander of the Army National Guard units in Jefferson and later in Watertown.
On Sept. 8, 1951, he married Elaine Hensler at St. Mark's Lutheran Church in Watertown.  Ken owned and operated Keck Furniture in Watertown.  He was a member of Trinity Lutheran Church and the Watertown American Legion Post No. 189.  Ken was a former member and past president of the Watertown Rotary Club where he received the Paul Harris Fellow Recognition.  He was also a member of the Watertown Central Business Association and the Watertown Area Chamber of Commerce.

History of Watertown, Wisconsin