website  watertownhistory.org
    ebook  History of Watertown, Wisconsin
William & George Fred Keck
1912
FEMALE PORTRAIT
      painted in 1912 by Watertown architect George Fred Keck
   <![if !vml]>

<![endif]>     
1935
BUILT FIRST SOLAR HOUSE IN WATERTOWN,
       Wilde residence, 305 Elizabeth
1940
<![if !vml]>

<![endif]>  

        Octagon House porches being worked on, April of 2011.
"The Board of Directors was often plagued with the question of what constituted good repairs.  Were the porches a part of that pressing need?  As early as June 1940, Architect George Fred Keck offered to draw plans for the porch restoration project.  A year later a five hundred dollar donation accompanied blueprints for the restoration of the verandas.  These funds were made available from the Honorable Joe. E. Davies, Ambassador to Belgium and Russia."  - John Richards: The Hill and The Mill, page 99.
1967
05 30       RECORD HOUSES OF 1967
A house designed by two members of the Keck family of Watertown — George Fred Keck and William Keck, architects with offices at 612 North Michigan Avenue, Chicago, is one of 20 award winning houses selected for inclusion in "Record Houses of 1967," a publication which is featuring houses of three-dimensional planning "which enhances the sense of space and provides indoor-outdoor living in both vertical and horizontal areas."  The house designed by the Kecks is known as the Karlin House and is located at 5812 Blackstone Avenue, on a 50-foot lot in Hyde Park near the University of Chicago.  The house is a single-family unit.  The two architect brothers are sons of the late Mr. and Mrs. Fred G. Keck of Watertown.  The family business has been the Keck Furniture Co. here, which is now into its second century of operation.   WDT
1969
05 21       COLLEGE OF FELLOWS, AMERICAN INSTITUTE OF ARCHITECTS
<![if !vml]>

<![endif]>
William Keck, an architect in Chicago for 38 years, has been elected to the College of Fellows of The American Institute of Architects, a lifetime honor bestowed for outstanding contribution.  A former resident of Watertown, he will be formally invested during special ceremonies at the annual convention of the AIA in Chicago, June 22-26.  Mr. Keck was born in Watertown, Wisconsin in 1908, and received a B.A. degree in architecture form the University of Illinois at Urbana, in 1931.  A partner in the firm of George Fred Keck-William Keck, Architects.  Mr. Keck's work has been devoted to housing and commercial work.
1981
05 17       HOUSING HALL OF FAME
Architect George Fred Keck, a native of Watertown, was inducted into the Housing Hall of Fame in recognition of his lasting contribution to the cause of providing all Americans with decent and affordable homes.  Keck, who passed away last November in Chicago at the age of 85 and worked in partnership with his brother, William, was the first American architect to demonstrate the potential of passive solar energy.  At a time when the nation enjoyed seemingly inexhaustible supplies of cheap fuel, he was an advocate of thermally efficient and functional modern design in housing.  Keck built his first solar house in Watertown in 1935, the Wilde residence located at 305 Elizabeth Street.  Using the "greenhouse" effect, he was able to achieve fuel savings of 15 to 20 percent.  Small windows were built on the north side of the home; wide floor-to-eaves windows on the south. Trees were planted to reduce southern exposure during the summer.   WDT
2018
-- --           ONLINE ARTICLE
Architects William and George Fred Keck were known as visionaries.  They boldly pushed modern design as far back as the 1930s, when most homeowners didn't dream beyond cookie-cutter Colonials.  The Keck brothers, two of five boys, were born and raised in Watertown. 
Clearly the House of Tomorrow's creator, George Frederick "Fred" Keck, wanted to make an impression.  Keck was an ambitious young architect who worked with his brother William in Chicago.  He saw the fair as an opportunity to introduce Modernist architecture to the masses, and realized that, rather than working with just one manufacturer, he could get multiple sponsors on board and experiment with a wide range of new materials.  Libbey-Owens-Ford, for example, supplied the glass. Goodyear provided rubber floors for some of the rooms, and General Electric contributed the latest appliances.
Keck used an octagonal brick house in his hometown as an inspiration for the building's unusual form, and the iconoclastic architect Buckminster Fuller's Dymaxion House (1930) may have influenced him as well. The dodecagon came about for purely practical reasons; that shape simply worked best with Libbey-Owens-Ford's available sizes of glass panes.
The firm of Keck and Keck went on to design hundreds of quietly groundbreaking passive solar houses, decades before environmental design became fashionable. "Keck was one of the first guys out there saying, 'We can heat houses with the sun!'" says Chicago architect and writer Stuart Cohen. "He is not adequately credited for how revolutionary he was at the time."     Full text of Preservation Magazine online article  
CROSS REFERENCES:
  Keck and Keck (Paperback) by Robert Boyce
Architect George Keck designed and built 204 E Water St Watertown, WI for his brother.
<![if !vml]>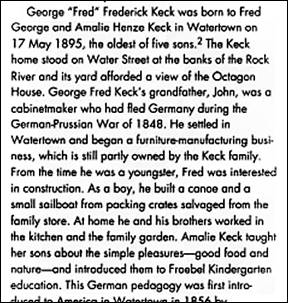 <![endif]>                  <![if !vml]>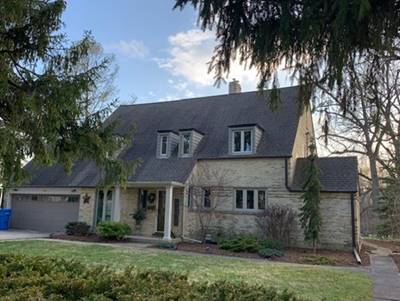 <![endif]>

History of Watertown, Wisconsin