website  watertownhistory.org
    ebook  History of Watertown, Wisconsin
This page part of chapter on series of annual Homecoming Days
1907 Home-Coming Celebration
Fifth Annual
1907
<![if !vml]>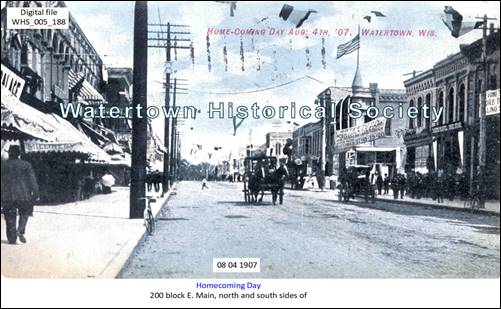 <![endif]>
Homecoming Day, 08 04 1907    /    click to enlarge   /     WHS_005_188
Home-Coming Day a Great Success
Watertown Daily Times, 07 13 1907
The annual home coming celebration of Watertown will be held on Aug. 3 and 4 . . . The Milwaukee-Watertown club is the pioneer in the home coming idea, it having been originated by Ernest A. Kehr of Milwaukee, president of the Watertown club some years ago ... Excursion trains will be run from Milwaukee to Watertown … and will be met by committees, which have already been appointed, and will be escorted to the local headquarters …
Mayor Mulberger of Watertown has appointed a committee of 200 citizens to act as a reception committee, so that all visitors will be amply taken care of ... The first day of the home coming will be given up to renewing old acquaintances. The second day, Sunday, a big picnic will be held on Tivoli Island … after which games of all kinds will be had to be followed by a concert by the local orchestra.
— from the Milwaukee Sentinel
Watertown Daily Times, 07 19 1907
(At last Monday's Council meeting) Alderman Ryan presented an ordinance amending an ordinance governing hack and bus men.  It was adopted and now provides that any person can operate buses to picnics, fairs, etc. without obtaining a license and not interfering with the provisions for buses running to trains.  The ordinance was amended so hastily in order that visitors here for the homecoming might have necessary accommodations to the picnic grounds and a certain few not have a monopoly in the conveyance of the visitors to the picnic grounds.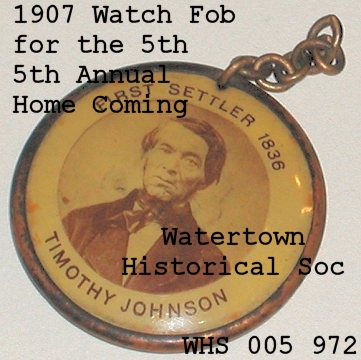 WHS_005_972
Early 1907 Watch Fob for the 5th Annual Home Coming
Piece is about 1 1/4 inches across.
Front is a photo of Timothy Johnson, First Settler 1836
Back " FIFTH ANNUAL Home Coming, Watertown, Wis., August 4th 1907 "
<![if !vml]>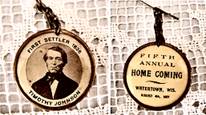 <![endif]>
<![if !vml]>

<![endif]>
History of Watertown, Wisconsin