website  watertownhistory.org
    ebook  History of Watertown, Wisconsin
Mink Farming
Harris Grabow
Louis J. Grabow
Harris
1959
12 15       Harris Grabow, Member canvass, St. Paul's Episcopal
1962
07 20       At the regular meeting of the Watertown Kiwanis Club Monday evening at the East Gate Inn, Harris Grabow, Watertown High School coach, presented a most interesting and fascinating program on his hobby — raising mink.  The idea of raising mink came to Mr. Grabow from a G.I. during the Second World War.
Starting with one pair of mink, Mr. Grabow, his father and brother now work with 2,500 mink a year.  Mr. Grabow described the process of raising mink from birth to pelting.  The average mink has a litter of three and one-half babies.  The Kiwanians were amazed to learn that there are 34 different shades of mink coloration.  A peal color is now one of the most popular colors on the market.   WDT
1983      Grabow's Retirement
03 20       "I can't think of a nicer thing to have happen," said Watertown High School Athletic Director Harris Grabow. Grabow was referring to Watertown's trip to the WIAA State Boys' Basketball Tournament this week which coincides with the announcement of his retirement. The school board will act on Grabow's request to take early retirement at age 62 at Wednesday's meeting. Grabow's relationship with Watertown and basketball goes back a long way. He coached the 1960 team which played in the state tournament and was the co-captain of the 1939 Gosling team which won the Class B title.   WDT
10 16       Grabow's Retirement Banquet
Former athletes, teammates, students, family and friends made up the crowd of some 200 wellwishers at Harris Grabow's retirement banquet Tuesday evening. Grabow has served as Athletic Director at Watertown High School since 1966.  Prior to that he was the Gosling basketball coach for 20 years and took his 1960 squad to the WIAA State Tournament. He had been there 21 years earlier as a member of the Goslings' 1939 Class B state Championship team.   WD
1986      inducted into U of La Crosse Wall of Fame
10 20       Former Watertown High School Athletic Director Harris Grabow will be inducted into the University of La Crosse Wall of Fame Saturday during the school's homecoming festivities.  Another Watertown native, Tom Hargraves, now a swimming coach at Madison West High School, will also be inducted, along with four other former UW-La Crosse standouts.  Short biographies of the recipients are placed on the Wall of Fame, located in Mitchell Hall.  The inductees will also be presented with plaques. Grabow, who lives at 1104 Amber Lane, taught physical education and coached at WHS from 1946 to 1983 and served as athletic director from 1966 until retirement in 1983.  Grabow's stellar athletic career at (then) La Crosse State included letters in football, basketball and track.  He quarterbacked the 1942 conference champion football team and was captain of the 1942-1943 basketball squad.   WDT
2008      From player to coach, to athletic director, Grabow did it all  
Harris Grabow didn't make the cut when trying out for Watertown High School's freshman boys' basketball team back in 1935.  That didn't dampen his enthusiasm for the sport one bit . . .  [WDTimes story of 2008]
2011
               <![if !vml]>

<![endif]>
               Coach Harris Grabow celebrated his 90th with family and friends, October 22, 2011.
2013      Harris R. Grabow, 1921-2013
Harris R. Grabow, age 91, died on Thursday, Feb. 7, 2013, in his Watertown home.
<![if !vml]>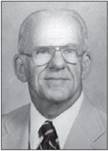 <![endif]>He was born in Watertown, on Oct. 17, 1921, the son of the late Anna (Pottenberg) and Theodore Grabow.  Harris graduated from Watertown High School in 1939, where he was a member of the basketball team that won the state Class B championship.  Harris attended the University of Wisconsin-La Crosse and received his bachelor's degree in science with minors in mathematics and physical education in 1943.  At UW-La Crosse, he was captain of the basketball team and quarterback of the all-conference undefeated football team in 1942.  Harris later received a joint master's degree in physical education and education from the University of Wisconsin-Madison in 1952.  Harris married his high school sweetheart, Helen Bernice King, on March 25, 1944, at St. Paul's Episcopal Church in Watertown, where they remained lifelong members.  In 1943, Harris entered the U.S. Army — Air Force, stationed in Biloxi, Miss., where he coached baseball and boxing, and he was the physical training instructor.  In 1944, he was transferred to Truax Field, in Madison, where he worked in the Truax Hospital convalescence center and played guard on the Truax Field basketball team.
The name Harris Grabow is synonymous with athletics and teaching in Watertown, where he taught and coached for nearly four decades.  Returning to his native Watertown in 1946, Harris taught physical science, general science, physical education and health at Watertown High School.  In the same year, he also became Watertown High School's head basketball coach and assistant football coach.  In 1948, Harris initiated and coached the first baseball program at the high school, a team that went to the WIAA State Tournament in 1950.  He led the basketball team to the WIAA State Tournament in 1960.  In 1979, Harris was inducted into the Wisconsin High School Basketball Coaches' Hall of Fame, where recipients are honored for their outstanding service by the Wisconsin Coaches Association at the University of Wisconsin-Madison Field House.
In 1948, Harris, his brother Louis, and their father, Ted, went into a mink business until 1962.  They knew and were known by mink ranchers all over the country.  They sold their mink pelts to the New York Auction Company.
In 1966, Harris gave up coaching to become the full-time athletic director of Watertown High School, for which he later received the Distinguished Service Award from the National Interscholastic Athletic Administrators Association.  In 1981, his outstanding work in athletic administration was recognized with his selection as Wisconsin's Athletic Director of the Year.
In 1986, Harris was inducted into the UW-La Crosse Wall of Fame for football, basketball, and track and field.
Harris enjoyed all sports, but had a special fondness for golf, enjoying both the sport and the social aspect.  Harris was happiest when surrounded by people — especially his family and friends.  In fact, after retirement in 1983, he set a goal of talking to 24 people a day, the size of his typical high school classroom.  A devoted lifelong learner, Harris imparted the value of education to everyone.
He was survived by one daughter, Susan (Vince) Morrone of Watertown; one son, Steve (Peggy) Grabow of Wauwatosa; four granddaughters, Christa (Chris) Miller of Eagan, Minn., Laura (Jason) Kalies of Apple Valley, Minn., Molly (Jeff) Diamond of Carrboro, N.C., and Maggie (Ian) Koszewski of Madison; two great-granddaughters, Sabrina Miller and Sophie Diamond; one brother-in-law, Dave (Dixie) King, and one sister-in-law, Joyce King; as well as many other relatives and close friends.
Harris was preceded in death by his beloved and extraordinary wife, Helen; one brother, Louis Grabow and his wife, Anita; brother-in-law Jack King; and brother-in-law William "Bill" King and his wife, Gretchen.
Gratitude is given to all who touched Harris' life with love, joy, care and memorable moments.
Harris will be forever remembered as an incredible husband, father, grandfather, teacher, coach and friend.
If desired, memorials may be made to St. Paul's Episcopal Church in Watertown or Watertown High School Athletic Booster Club.
Memorial services will be held today at 4 p.m. at St. Paul's Episcopal Church in Watertown with the Rev. Oscar Rozo officiating; assisted by Rev. Dr. Timothy R. Perkins.  Visitation will be held at the church today from 2 p.m. until the time of service.
Schmutzler-Vick Funeral Home 500 Welsh Road Watertown
_______________________________________________________________________________________________________
Louis J. Grabow  /  Birth:  Apr. 14, 1916  /  Death:  Jan. 15, 2008
Louis J. Grabow of Watertown was born to everlasting life, 91 3/4 years young, on Tuesday evening, Jan. 15, 2008.
A funeral service and celebration of his life will be held on Saturday at 11 a.m. at Trinity Lutheran Church in Watertown with the Rev. Brett Brauer officiating.  Burial will be in Lutheran Cemetery, Watertown.
Relatives and friends may call to pay their respects at the church on Saturday from 9 a.m. until the time of the service.
In lieu of flowers, memorials may be directed to Trinity Lutheran Church.
The Hafemeister Funeral Home of Watertown is in charge of arrangements.
Louis was born in Watertown on April 14, 1916, son of Theodore and Anna (Potenberg) Grabow.
He is survived by the love of his life, Anita (Ihlenfeldt), to whom he was married for 70 years.
Louis was a tool and die maker for 44 years.  He worked for Otto Biefeld for 30 years, where he completed his tool and die apprenticeship.  He finished his career at Durant/Eaton Corp. in Water-town.
Louis was a drummer in Shorty Keppel's dance band in the mid-1930s, playing at dance halls throughout the Rock River area, as well as fraternity dances in Madison.
In 1948, Louis, his brother, Harris, and his father, Ted, went into the mink business until 1962.  They knew and were known by mink ranchers all over the country.  They sold their pelts to the New York Auction Company.  Following this venture, Louis and Harris developed their mink properties into a subdivision on Water Street.  They developed the plat and contracted to build homes. Louis was a meticulous contractor.  One of his builders told him, "Louie, if I build this house to your specifications, it would cost $1,000 a square foot."
He loved to fish and entertain his family at his cottage in central Wisconsin.  He taught his grandchildren how to fish and inspired his son and grandchildren how to work precisely with their hands.
Louis was a lifelong member of Trinity Lutheran Church in Watertown.
He is further survived by his son, Jack (wife, the former Lucille Wolff) Grabow; his daughter, Kay Ann (David) Horstick; four grandchildren, Pammy (Scott) Rice, Sandy (Bill) Schwenkner, Ted Horstick and Gabe Horstick; two great-grandchildren, Alyssa Rice and Stacey Schwenkner; and his brother, Harris Grabow.
Louis was a kind and gentle man.

History of Watertown, Wisconsin